Discussion Starter
•
#1
•
Ok the time has come I've been waiting a while for my tires to reach its last days. Yesterday I ran over a nail or something that gave me a very big hole in my front tire so its not worth to replace just 1. I'd rather just get all new 4tires seeing its been a very long time that I've been on these nitto 555's.
I'm quite impressed on the remaining tread you would think that I drive like a lil girl with the amount of tread I still have. Its been over 4 years with these tires and I do my share of burnouts and some donuts here and there... I even was lighting them up every weekend at the strip at pontiac grand prix for a season while I was in vegas. The tires do have some cracks in them but with all the tires I have in my time these are still ok if I didnt have to buy just 1.
With that being said my 19x8.5/10 Hamann HM2's are a lil banged up so before I buy some new tires I want to fix them up a lil get rid of the 2 bent rims and 1 I have a little curb rash.
I was thinking about painting them black in the inside/middle and have the lip polished. As far as the exact colors I am not totally sure yet with what I want to go with which is why this thread is up, "what you guys think"?
Here some color combo ideas:
Matte Black/Polished Lip
Gunmetal/Polished Lip
Jet Black/Chrome Lip (I know big no no with Chrome but its just the lip but it is just an idea it would be one of my last choices cus it would chip eventually a lot easier)
Other then that I'm lost for words let me know what you think on the colors with this rim cant really think of what I really want for the lip I just dont want the whole rim to be black give me some other ideas for colors on the lip.
And for the people that might be thinking why dont I just buy new rims is cus I am a lil tight with money right now. Plus like most of us the rims we want cost to much to really get and I am still saving up for a set that I will eventually buy I'm just holding off for now cus I'm planning on rolling out my fenders and want to go with wider tires after I do so. And if I end up not liking the black rims I will just buy new ones after I have saved enough.
Thanks for the suggestions fellas!!! Here some pics to help with your creative ideas!
Lastly I would like you guys to specify if I should just paint the 5 spoke black and paint the rest lets say for example polished. Not sure if you can understand what I am tryin to say but but beside the lip itself the rim has a lil inner shape to it on the 3rd pic down the pic shows where the rim is embroided with the word Hamann you think I should paint that part black as well or have that part painted the same color as the lip as well as the inner side of the rim? Hope you understand what I am sayin lol sorry if i'm being confusing:tsk:
How it currently looks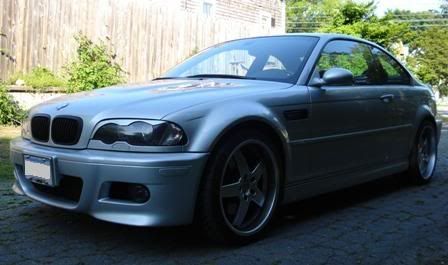 Older pics to show the rims