Discussion Starter
·
#1
·
Thought I'd share my E46 experience for the fanatics here. I bought the car in January 2006 right after I finished my MSc degree. Given the fact that taxes to import a car here are so high, I was limited to the 2.2L engine. 2.2 was the absolute limit since over 2.5L, taxes grew exponentially per cc. To import an M3 or 330 for example would cost over $70000. Long story short, a car dealer found me a "pristine" condition E46 in Topaz Blue with 1 year warranty as well. I went ahead and ordered the car and his mechanic went through a thorough check (mistake #1). Happy that I got a nice car. This is how the car looked the first day I got it
I didn't know much that time about BMWs or how sleazy dealers worked so I paid the car and left with a smile (I bet the dealer was smiling too). And then all kinds of problems started. While cruising in highway, yellow oil light came on. I consulted my manual and said I had 50 miles left to drive and then a top-up is necessary. Ok no big deal maybe dealer didn't put as much oil inside. Toped up with 10W40 semi-synthetic oil - yes, semi-synthetic, recommended by the mechanics here. Next week, same thing, again and again, to realized that I needed 1L of oil every 200miles. Something seriously wrong here. Car would blue smoke under hard acceleration. If that wasn't enough, car would just die when coasting to idle sometimes and cats became clogged with oil contamination, triggering a CEL every once and while. Went back to dealer in an ordeal of angry talks, lawyer threats etc etc to find out that the best he could do was to open and try to fix the engine or just get me a barrel of oil to top up forever. The official BMW dealer here would not open the engine because the labor was too high and they couldn't even warranty that the repair would fix anything. Bear in mind that here there is no lemon law or anything. You bought it, nobody cares if it blows next day. After I banged my head on the wall several times I decided to take action. I convinced the dealer to pay me the cost of a replacement engine and never talk to me again, ever. After a lot of searching I found a rear-ended E46, with 8k miles so I grabbed the engine along with several of its peripherals. It was that time when I met my current mechanic, a nice guy with over of 20 years experience in BMWs, trained at the factory and willing to let me observe all the work done to the car. I did learn a couple of things that time:
Waterpump was leaking, something that led to previous owner overheating the engine
Radiator became like that breaking the bottom supports
So, my mechanic took the old engine out:
And the new 2.2 was installed, along with new radiator, wp, new fluids, sparks, etc and above all, Mobil 1 0W40. The car drove beautifully ever since with no issues at all and not a single drop of oil burnt. Back to happiness mode after a lot of frustration. That time I registered in this forum as well
wish I did that before I get the car.
After the engine was sorted and discovering the search button here I decided it was time to start moding to stand out of the crowd.
First mod and quickly trashed were powerflex bushes, which failed after 2k miles.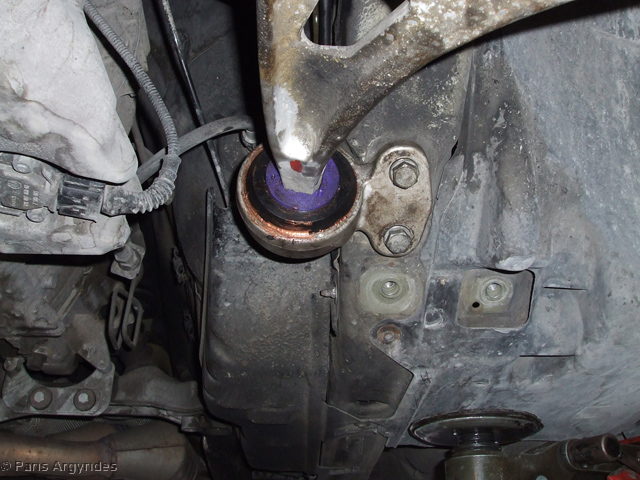 Being in the IT industry, I could not imagine my car without something PC related so I started the carputer project, which took a good two months to complete. Paired with multimedia, Bluetooth, GPS navigation, voice commands it still provides a complete ICE.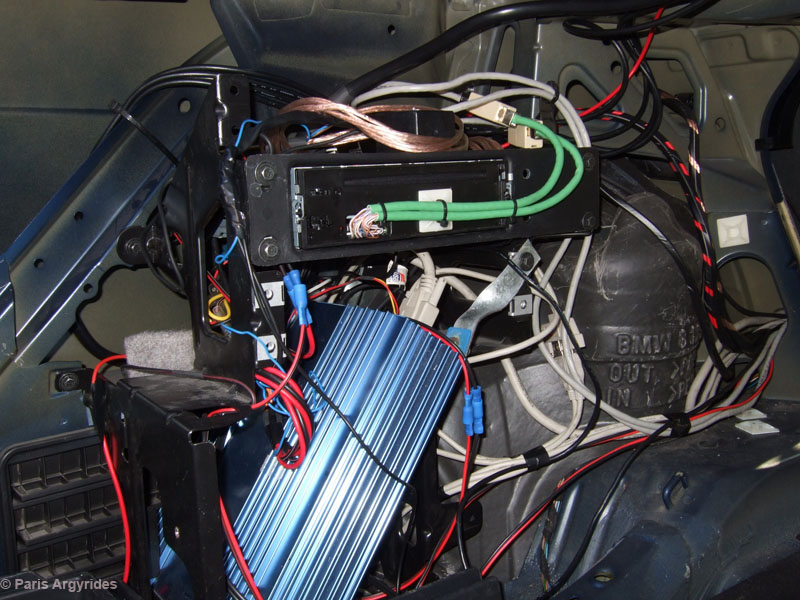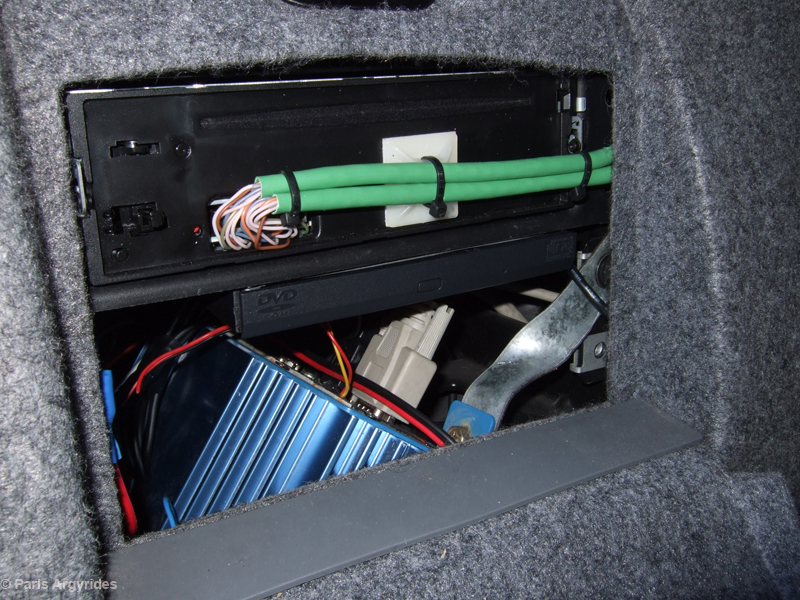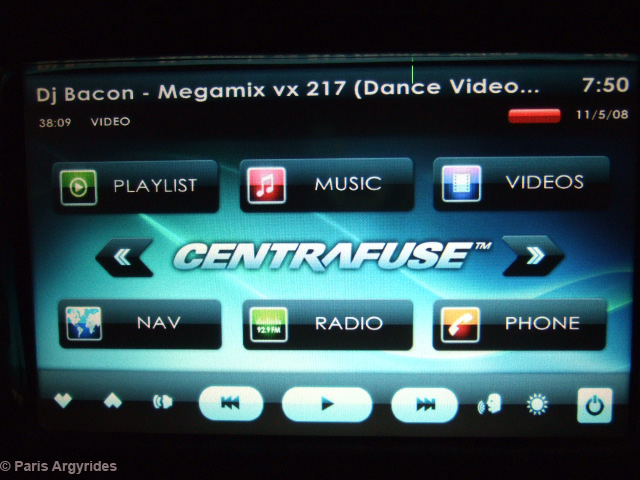 To complement this setup and to replace the shitty factory speakers, I used a 5 channel MB-Quart amplifier with rear 3-way MB-Quart speakers, front CDT Audio 6.5" components and an elemental designs slim sub. Wrapping the inside of doors with sound deadening material helped to eliminate outside noise.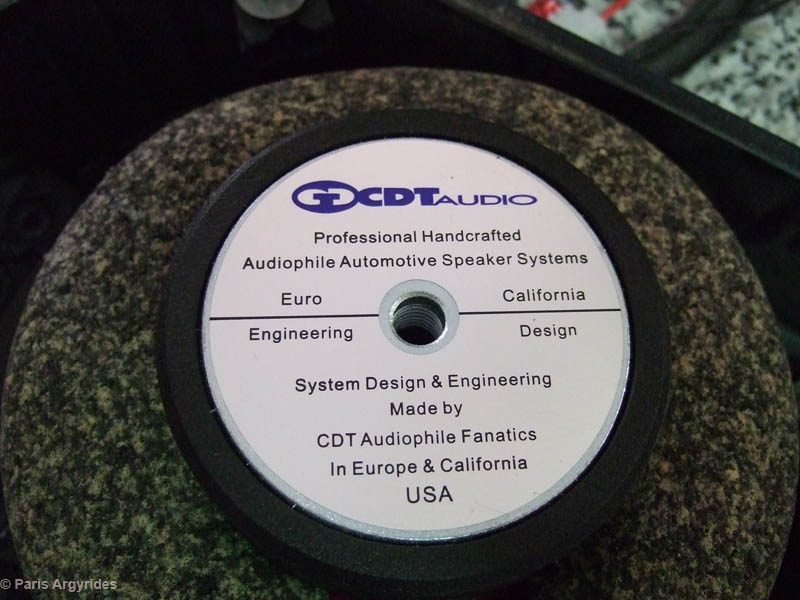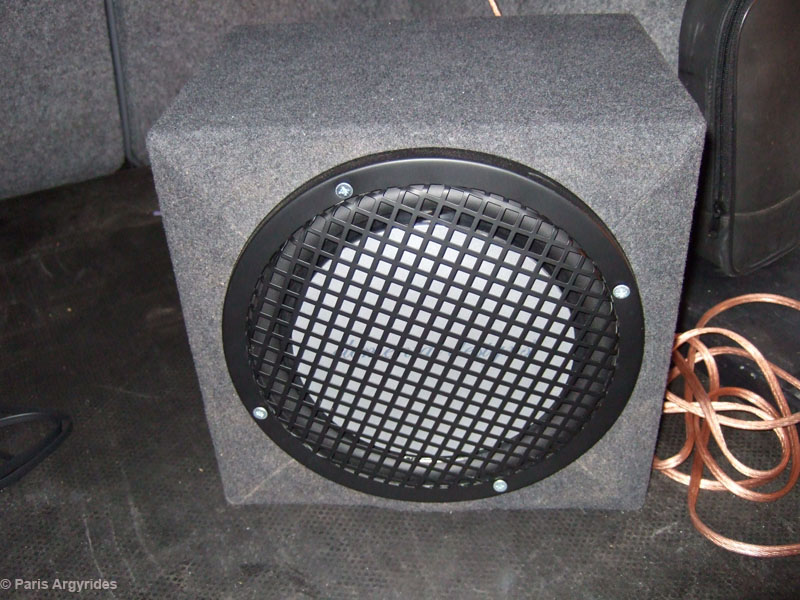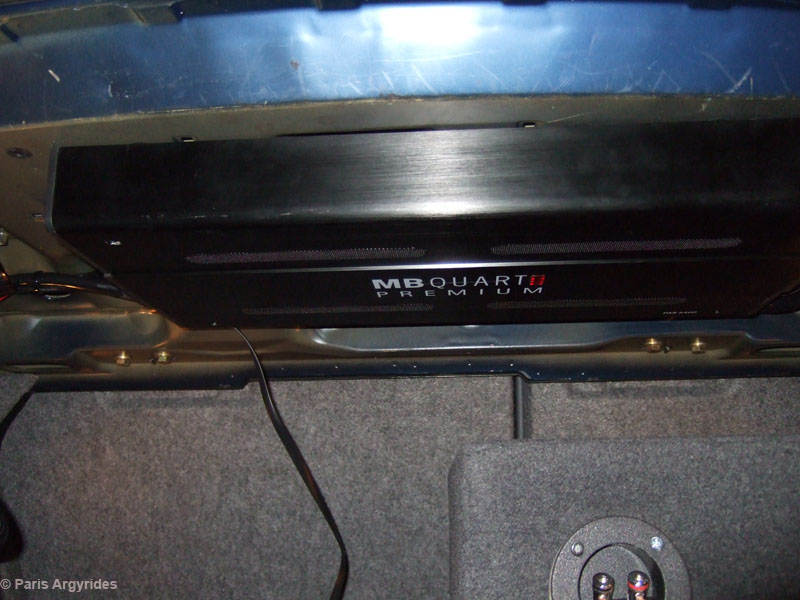 Next mod:
Chrome gauge rings not glueable version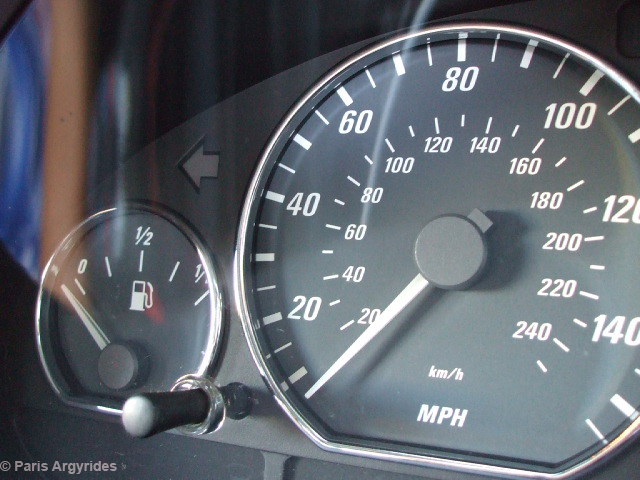 Factory alarm improvement with 3 shock sensors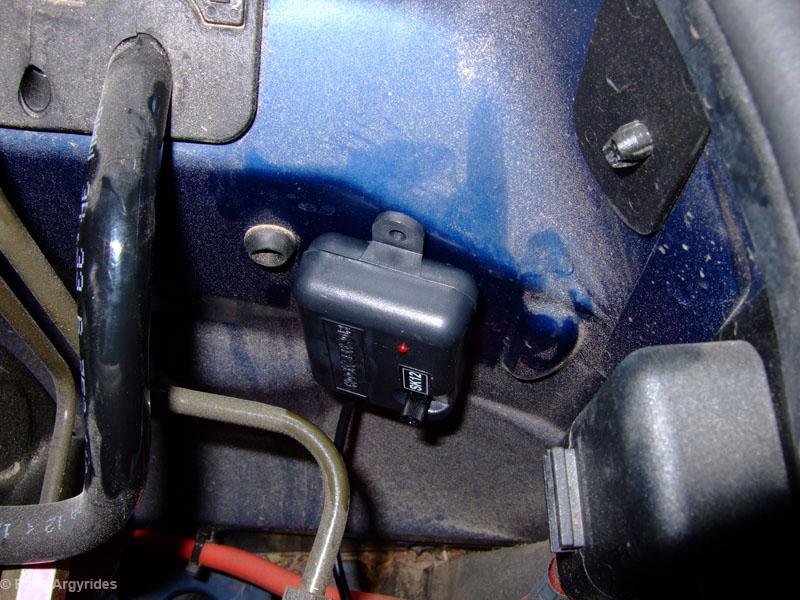 Being in hot weather I discovered its impact on rubber, so I have been treating all rubber seals with silicone grease. Keeps them soft and squeak-free
As the majority of E46 owners, my car suffered from poor radio reception, and the replacement of the antenna booster with a newer version helped solved this issue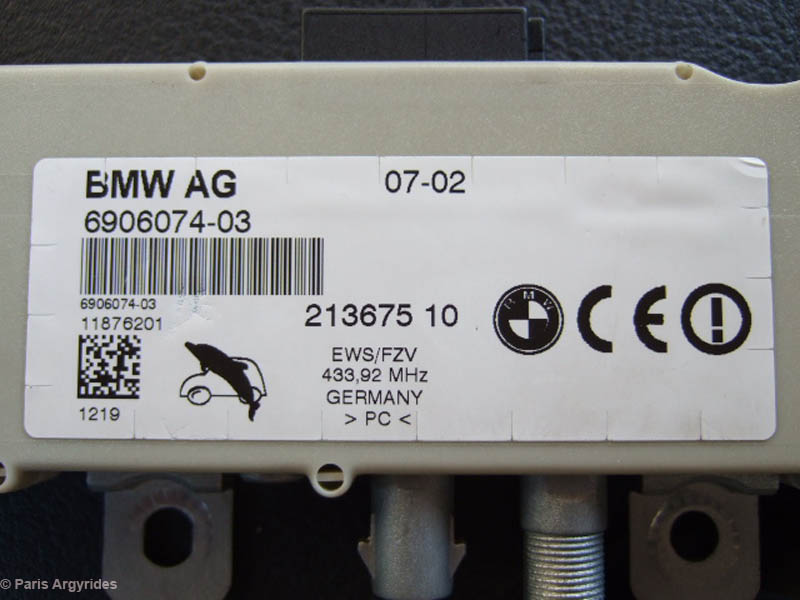 Something that I really liked from the M3 E46 were the autofold mirrors so after a little research here I managed to get a pair and install it.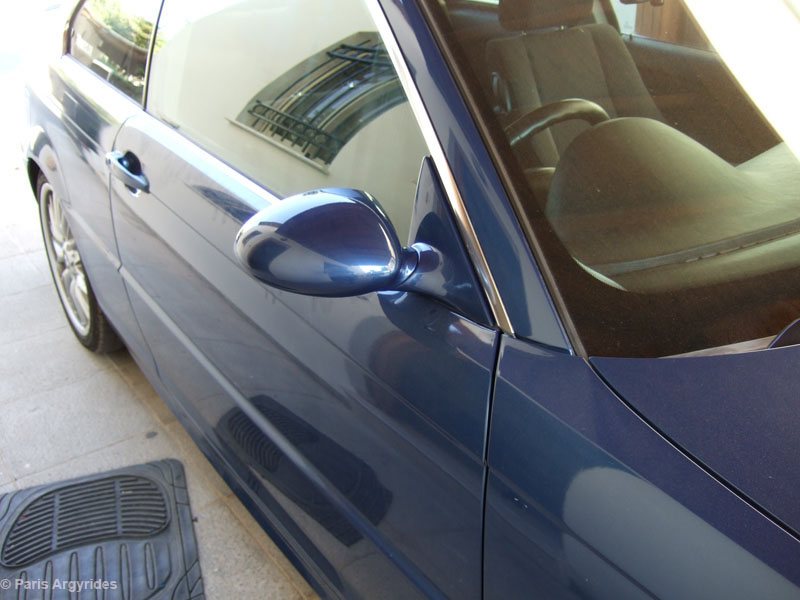 One day I got tired of the glossy black trim and I patiently waited till I got an awesome deal on a brushed aluminum trim. Absolutely love it and by far one of the best interior mods you can do.
Discovering that I could not see well at night, I investigated my options and ended getting a pair of genuine M3 bi-xenon headlights for peanuts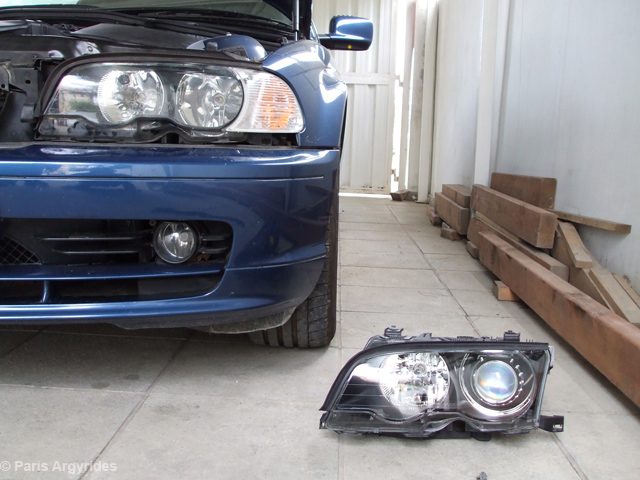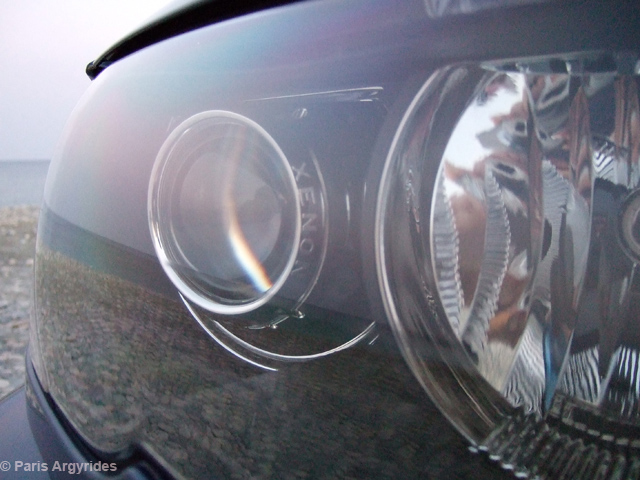 But without a pair of angel eyes they wouldn't seem right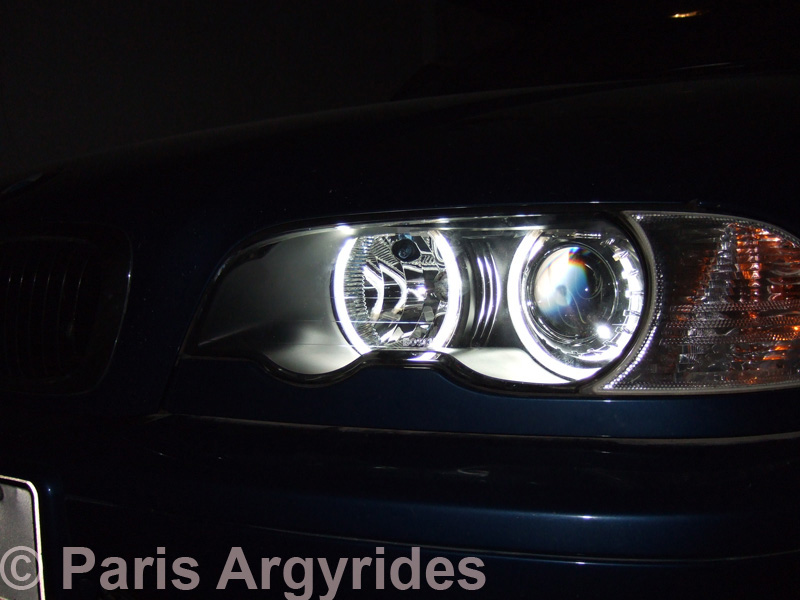 Next mod was to get a new front bumper so I chose the M3 style front bumper along with some nice CF splitters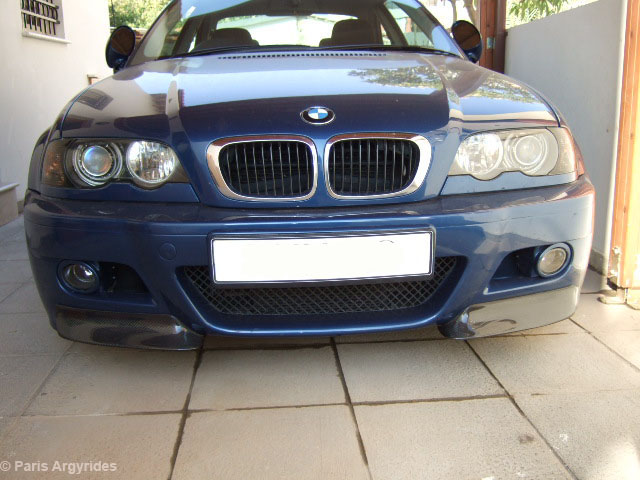 My fiancée made me a present on day: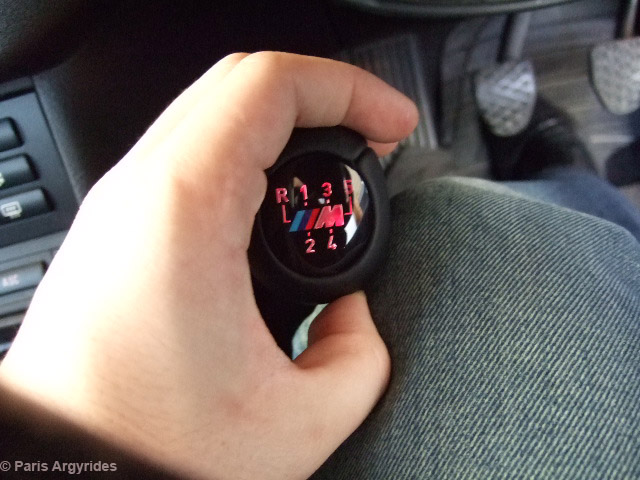 One day I was up in the mountains wondering why I can't see #$%@% in front of me when the weather was foggy. So I installed a pair of 3000k HID foglights to solve this annoying problem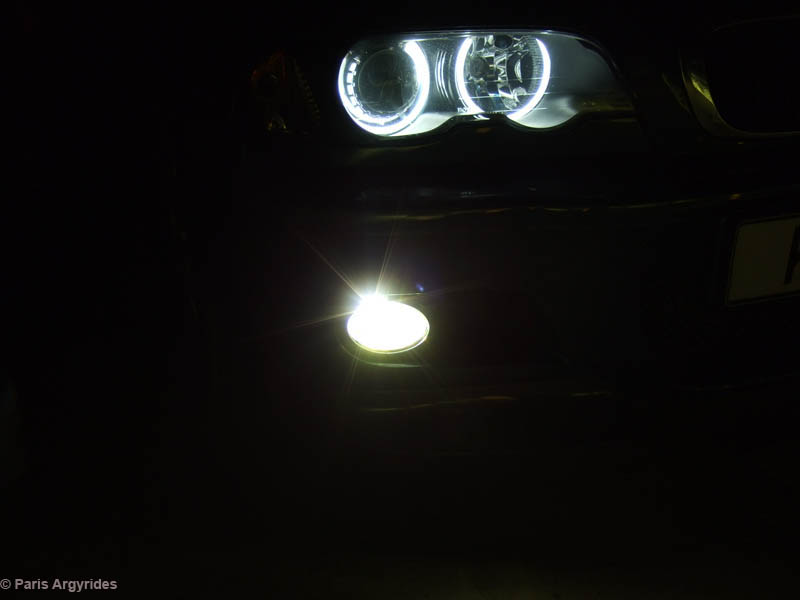 Since I was dealing with light issues, I grabbed the opportunity to install a light in the secret compartment the Euro E46 enjoy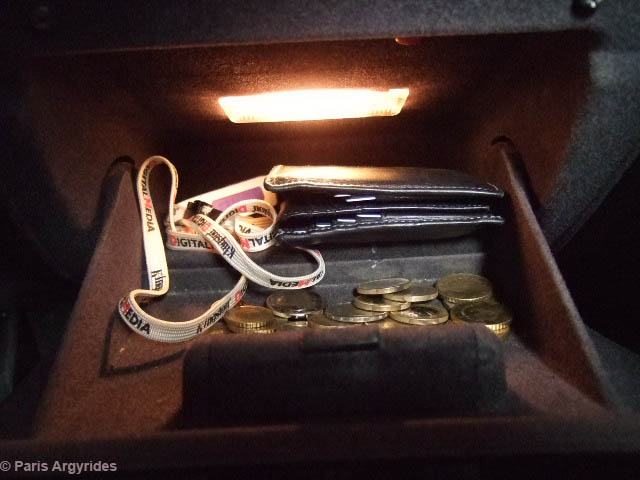 And then some extra lighting in the trunk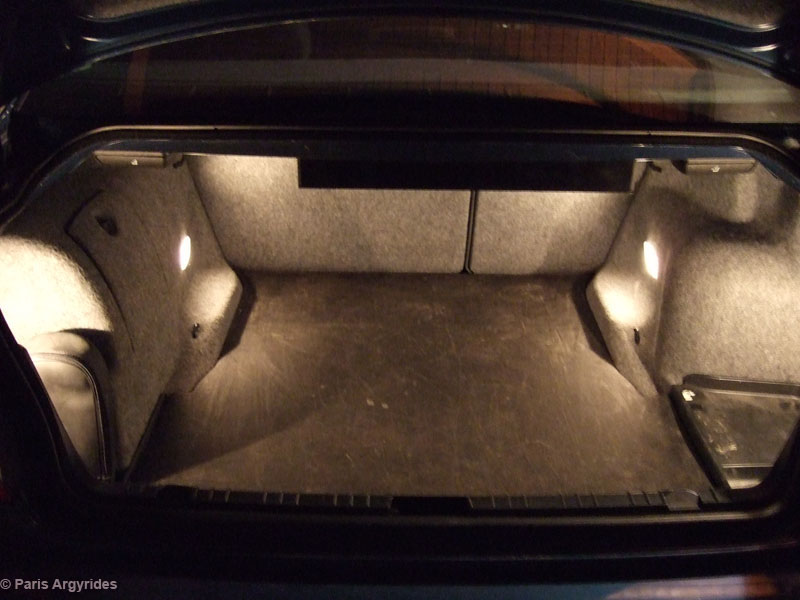 Light mods were completed with genuine M3 rear LED install with a brand new ebay light switch flashed for LED.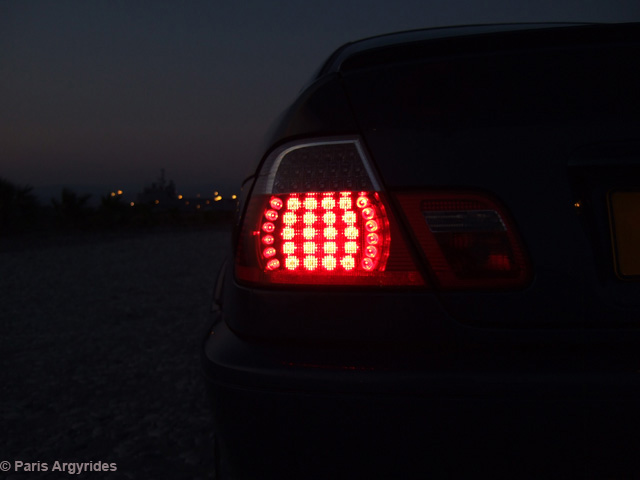 Armrest is optional in lower spec E46 so I bought one from ebay for 20 GBP (~$35)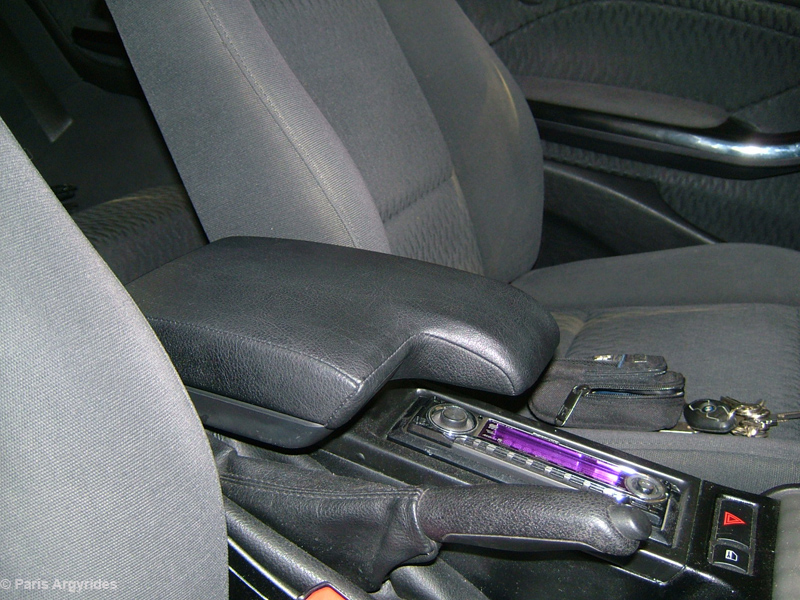 Also my favorite dealer, ebay, bought me a brand new M-Tech steering wheel which for some reason I can't find any pics of it. (will insert later)
After all this moding, it was time to move to some more serious stuff. The E46 M54B22 IS SLOW.
First thing for removal was the clutch delay valve. Much better clutch feel ever since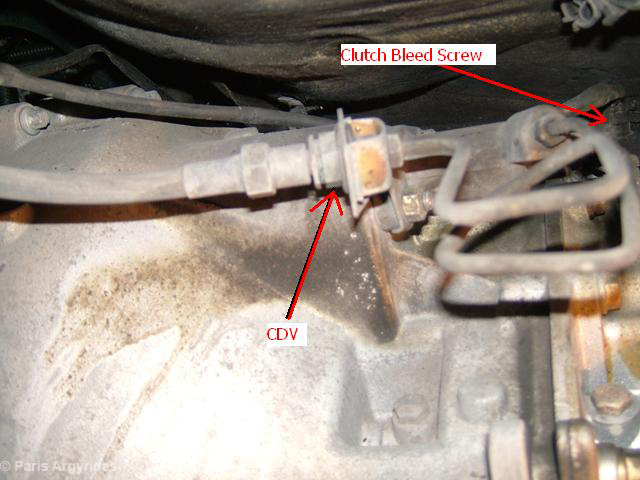 One day I exchanged an LCM for a set of Eibach Pro-Kit springs, gave my mechanic a PC for his son and had it installed for free. I really like the ride and I still have this setup after 3 years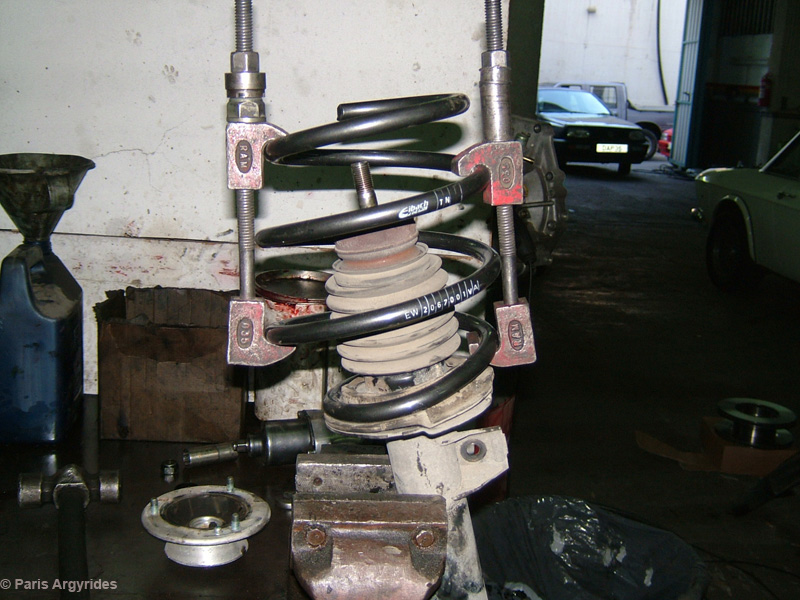 Being ignorant, I threw $50 to get a K&N drop-in filter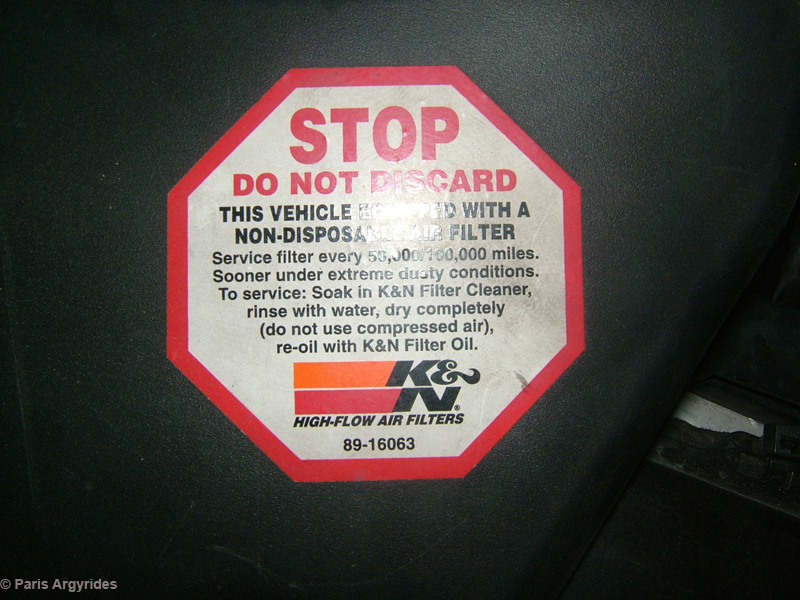 Since the $50 filter didn't give a performance boost I was looking for, I searched for something more hardcore.. and I stumbled across ESS Twinscrew Stg2 s/c kit. By far the best mod ever, something that made me to never consider a N/A car again. I finished the look of the engine bay with a stealth 3rd cover and a genuine AC strut bar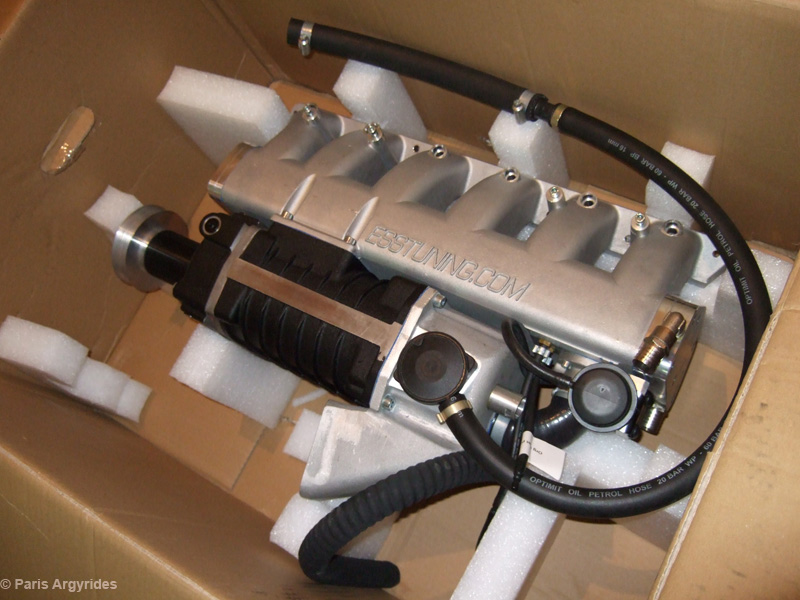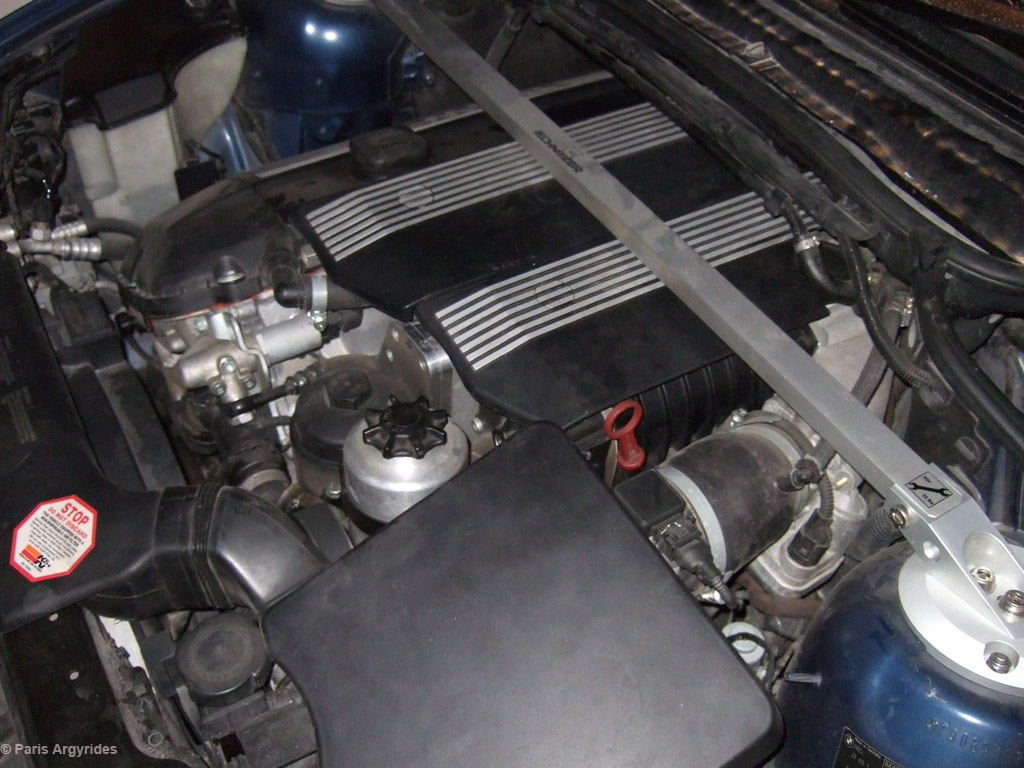 Rogue Engineering provide me with a fee their short shift kit which really transformed the shifting experience. I believe all cars should come with ssk ***61514;
During the S/C install we noticed one of the wishbones had torn rubber boots and the ball joint inside was shot. Perfect excuse for a pair of Meyle control arms and bushings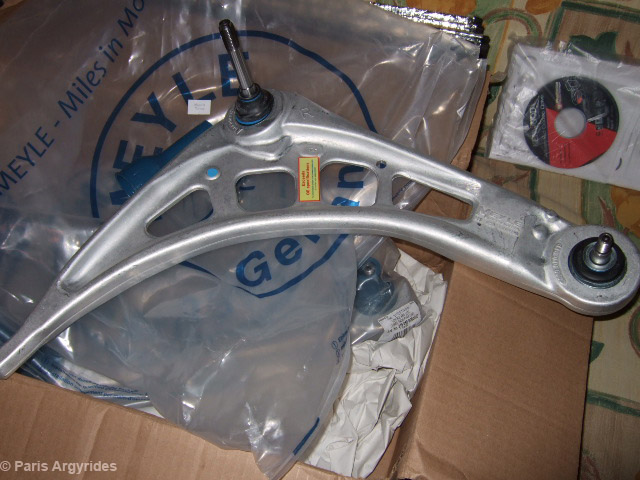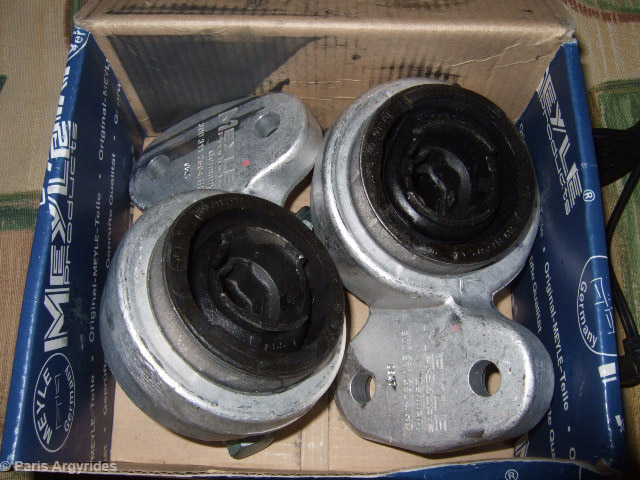 At some point, I helped a friend get rid of his genuine staggered 18" MV2 alloys and I paired them with 4 brand new Michelin PS2 tires.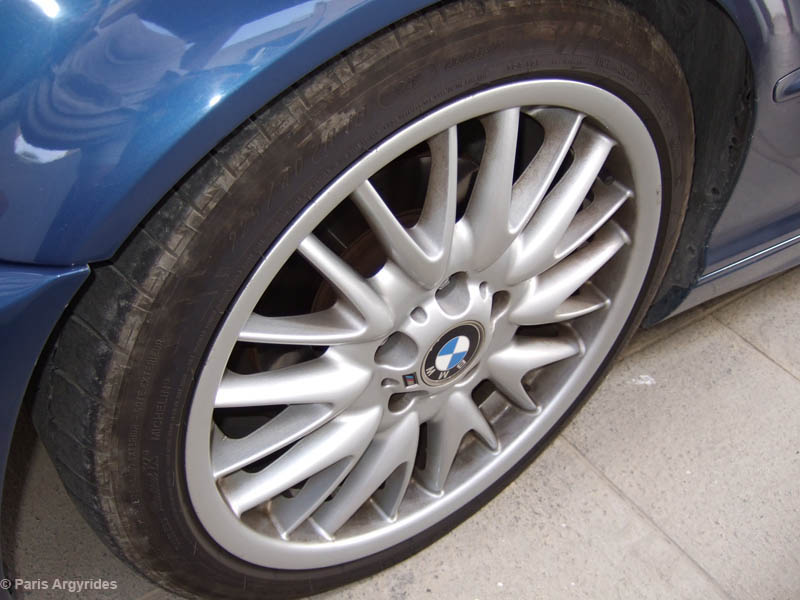 One day, weird sounds from the front-end told me that the waterpump was having a heart attack so I decided to change it along with the rest of the cooling system. As an upgrade I got the stewart components wp.