Discussion Starter
•
#1
•
I personally never owned a European car before, but after driving econo boxes ever since I earned my drivers license, I'm excited to say I have definitely been missing out. I recently flew out to Las Vegas and picked up my first BMW, a 2000 E46 323it. It is a five speed, which took me nearly forever to find, and has the sport package with un-powered and un-heated seats. This is nearly exactly what I was looking for.
I really wanted an estate. A four door saloon just didn't appeal to me. My first car, and many of my subsequent cars, were mini-vans, so I just could not do without the added room for my bikes and gear. I desperately wanted a E91, alas, there were those issues of "wow, that's a lot of money for a new car" and "jeez, no one sells used E91s, let alone with a manual transmission". So my search began for the next best thing: an E46 estate. E46 cars being a little older, I figured if there were any out there, I'd have a much better chance finding a E46 estate with a manual transmission than a E91.
By pure luck, before I left for a trip to Las Vegas, I decided to check their local Craigslist listings. To my surprise, I found a clean E46 estate that was 5 speed manual for sale. The grainy pictures that were posted showed a sports package steering wheel, and it looked a little lower than the standard estate. I was already amazed I'd found a manual estate, but the fact it had the sports package on it just sweeten the deal that much more :happyanim:. I called the owner, struck a deal and the rest is history.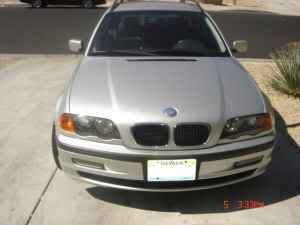 Or was it? I flew into Las Vegas, picked up the car, get my drive-away permit from the Las Vegas DMV, and come back out to my new estate of awesomeness to drive it away. Bear in mind it's 114* F in Las Vegas at that moment. Thanks goodness the A/C in this thing is ice cold. I get into my car and try starting it. *Click click click...* No wait, this can't be right. Let me try again. *Click click click...* More silence results from turning the key in the ignition. Wait, no this can not be happening to me! Not now, not here! What a way to start my new ownership of my first BMW. But wait! The saving grace of this entire situation - I can push start it! I turn to my girlfriend and my other friend who came with me to get the car, "babe, you're going to have to learn how to drive a stick, right about now."
The usual econo boxes I drive weigh about 2600lbs wet, while my new estate of luxury weighed in at a whopping 3300lbs. Needless to say, pushing this thing around the DMV parking lot in 114*F weather was not exactly fun, but I guess the Euro Car Gods were saying I really had to work for this BMW if I wanted to keep it. So, I get my girlfriend in the driver's seat and explained, "So when I tell you to release clutch just complete lift you foot off the pedal, and if you the car has started immediately put your foot back on the pedal and take the car out of gear, ok?" She nods nervously and gets ready. We start pushing the car down the parking lot, and thankfully it's a down slope where we had initially parked. We get up to a decent speed and I tell her to let go of the clutch. The car lurches a bit and magically burbles to life! The car is heading for a curb so I tell her to brake! A little too excited, she does so without pushing the clutch pedal down, and the car dies once again. NOOOOOO! All I can do is just laugh in frustration. I completely dry my throat of any remaining moisture and wheeze in laughter. Well, unfortunately it took another 30 mins to start the car again, but we were finally on our way to the parts store to buy a new battery. The one in it was about 6 years old, so it was on its last legs.
One thing I forgot about these BMWs....nearly everything is electronically switched! So another minor set back was I accidentally closed the hatch after I had removed the old battery. You can see where I'm going with this... I come back with the new battery only to find I can't open the hatch!!! Thankfully, it is a estate so crawling in from the back seats was not a problem, just incredible hot since, it's still 110*F + at this point. Finally, I get the new battery in and we take a drive down the strip to enjoy the rest of our weekend. Of course, modification will soon commence...stay tuned!
Of course, VMR Wheels are mandatory...test fitting some wheels...