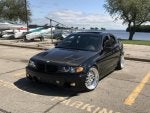 Hello everyone,
This pretty 6mt ZHP needs a new owner. I've been putting less and less miles on it per year. So far this year I've put on about 160 miles on. Last year maybe 3k. I've owned it since 2013. It has 139,573 on it. Never winter driven very rarely even rained on always garage kept. I detail cars for a living so I do the best I can with it from Extracting carpets, keeping the leathers sealed to polishing sealing and waxing the paint. Currently sits in Oshkosh Wisconsin. Not planning on shipping but something could be worked out.
-2005 bmw 330i
-Zhp package
-Winter package
-6 speed manual
-139,573 miles
- WBAEV53495KM08122
-jet black exterior
-black interior
-clean title
***Price reduced $11,400***but I'm open to offers. Not interested in trades.
Title in hand!
-Active Autowerke stage 3 s/c kit blower replaced at 126k
-Active Autowerke sport headers
-Active Autowerke meth injection kit
-Schrik fi cams
-Plasma direct injection coils
-06 m3 lsd
-Hpf catch can
-Rouge race brace
-Magnaflow exhaust w/ xpipe
-Aem Mickey Mouse gauges
-Umnitza angle eyes
-Bc br type coilovers
-Work meister m1 3 piece wheels 18x9 18x10
-Toyo proxes less than 600 on the wheel/tire
-35% tint
-Spec stage 3+ clutch and flywheel 6k on those
-Stewart water pump
-Adjustable ecs rear camber arms
-Calipers freshly powder coated
-Fresh hawk hst 5.0 pads
-Fresh Brembo rotors
-Ecs steel braided lines +dot 4 fluid
-Trunk carpets dyed black
-New key
-trim wrapped gloss black
-led interior lights
-Smoked tails and side markers
-All wheels bearings are fresh
-Fresh rear main seal
-Fresh guibo
-Fresh exhaust gasket and bolts
-All 4 window regulators replaced within the past 2 years
-Coolant flush 4K ago
-Trans and diff fluid replaced 4K ago
-Power steering fluid and new pump done 4K ago
-New front upper control arm bushings
-sai pump is deleted which throws a code occasionally (only cel) can include all parts
-Washer tank deleted, can include all parts
-Cdv deleted
-exterior trim wrapped gloss black
Issues includ
-Front end clunk at low speeds
-Road chipped and scraped front bumper
-A few led out on angle eyes
-Driver seat bolster shows slight wear
-A,B,C pillars could be re done
-mirrors have some water damage
The car is generally babied I don't drive it hard. The clutch was granny driven for the correct breakin period. Im very happy with the car, drives smooth, alignments good and the power comes on strong.
Thanks for checking it out please ask questions if you have any!