hi guys, long time reader first time posting a thread. i thought i would wait a while and put something special together.
so here goes my story. im 27, live in sydney australia, engineer by trade, developed a love for cars.
first car, 81 ford laser, went overboard with it. it was a laugh of a car, but had some MAD DIY features i created. i paid $300 and with God as my witness sold it for $4000, NO BS. Some features include, ac retrofit, 18 wheels (13 standard, looked a pissa), short of a tow truck, car was unstealable (if someone is interested why? ask and i shall explain, lol), sheepskin seats, looked mad. Rear seats removed, doubled as a ute, lol. everyone laughed at this car, man, woman, dog and child, including cops.
After i had enough of looking like a gypsie, lol, found a Seat Ibiza Gti. Probably the most underated car i have ever know. VAG (VW Audi Group owned) 1.8L Turbo, 110Kw, great handling, great little car. Paid 3K, did some improvments, sold for 8K. Very underated, 5speed, the car cracked.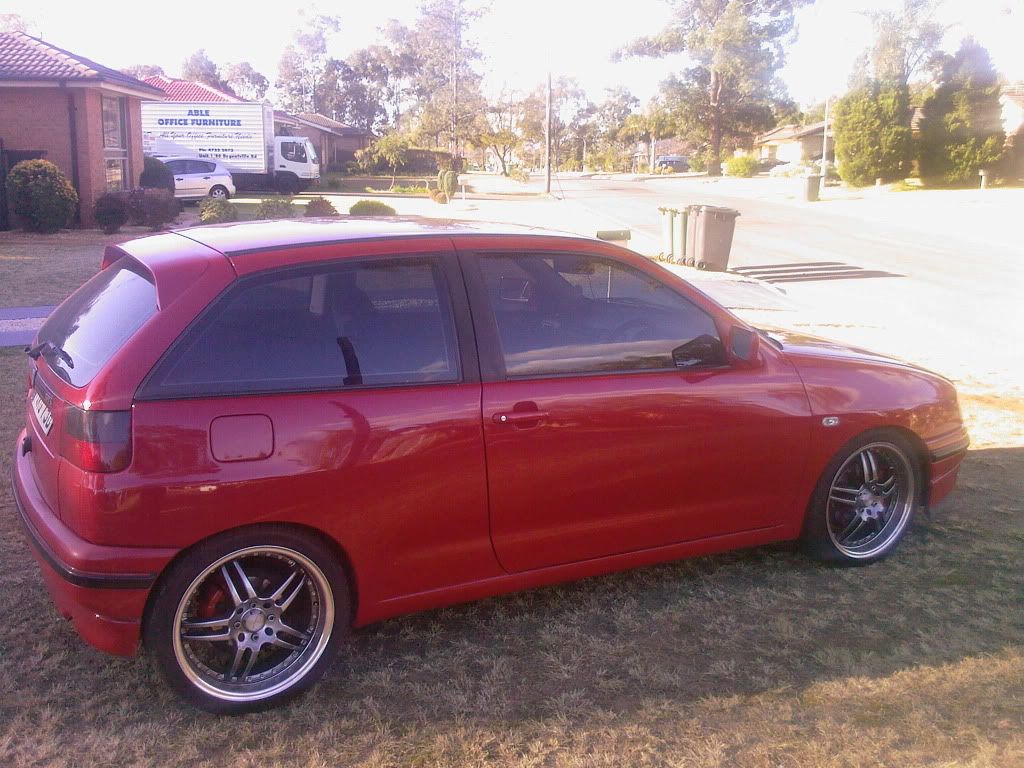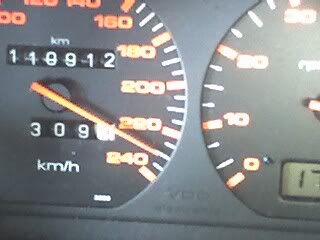 Next came, probably the dumbest *k*N thing i have ever done. Lemom of all lemons, mexica made piece of you know what. 8 months of ownership really made me miss that 81 KB laser which cost me $300. Compared with 35K, no word of a lie.
Notice the house 4 sale sign in the back ground, yep made a little bit of cash, which could only mean some $$$ for new toys.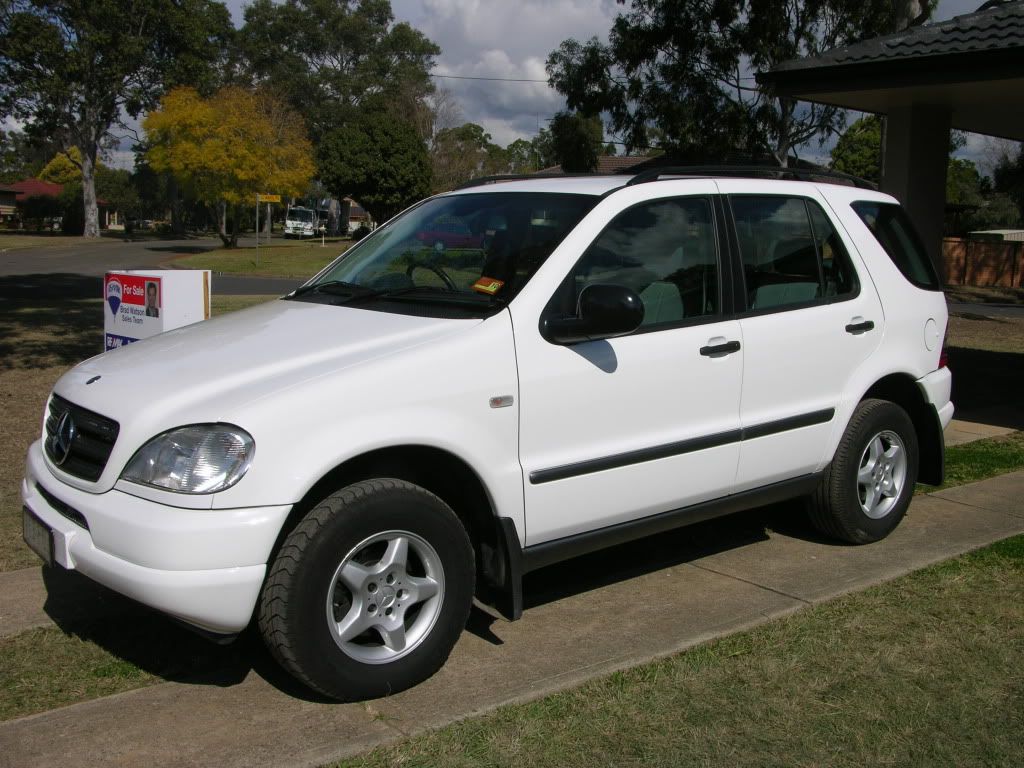 House gone, crap box soccer mums car gone. New house came, and so did some new toys.
First came the CLK430 V8 Cabrio, found it pretty cheap at the time (70K, 2 years old 160K new in Australia anyway), only 40,000kms, quality cruizer. Lasted 6 months, for 200kw i found it to be a pig speed wise, the Gti was quicker, no BS. Nice car for a 50+ year old, too boring for me, just lacked youth.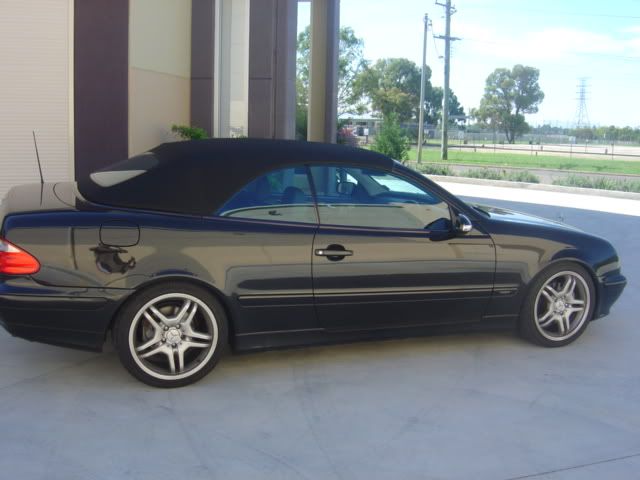 after all these cars, i had a brain explosion and needed something different.
hmm, meet the Husky, now this was a beast. BTW, any bloke who has a motorbike in the middle of the lounge room, well you know who wears the pants in my family. lol
NEXT CAME THE BEGINNING OF AN ERA, IN FACT I SHOULD CALL IT THE BMW SICKNESS, OBSESSION / MENTAL ILLNESS, WHATEVER YOU WANT TO CALL IT.
It all started one fine winters day, when i decided the CLK was an old man's car and not for me. So i went out drove an e39 m5, loved it, drove an e46 m3, loved it, sold the clk and purchaed a BOG stock E34 525 M20, 91' with 350,000KM, povo pack, cloth and no options besides a sun roof. best thing about, 5 speed stick and cost me $1500 bucks. Little did i know how much this would change my life. In a good way.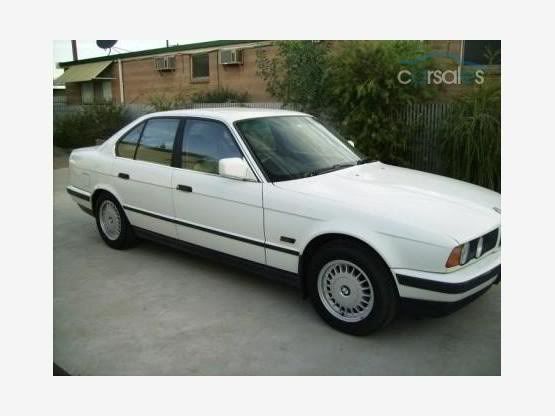 The first thing i noticed was how remarkley well built these were, quality all the way. they certaily dont make them like this anymore.
So the love affair begins. and i start trying to turn this 18 year car into a new car. I dont know why, but i just loved this car, it just drew me in somehow, if anyone knows why, please explain.
after constant issues with all type of electronics etc etc etc i just wanted to get this thing right and got sick of touring around wrecking yards and etc looking for parts and decided the best way was to buy a wreck or two lol and use parts from that. So i purchaesd 2 other 525 wrecks and dumped them on the street in front of my house, lol. Obviously neighbours werent impressed, i wish i had pics of the 2, but long story short, i took what i needed and sent them both away. A month later i realised it was a mistake and bought another wreck with some great extras. full leather, electric heated, memory seats, leather trims, 4:11 LSD, full OBC and much more. Cost me $2000 but best thing i ever did.
Guess where it went , lol.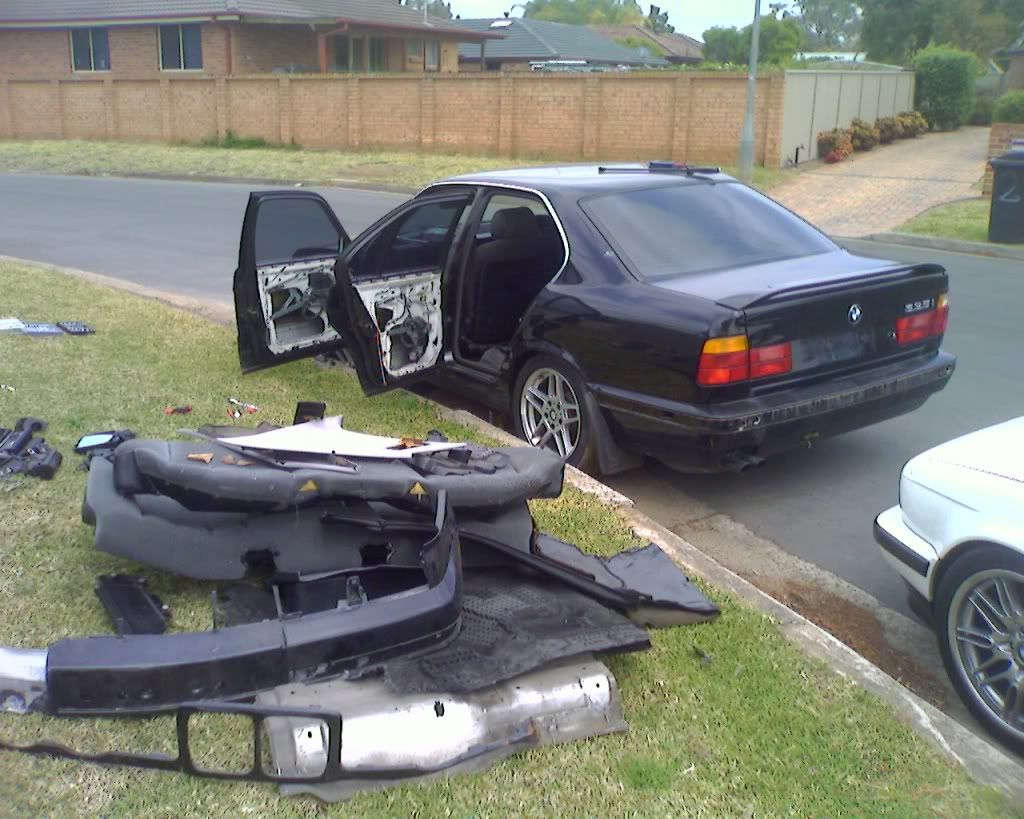 so the work started on my 525, purchaed about 5K worth of snap on tools, and just decided i can do anything, having no mechanical experience whatsoever.
- away went all the old crappy cloth interior and in went the full black leather, electric, memory heated seats.
- in went the electric auto dimming rear view mirror, great feature
- on went the e39 m5 18" running on german continental tyres, (incredible tyres by the way, yes $400 a piece, yes only last 20,000kms, but handling is incredible - words escape me to explain it, worth every cent.
- clear lights all round, HID's
- IN ALL MY EXPERIENCE THE SINGLE BEST PERFORMANCE UPGRADE (without spending ridiculous $$$) I could ever imagine. Out came the 3.46 single spinner diff and in went the 4.11 LSD. All i could say is WOW. For those of you considering such a thing, DO NOT LISTEN to all those NOUBS telling you your car will rev like stupid, lose top end, blah blah blah. My car went from reving at 3000rpm at 120KM/h to reving at 3300rpm at 120KH/h and whoppy do, i hate when people talk nonsense without any personaly experience to back it up. No top end was lost simply because i dont drive my car at 180Km/h daily. The benefits were tremendous and very recommended to anyone who wants more up and go from 0, its simply mechanical advantage. Go for it. I loved it.
- on went an e34 schnitzer spoiler, i liked the look
- 4k got dropped on a system, 3 amp's, tv, tuner, dvd, 7" single, focal speakers (they are worth the $$ by the way),was great but wont do that again.
- koni ajustablles all the way round, what a difference
- many other things, too much to mention, suddenly the $1500 car looked like something very special and compliments were regular.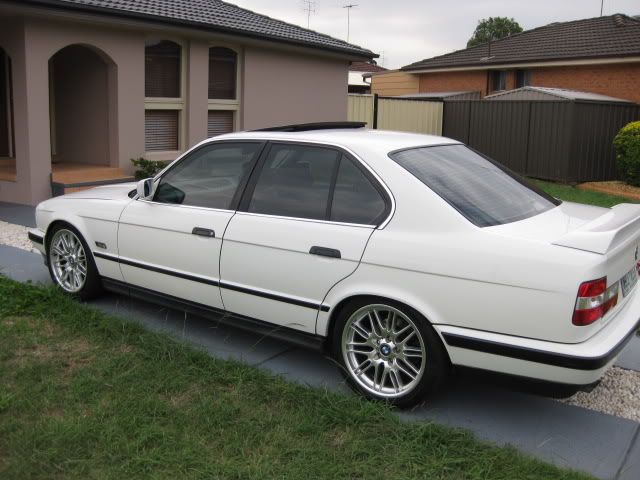 And then, at 360,000 KMS came some real bad luck that would really test my knowledge and skills.
The head on the M20 cooked, big trouble. The car was in too good a condition to not have a crack at fixing it.
So i started, stripping. (BTW, now, i can have throttle body, manifolds and complete head of an M20 in well under 1 hour, EASY after doing it twice (dont ask).
got a second hand head for $200 and had it fully re build by a specialist place for $600, was like new again. while i had it out, fully changed all hoses, cooling system all new, new AFM (dont think about it, just do it, makes a massive difference), new fuel lines, breakes, everything in engine bay near new. powder coated maniforld and valve cover, looks a million time better.
the m20b25 is a great and easy engine to work on, if your half swithced on and willing to learn. its also very forgiving.
the old,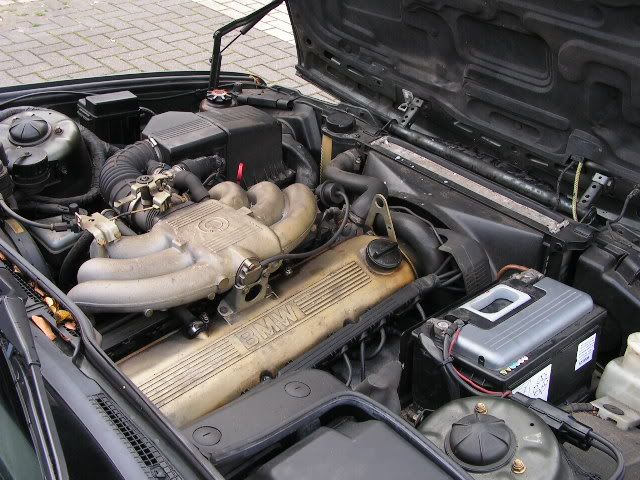 and the new, what a difference. DO IT YOURSELF SAVE $$$ have some balls and have a good crack at it. (DO NOT TRY REBUILDING HEADS YOURSELF UNLESS YOUR A PRO, TOO MUCH PRECISION INVOLVED)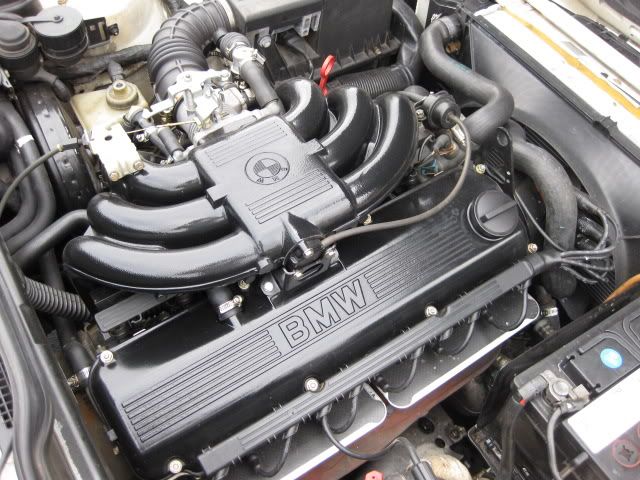 No the E34 was finally complete. It was absolutley perfect. I drove it around for 2 years, did almost 100,000 Kms (yes i drive allot) without missing a single beat, perfect is perfect. I had it at the exact level i wanted. All i ever did for 2 years is regualr services (i believe in oil changes at every 5k on older cars and also believe in thicker oild for older engines 20w50) oil leaks, yeah right, this puppy was brand new underneath.
with the e34 near perfect away went the old wreck, not without further stripping on the street BTW,lol. Neighbours do hate me, not sure why , lol.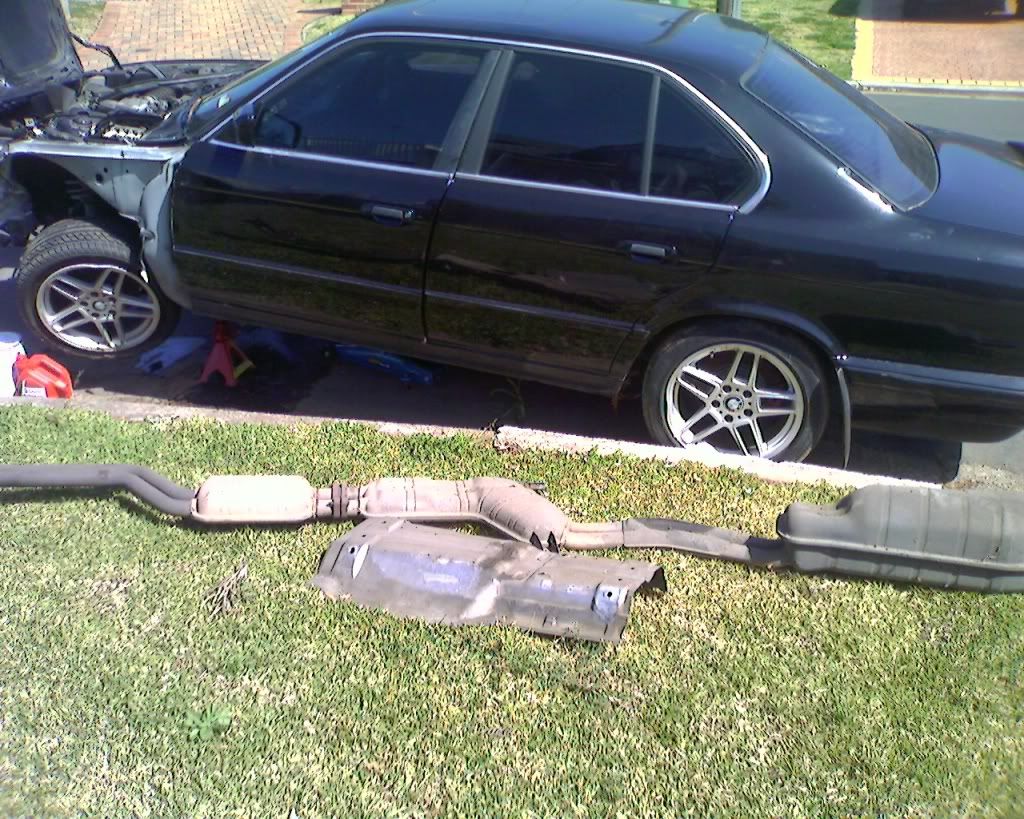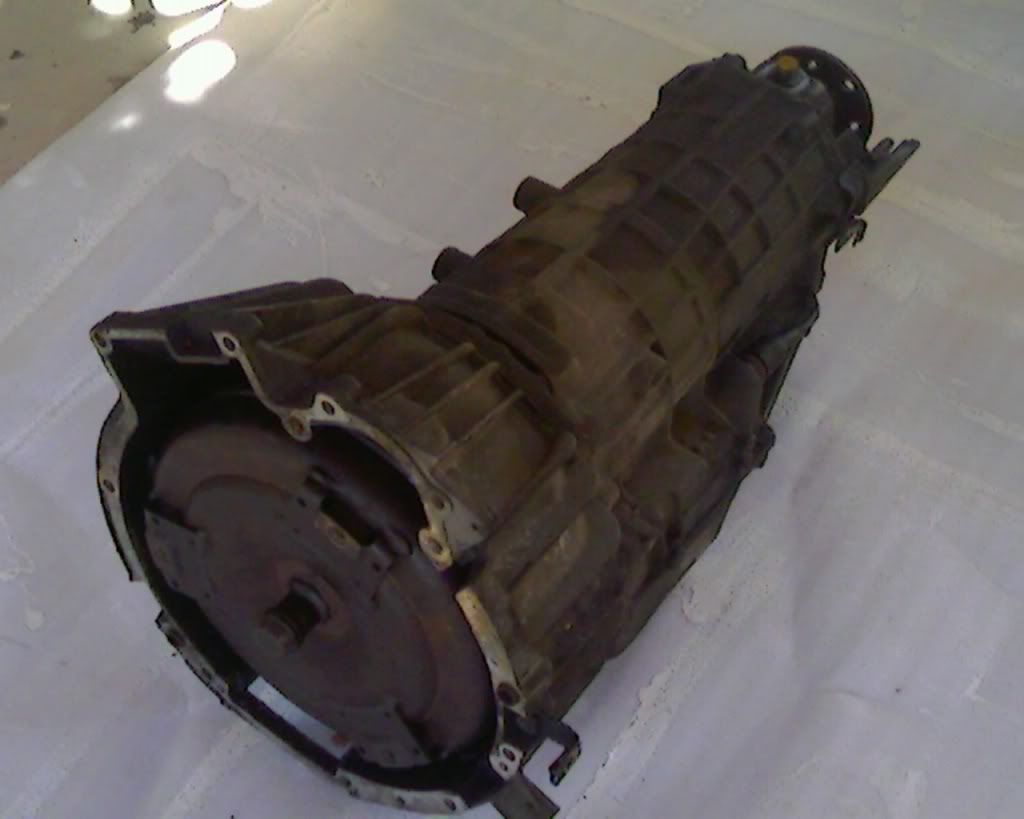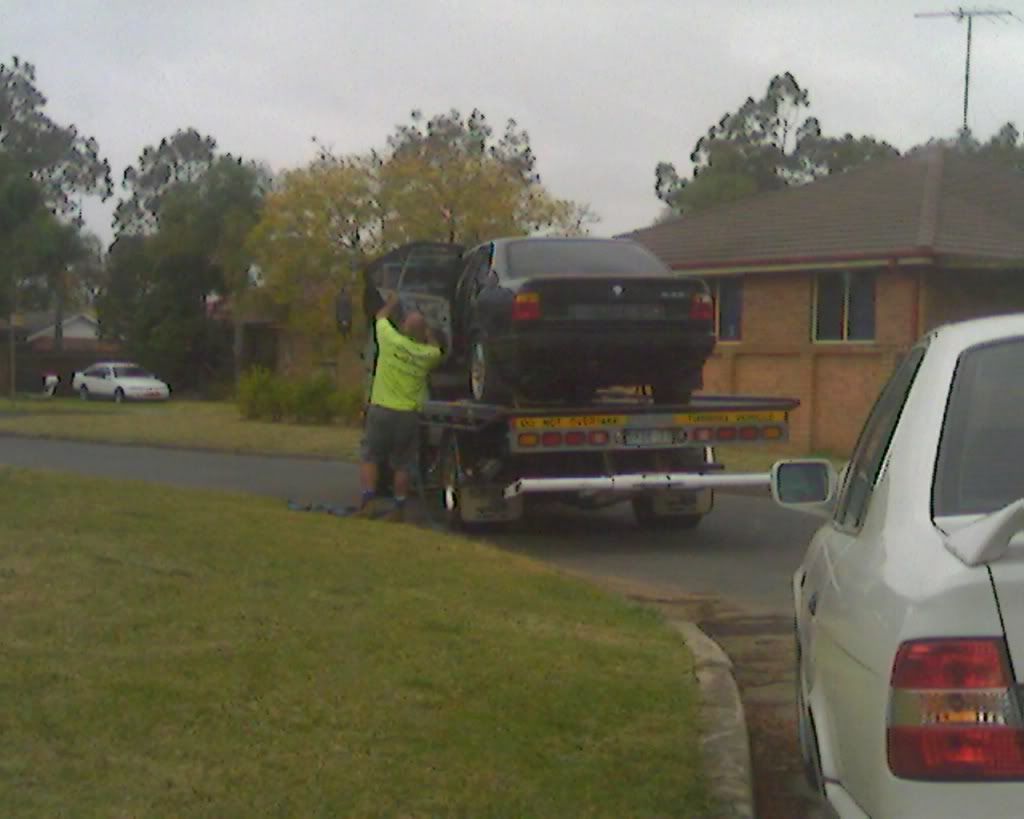 I was a very happy man. I love my e34 and was was near new and absolutely perfect. Reliable as anything, exactly what i wanted.
However, their was 1 problem which i could not rectify. i loved her and was a perfect daily driver, but she just didnt go HARD, dont get me wrong, it went ok but not hard.
So i thought to myself what does an e34 lover do, after all that. Turbo, other forced induction nah, that would take her away from the daily driver and she was perfect.
So i went out and started looking for another weekend car. a budget was not an issue, i obviouly had the BMA bug so out i want,
- e46 m3 coupe and cab, they were fast and good, but i didnt love it
- e39 m5, fast, felt heavy and a little dopey, was great of course but again i just couldnt love it
and then the 3rd car, overall just blew me away, my decision was the easiest i ever made, budget not an option.
If you dont own one, you will NEVER understand. If you do, then need i say more.
If your thinking about getting one, watch the "making of the e34 m5" video on you tube, if your still not sold then its not for you.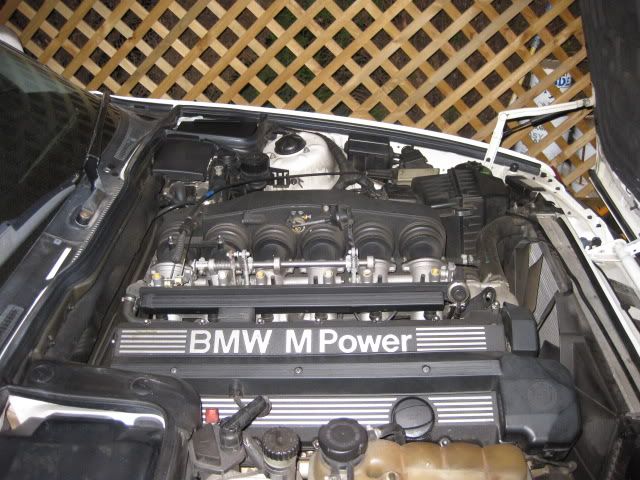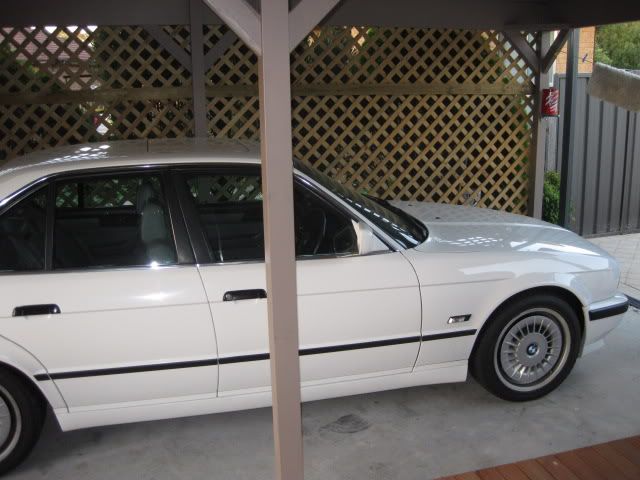 i piad over 30K, yes expensive but, 1 original owner, full service history, 67,000km, absolutely immaculate, nothing to do. and what a car, overall. I will keep it 100% original, and keep it for life, its a piece of history and sure as HELL bmw dont make them like that anynore, nor will they ever again. That same passion is simply not there, yes still great cars, but not the same.
and guess what, hmm.
Since i bought the M5 i decided i needed another spare parts car just incase, since the other three were gone, lol.
so guess what,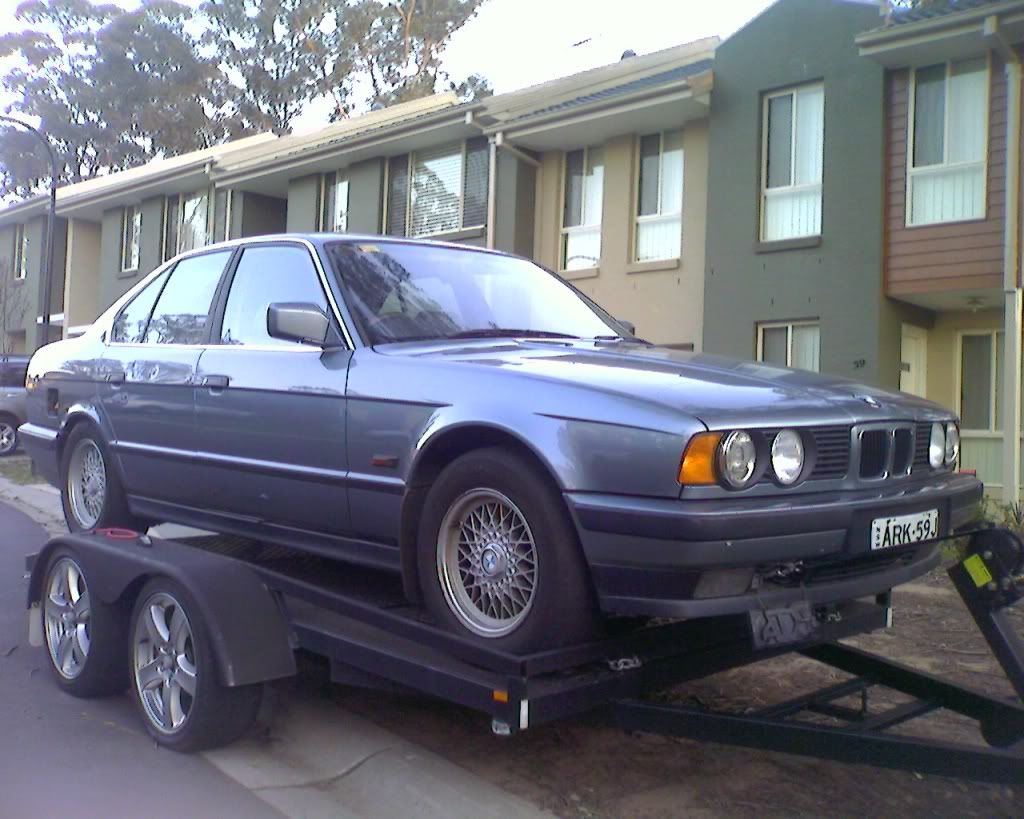 nicely tucked away on my property now, since the neighbours were not very happy with me, lol. dont ask about that crap box eunos 800 next to it, my mates heap of junk which he decided to just leave at my place, noub.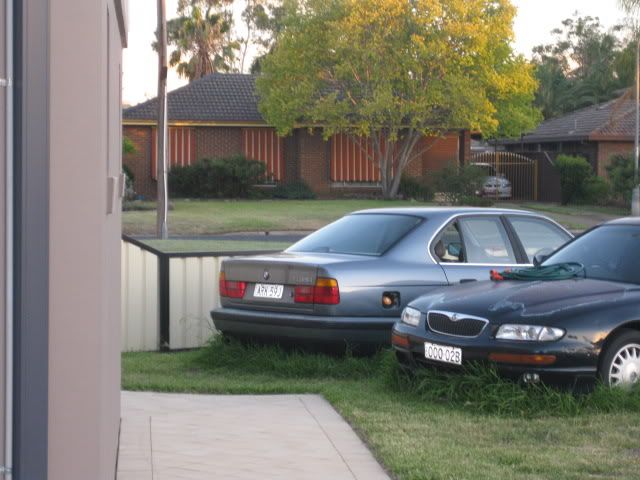 So, now i had an M5 to drive around weekend only, i had anther problem.
I only had one car space and and m5 sure as hell was not giving way. This meant my e34 525 was cooking in the sun reguarley and like and someone as partcular as me was not going to have that. Sun especially Australian Sun will kill any car, they just really deperiate. I was not going to have this and started thinking maybe after my love afair with the old 525 it was time to let it go.
and yes also, i was going home renovation at the time and i started to notice another somewhat disturbing trend with the old 525, lol
it like the laser was starting to become multipurpose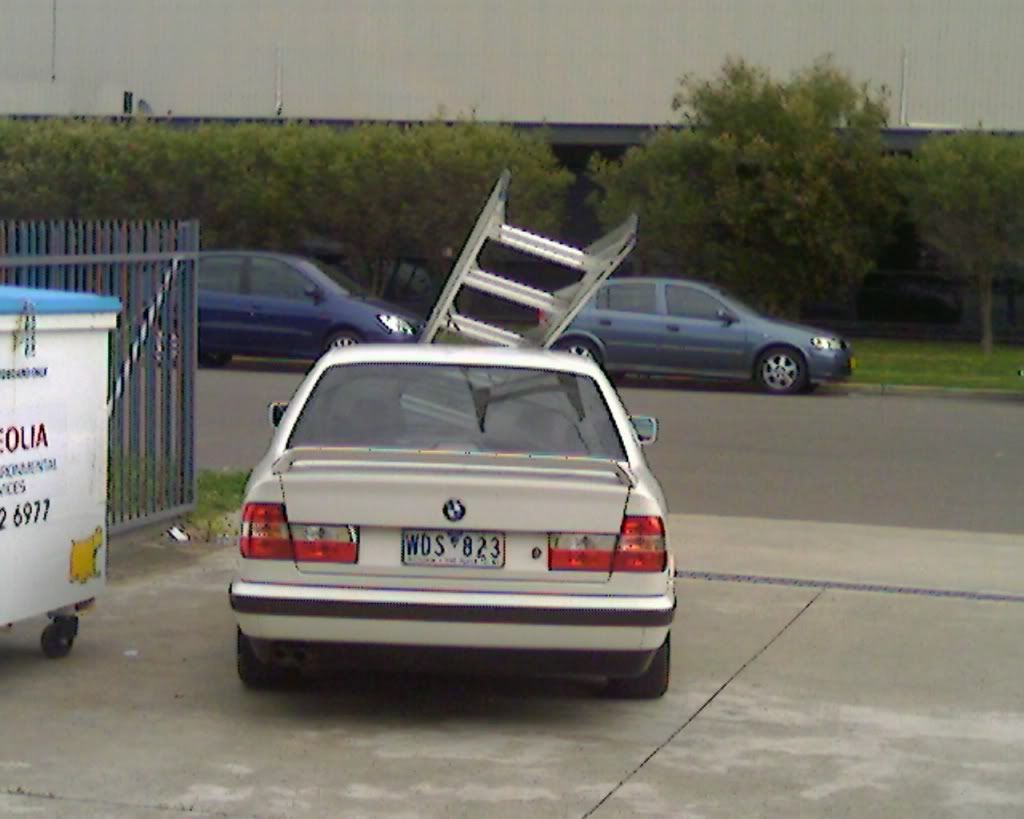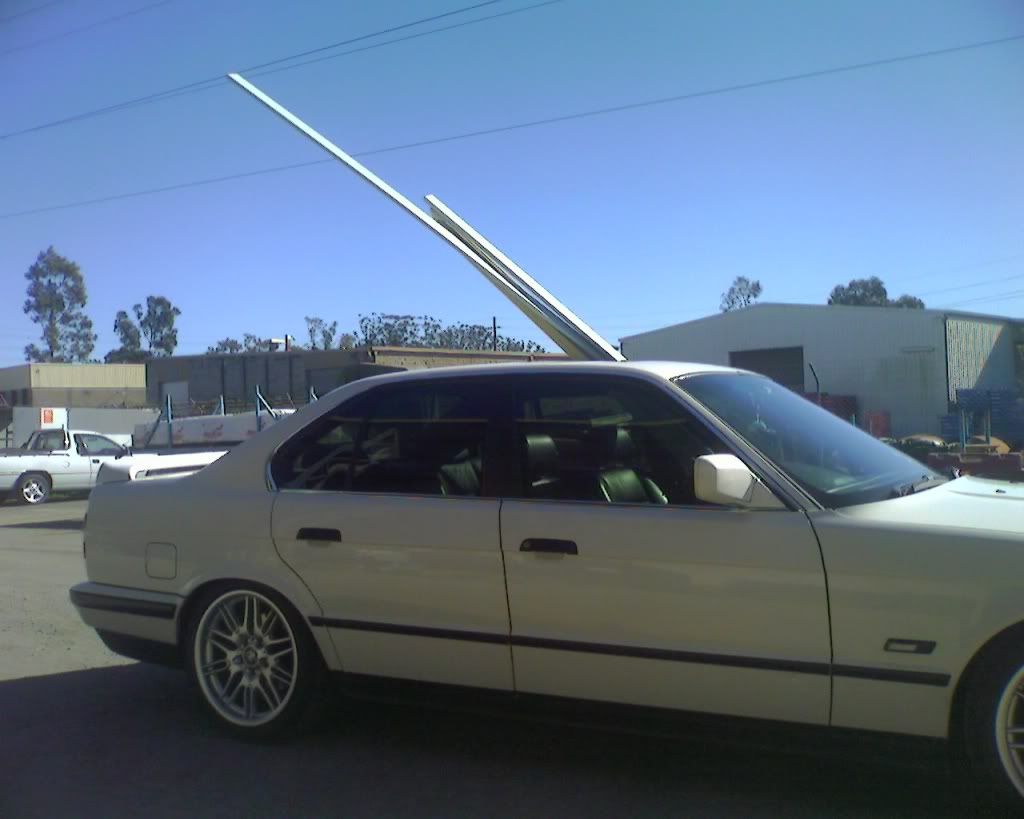 lol, yes people on the road were in hysterics.
After month of deliberation, finally i let her go. She just didnt like the sun and i wanted her in a good home. She was perfect and i let her go to a good owner for $12K AUD. You may think its expensive but i think it was a bargain to the new owner.
So i start looking around for something newer.
So i find a nice 325 e46, 90,000Kms full history, fully optioned. They car was worth approx 23K AUD, so i find a guy (i should say tool) selling one or 9K because its motor was blown, says his mechanic. hmm, i buy the car over the phone. Get it home on a tow truck and guess what. a $100 crank sensor later, she's running like a baby.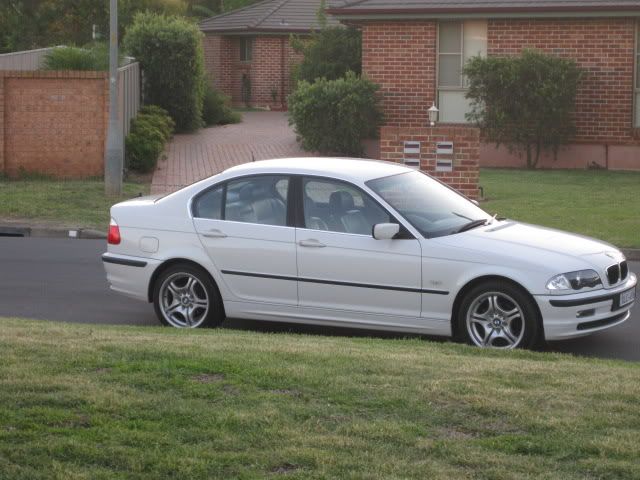 Nice car too look at, i somewhat regret getting the e46, i have had her 2 month and although she came from a good home the following has needed attention
- water pump and thermostat changed, pump leaking, theromstat stuck open = no heater
- control arm bushes - apparenly common
- diff locked up (felt like a full locker) i suspect spider gears burnt out - new diff (yes higher ration again, yes its MAD, much better)
- power steering hi and low hoses leaking - changed (aso cannister while there)
- 2 window regs died (you dont get this on a 20yr old e34, hmm)
- air cod system completely crapped out, compressor blew its back end out, through the whole system, changed compressor, condensor and tx valve, fingers crossed it didnt effect evaporator, no wy im pulling that dash out.
- steering rack seal leaking, changed seal fingers crossed it does it
- vanos rattle has started - not yet addressed
- rear end clunk - ITS NOT the subframe chassis crack thank God, all bushes need changing, not yet addressed
- hot days, cruse control wont activate not yet addressed
Overall the e46 is well what can i say. Its great to drive, certainly no e34. Not very reliable at all, and its half the age. I wonder how it will be in 10 years time, thats why they just dont build them like they used too. Puch the door trim on an e34 and then an e46, you will know what i mean. Overall the quality is in two diffrent leagues, so for those e46 owners myself included, e46 v e34, quality wise, e34 absolutely hands down, thats from someone with as you can see personal experience.
Now the e46 cooks on the street and i dont really care, while the M5 sits under cover and my old m20 525 is in a good home.
i hope my first post has been entertaining and a good laugh for you.
I leave you with some more pics