Got tired of typing these responses all the time in my PMs and threads. So I'm just going to write it out here and link to it whenever someone asks lol I didn't include anything that is already posted in one of the other sticky threads.
I tried to organize it so that lighting problems are listed front to back (i.e. headlight related problems first, then rest exterior, and then interior). Use the Find function to help find what you're looking for. I didn't write every conceivable symptom that can possibly occur though.
Here's a general bulb replacement guide for the e46:
- Low beam: H7 (halogen)/D2S (bi/xenon)
- High beam: H7
- Front turn signal: 1156/7507/7440 (04-06 coupes only)
- City light (non-US): 194/T10
- Fog light: 9006/H11 (02-05 325 sedans mainly)
- Sidemarker: 194/T10
- Tail lights (pretty much all of them including rear fogs/reverse): 1156/7507
- License plate lights: 39mm x 10mm festoon
- Footwell/glove box: 39mm x 10mm festoon
- Vanity mirror lights/interior trunk lights: 44mm x 10mm festoon
- All interior map lights/center dome light: 194/T10​
1) What do the light warnings mean?
a) Everyone knows what they look like so I won't post a picture. But the warnings themselves don't specify which bulb exactly is out.
i) Front warnings could mean either the front turn signal, low beam, or high beam bulbs.
Note: For non-US cars, city lights also use the same warnings.

ii) Rear warning could mean the parking lights, rear turn signal, or brake lights.
Note: On some model years, the license plate lights will have this warning.

iii) There are no warnings for the reverse lights, front/rear fog lights, or sidemarker lights.​
2) My bi/xenon low beam (left/right) is dead (or intermittently turns on), what is wrong?
a) First, you have to help us diagnose it by systematically isolating the problem.
Note: For 04-06 facelift coupes you want to start with the igniter first then go to the bulb because the igniter is located on the back of the bulb.

3) One of my bi/xenon lights is dimmer than the other, is my bulb dying?
a) This symptom has a few possible causes.
i) I would check the connections and wiring. It could be a bad ground at the plug.

ii) One of your bulbs could be dying faster than the other one. If you have never replaced them before, it's time. OE bulbs typically have a lift span of 5-7 years. The light output gets severely diminished the older it gets. When you get new bulbs, your lights will improve as well.

iii) If after replacing the bulbs and it's still dim on one side, then most likely it's your ballast that is dying. When xenon ballasts get old, they lose power over time. I think they can go as low as 28w (35w is what the ballast is rated for when it's new/functioning correctly) before it will stop turning on the bulb.​
4) Both of my low beams are dim or have bad light output, it is supposed to be like that?
a) If you have never replaced your bulbs before, then you probably just new a new pair of bulbs. They will be much brighter.

b) If you have a ZKW bixenon headlight and it's still dim after you replaced the bulbs, you may be suffering from burned projector bowls. The only fix at the moment is to either retrofit new projectors, buy unburned ZKW projectors and replace them (will still burn later on), or buy a set of OEM AL/Bosch headlights to swap with your current ones.​
5) I just installed Bi/xenons (or PnP HID kit), but there is an error (or flickers a bunch of times then turns off). What do I do?
a) There are a few things you can do. I'll start with the most recommended option, as it's the OEM way to do things and go from there
i) You need to get your car "coded/reprogrammed" so that it can accept xenons. You can do this by either going to the dealer, Indy bmw shop, or post a thread and see if one of our regional fanatic coders can do it for you. You can program the car yourself as well, but it's best if you research about it to see if you want to attempt it (it could really mess things up if you don't do it right).
Note: For some model years (generally 03+), when you code the car, you will lose your inner high which has been relegated to "flash to pass" duty. So you will not have high beams. For more information see next question.
ii) You can buy warning cancellers from a vendor. Here is one from TRS:
http://www.theretrofitsource.com/product_info.php?products_id=238
iii) If you have some soldering/electrical skills. You can DIY your own warning cancellers. See here:
http://forum.e46fanatics.com/showthread.php?t=506677&highlight=diy+capacitor+mod
​
6) I got my car reprogrammed for bi/xenons and lost my high beams. I need them, what now?
a) Again, there are a couple of things you can do. I'll start with the easiest.
7) Both my bi/xenon headlights would blink/flicker sometimes. How can I fix it?
a) Most likely this is related to a grounding problem in the tail lights. BMW did issue a recall to get these fixed, but some owners might have not done so. Here is a DIY for it (search "tail light ground fix" for others):
http://www.e46fanatics.com/forum/showthread.php?t=796718
b) Also check all the connections going to your headlights.​
8) I put an HID kit in my fog lights, now when I turn it on, the cluster flickers and sometimes resets, any known fixes?
a) The fog lights were not intended to drive xenon lights like the low beams are. You should use an accessory wiring harness. Make sure you get a quality harness with a good relay. Some cheap relays still cause feedback.

b) The other problem is probably the crappy ballast you are using. It's drawing too much power at startup. A better quality ballast would alleviate the problem; however, I would still recommend you install the accessory harness regardless.​
9) The auto-leveling function isn't working?
a) Check the connections. Check for breaks in the wire, which occurs often as well as making sure everything is secured correctly.

b) Check the leveling sensors that are located on the control arms on the passenger side. They could be broken.

c) If it's not a or b, then the auto-leveling motors could be bad.
Note: On the facelift coupe, the auto-leveling arm is kind of weak. So if you hit a pothole or something, that could be broken. The only fix is to get the leveling arm from a parts headlight or buy a new one. ​
10) The adaptive function isn't working correctly, what should I do?
For 04-06 coupes only.
a) There are a couple of things that can go wrong
i) if they are going in the opposite direction that you are turning the steering wheel to, most likely you accidentally swapped the ALC unit (smaller silver box) when you took out the headlight or installed angel eyes. They are side specific, just swap it back and you should be good.

ii) If the little green light on the LCM (when the switch is in auto) is blinking and it doesn't turn at all. Most likely there is a problem with the ALC unit itself. The only way to diagnose it is to get it scanned, and then go from there. If you need to buy a new one, keep in mind that you will need to reprogram them to work on your car.​
11) My headlights are aimed too high/low, how do I re-aim them?
a) See this DIY:
http://forum.e46fanatics.com/showthread.php?t=613022&highlight=diy
b) For the facelift coupes, instead of knobs, you have little screw holes (either use a Phillips or an Allen wrench). One is located near the radiator support. There is a semi-circular cutout for it. That is the up/down adjustment. The left/right adjustment is located on a hole that is near the turn signal.
Here is a couple of pictures off my own car (H = horizontal, V = vertical):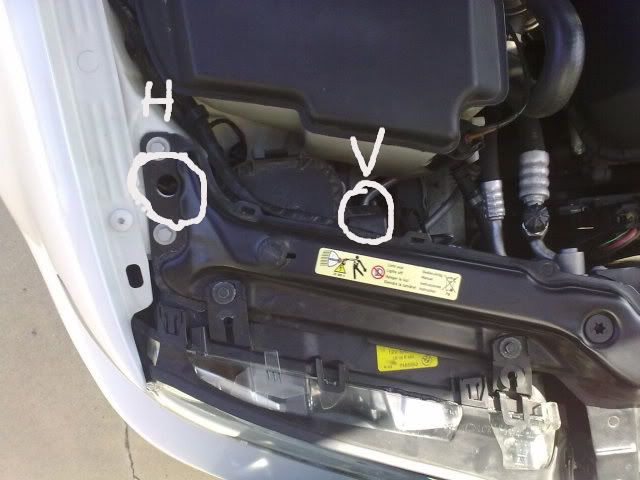 Horizontal close up: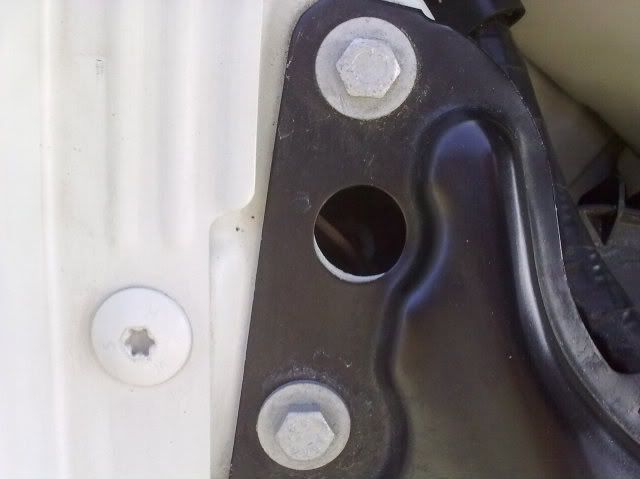 12) What about aiming the fog lights?
a) It's the same process pretty much, just much lower. On most e46 bumpers, you have to take off a cover and there you will find a hole (similar to how it looks on the 04-06 coupes) in which you can use a Phillips screw driver to adjust. On some model years, it's not possible to aim them at all.​
13) Sometimes one of my front turn signals shows a warning (or fast blinking) but the bulb appears to be fine?
a) Check your connections. Something could be loose at the plug. Clean the contacts with electrical contact cleaner.

b) The metal tabs might not be getting a good connection. Get a flat and pry them up a little so that they touch the bulb better.

c) The bulb holders tend to melt as well. If that is the case, just buy new ones and it should fix the problem.​
14) My angels aren't working correctly, what is the problem?
a) You have to be more specific than that. But here is a list of a few things that could be wrong and how to fix them.
i) One of the rings don't work
1) The connection from the ring to the inverter/LED driver might not be properly connected. Check them to make sure they are.

2) The ring itself could be defective. If so, warranty them if you can, otherwise buy a new one and reinstall.​
ii) Both the rings on 1 side don't work
1) If you CCFLs, then most likely the inverter is toast. Get a new one or better yet upgrade to LED rings to increase reliability.

2) For LED angel eyes, the LED driver/resistor packs could be bad. Just warranty/get a new one.
3) Also check the connection from the relay harness that connects to the inverter/drivers.​
iii) All 4 rings don't work
1) Check to make sure the power/ground is properly connected. Clean the connections and reinstall.

2) Check the Fuse. It's a 5 Amp one if you need a replacement.

3) If the rings come on with the interior lights but not when the engine is running. Check the ECU tap. If you didn't solder it, then the tap could have gotten loose, or the trigger wire part is loose. Just redo the connections.

4) If none of those are the problem, then it's probably the relay itself. Replace the relay.

5) In very rare cases, this can be the result of an LED interior light install. If that happens, then you need a resistor in the footwell for the LED bulb. Or you can just use a regular incandescent bulb. See link in 20a.​
15) One of my low beams won't turn on (but the headlights and all xenon components work fine after testing) after installing angel eyes (or any other lighting equipment [although in rare cases, it could happen without having installed anything])
Primarily a symptom in 04-06 coupes
a) If it was the angel eyes that were last installed. Check the ground wire on the relay. Often time if that is not getting a good connection this is the symptom.

b) If another lighting equipment was installed, uninstall it (just disconnect it, don't have to completely take it out). And see if it fixes it. If it does, then either there is something wrong with your install/wiring or the product itself is defective (can be defective and still work. Our cars are just more sensitive to these things).

c) If nothing was installed:​
i) It could be a bad ground wire somewhere in your car. This is extremely hard to find. First try to "reset" the car by taking off the ground battery terminal in the trunk. Since this is a ground wire, this could be your culprit. I usually leave it off for a few minutes.​
1) The other couple of known places for bad grounds are the headlight plugs (both low/high) and the official BMW ground point which is located behind the headlights.​
2) Otherwise, good luck in your search for that ground wire. There are tons of them throughout the car.​
i) Try unplugging the LCM for a bit and putting it back. There have been some confirmation that this works..​
ii) Check the Red/Black/Green wires that connect to the igniter. Often times they become brittle and crack, or completely severed.​
1) If the insulation on these wires brittle and crack. The remedy for this is to pull the wires out of the connector and use heatshrink to wrap them up. If you don't know how to do that, you can get by with just electrical taping it.​
2) If the wire is severed completely. Best bet is to take the wires out of the connector and solder them back together and heatshrink it. If you can't do that, then you can try using wire connectors. It will be a tight fit.​
16) There is a warning light for the tail lights, but all the bulbs are good. What is the problem?
a) This is related to the tail light ground problem. See question 6a.

b) Try cleaning the contacts and bending the tab up if possible.

c) The bulb holder traces itself could be melted. If so, replace it with a new one.​
17) My brake lights stay on all the time, what is the problem?
a) This is an emergency feature that BMW implemented. It usually occurs when there is a break in the wiring somewhere. It'll be hard to look for that so I would recommend taking it to a shop.

b) The other thing it could be is a bad LCM.​
18) I installed LEDs in my license plate lights, they keep dying and there is a warning light. What should I do?
a) Unfortunately, you may be one of the few unlucky e46 owners that have warning lights for the license plate lights. You can try using high power LEDs to circumvent it as there is no way to put resistors in the trunk handle. Or you can just stick to using regular bulbs.​
19) I have DEPO/EE LED tail lights and they aren't working correctly, help?
a) That's to be expected lol Not the best quality.

b) It could be one of the resistor/capacitor packs that have one bad. Unfortunately, they don't sell them separate so you'll probably have to buy a new set.

c) The LEDs themselves could be bad due to heat/improper design. If you have the skills, you can open them up and replace all the LEDs yourself. Otherwise, buy a new set.

d) Pretty much whatever problems you have with them, you're SOL.​
20) There are missing/bad LEDs on my OEM LED tail lights, what can I do?
a) Unfortunately, not much. They rarely go out in the first place. So unless you have the skill to replace the LED yourself, you'll have to buy a new tail light.​
21) I bought some LED interior lights but they don't fit in through normal install procedures. Can I open them another way?
22) Installed LED interior lights, but now they don't turn on when you lock/unlock. The map light bulbs work fine though?
a) The ones that turn on when you lock/unlock are on a separate circuit. Most likely, you need to put a resistor on one of the 5 locations for them to turn on. The 2 most likely places are the footwells and the center dome light. The size of the resistors can be found in my DIY linked in question 20a.​
23) The LEDs in the vanity mirror lights don't turn on?
a) Are you testing them with the key in the on position? They don't turn on otherwise.
b) Otherwise, check the fuse. It's on its own separate circuit too. Most likely that is the cause.​
24) Why do my angel eyes not work after installing LED interior lights?
a) See question 13a.​
That's all I could think of that I commonly answer. I did the leg work for a lot of these problems already. If it's not in here, you can just post in here or a new thread and someone will probably answer it.