Discussion Starter
•
#1
•
This is a 2004 330i that I am doing a suspension refresh on for a friend. This car previously was lowered but I am restoring the original sport suspension on it with junkyard springs and all new Bilstein B4 (sport) struts & shocks and pretty much all bushings and mounts.
I'm getting ready to put it back on the ground now, and noticed that the right rear shock is just touching the rear side surface of the upper control arm. I actually had to loosen the trailing arm bracket at the frame and re-adjust the trailing arm backward in order to be able to move the shock to align with the bolt hole on the trailing arm. This can't be normal for a sport suspension 330i, right?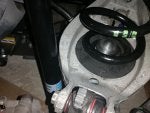 On the left side, the left shock has about 1/4 inch clearance with the rear side surface of the that upper control arm. This seems more normal.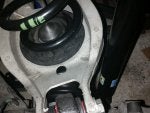 Has anyone seen this before or have advice on how to trouble shoot this kind of thing? Perhaps this needs to go to a collision repair shop for frame measurement/check?
In particular, how can you tell if any swappable component (trailing arm, control arm, or subframe) is bent vs there being a frame issue (see below)?
Backstory
This car had lowering springs/suspension installed back in 2005, would bottom out pulling into most driveways, and was going through tires at a rapid rate in the back. There is a ton of road rash underneath. Also under the right side skirt below where the rear door meets the front door there is a good dent from some kind of impact. Almost like the car hit something low on the ground going sideways (which is highly likely since this used to be her son's car).
The owner has another e46 (2003 325i) with a blown headgasket, which is why the 2004 330i was pulled out of storage. I was rebuilding the suspension so that it would drive normally and be used as a daily driver, but now I am wondering if an engine/transmission swap is the better course.
It hasn't been aligned yet, which I guess is the real test, but seeing the right rear shock touching the control arm does not inspire confidence.