Discussion Starter
·
#1
·
Effduration was kind enough to send a set of touring mudguards for me to scan. As most of ya'll know, they're no longer in production, and it's such a low volume product that it's really not worth creating in large batches. My goal is to scan and recreate a good CAD model. After verifying the fit of the CAD model on my touring, we can outsource the production to a company like Shapeways to produce the mudflaps out of either Nylon, TPU, or PP.
I'm in charge of 3d printing/scanning/rapid prototyping at my workplace. I have access to FDM printers, but we mainly print in ABS, which would not be a good choice for this application.
Here are some test fitting pictures on my touring of the mud guards Effduration sent. I will not be running these, as my touring has been lowered too much for New Orleans already.
The scanner used is an Artec Spider. It uses a combinations of cameras and light projection to scan to an accuracy of 0.05mm . The main issue with scanning these mudguards, aside from wear and tear, is there is slight deformation while they're sitting on my table, as they're made from LDPE to be tough and flexible.
The scanning process is relatively simple. I take a few scanning passes with the scanner on one side, then flip the part over, scan the opposite side. The software performs the task of lining up all the scan data together. After the raw scan data is aligned, the software performs a bunch of trigonometry and matching to reduce/refine the point cloud and fuse it into a solid model.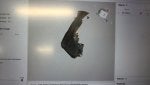 So far I've only managed to scan the mudguards. The passenger rear guard has some heat damage, but I can repair the model by mirroring the driver's side. These raw scans are good, but the next step is to fix any scan and parts defects. There were some blind areas that the scanner was unable to reach, but I will be able to extrapolate that data by applying a shell thickness. After the scan has been cleaned up, my next step will be to simplify the models enough to pull into CAD software to create a parametric mesh.
I am guessing I will not have that part finished until mid September, as this is just work done on my limited spare time.