Discussion Starter
·
#1
·
Ok so this is my first ever DIY that I have posted, if it's been a DIY prior to this then I apologize I am certainly not trying to steal anyone's thunder, so-to-speak... so this is going to be a slow and steady because that's what you have to be with painting anything and as always the "prep" stages are the most important, time-consuming, and meticulous part of the entire process...I couldn't have done this without the help of fellow E46Fanatic "TitaniumSilver" aka Mark :bow:...bare with me and as always I take full responsibility for my car as you should take responsibility for your own car as well...with that being said, let's kick it!!!:excited:
Parts List
1) OEM Interior Trim...redundant I know...
Materials List: Lowe's or (insert generic parts/remodeling store name here)
1) Multi-pack of Sandpaper (x2)
2) A sandable, sprayable primer...I went with the "1-2-3 Bulls Eye", why not?
3) A 2-pack of 3M Finishing Sanding pads
4) A cleaning solution of some type, I used "Simple Green" diluted (1-1) and one of my daughter's old wash cloths, very soft and a microfiber material
5) A spray paint color of your choice...I chose to get the $7.80 - "Metallic Charcoal" it's about as close to my OEM Steel Grey(Code 400) as I was going to get without paying about ~$25 + shipping for a can...
6) I opted also for the trigger attachment that converts any spray can into a spray gun style with the trigger, definitely recommend this unless your just $$$ with a spray can, okay moving on...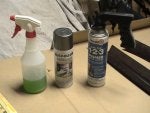 Step 1)
Clean the entire piece, I did the trim piece that goes around the headlight switch first...after a good cleaning, wearing nitrile gloves, I began to sand it down I first used some 120 and realized how deep that could go and then backed off to the 220, small circles is my technique so far, after a good layer or so, I cleaned again and then went at it with the 320, after about a minute or two I cleaned and went to 400...
Step 2)
We're ready for first coat of primer...I sprayed this piece without the trigger attachment:thumbdwn:, FAIL:ben:, I then cleaned and sanded it all the way back down to no primer left at all, then I promptly added the trigger and second time around felt much better...
Step 3)
I let this dry for about 6-8 hours because I had friends over and we worked on their cars, 2002 S4 and 2007 A4, which I beat by the way, it's cold here now so I used a fan(lowest setting) to speed things up a little...
Step 4)
Now we need to sand it down again and another coat of primer, I started with the 400 grit and followed the same basic procedure as
step 1
except starting at 400 grit and going up until the 1000 grit was used...also I used the 3M pads to clean all final dust off of the trim piece after the last round with the sand paper and cleaning...
Before sanding and 2nd coat of primer...
After sanding and 2nd coat of primer...
Step 5)
After about a 2-3 hour drying time, excessive I know, but I'm nervous too friends...I gave a little light sanding with the 1000 grit and then followed up with the 3M pad, and now we're ready for the first coat of color...here goes nothin!!!
It's drying now as I type this monster DIY up...I will post again tomorrow with pics and updates, hopefully all goes well with the fan tonight and a second coat will be applied tomorrow...later fellow Fanatics!!!:thumbsup:
Thanks for reading!!!:thanks:
-Travis