Discussion Starter
·
#1
·
Alright, well I have received several PMs from various members over the past several months asking how to install an OEM M3 hood on a Non-M Coupe. So I figured I would go about doing a brief DIY.
e popa
also has a DIY and I ended up doing mine with the help of him and his DIY (as well as help from several other members). Anyways, I just figured I would throw this together really quick.

Step 1: Removal of Stock Hood components.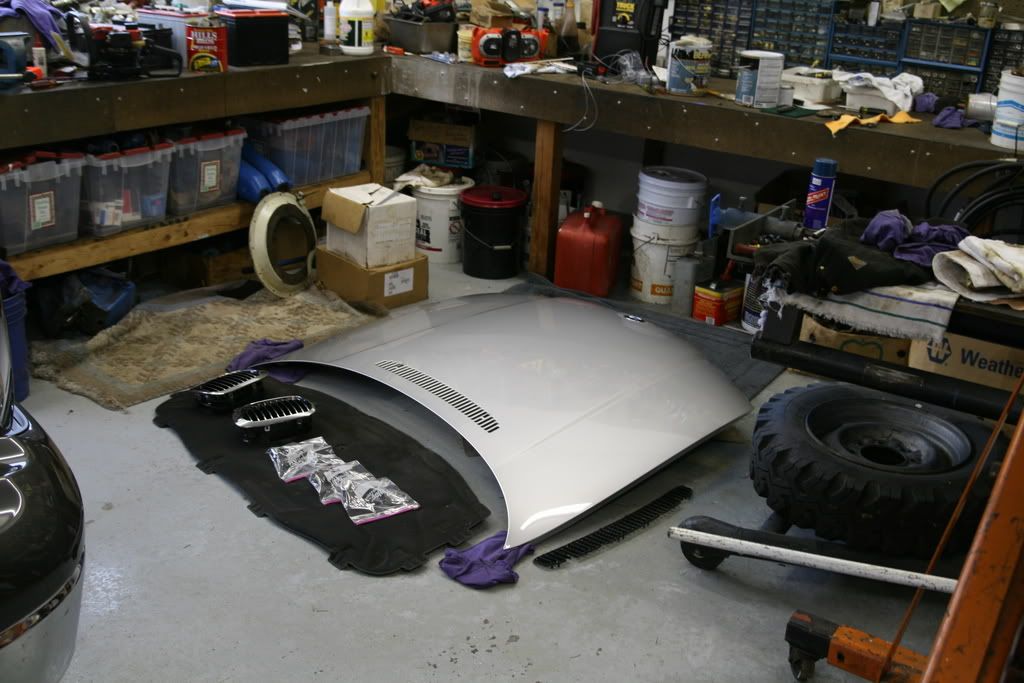 (If you have a Bentley Service Manual for the e46 3 series open to page
410-3
...I am simply taking my information from there, almost verbatim and adding in my tid bits)
Pop and Raise the hood.
- Disconnect washer fluid hose from washer nozzles. (If you have never done this before it may be difficult to remove. I found by warming the hose up with a hair dryer and gradually pulling/wiggling makes things much easier).
-Where applicable, disconnect electrical harness connector from heated nozzles (see picture below for example).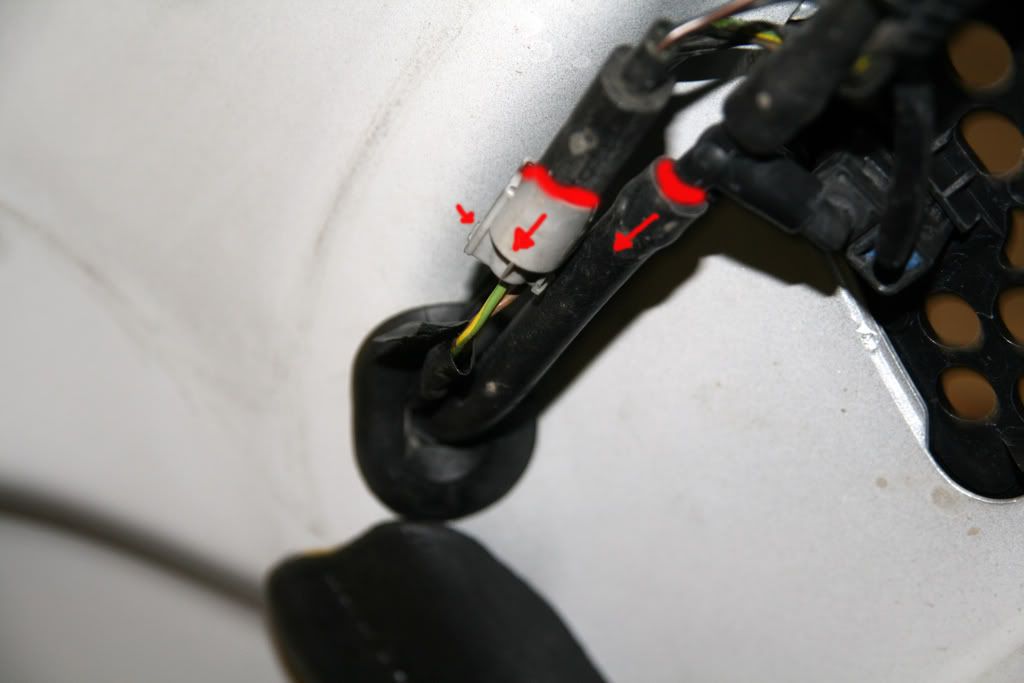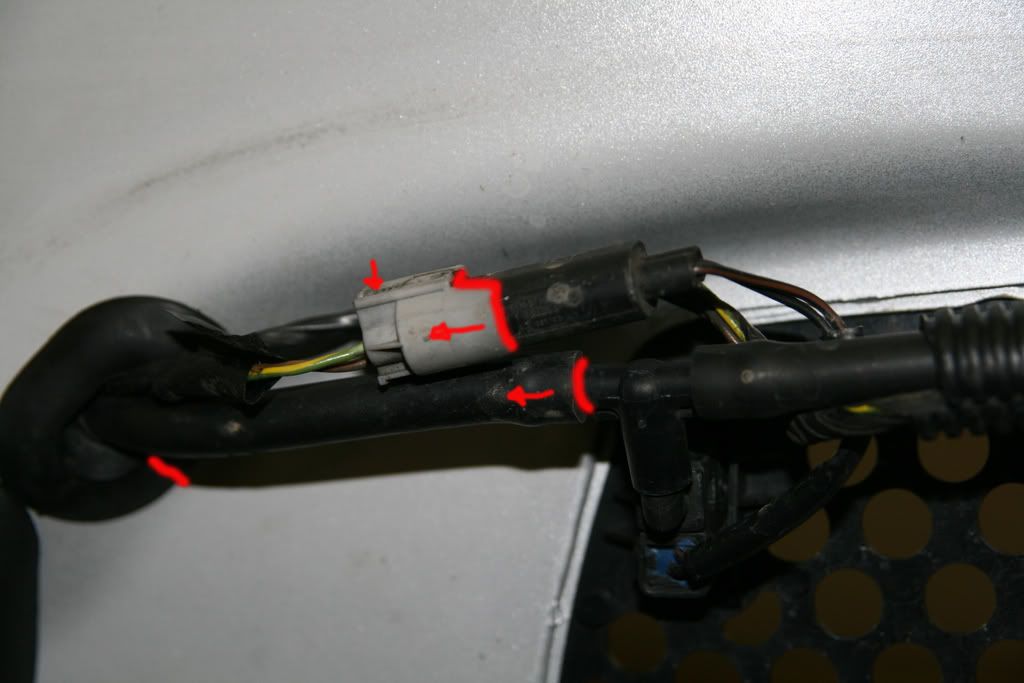 Before you attempt to remove the hood from the car, be sure to remove the wiring and hose that run through the hood. You will want to remove the rubber grommets first. They should be slitted so just simply pull them out.
While the hood is still on the car (you can do it when the hood is off also, but I found it easier to do while the hood was still attached) remove the hood release latch and springs. Simply remove the torx bolts using a torx bit. Set Aside.
*For this next step you will definitely want a second hand. The stock hood is by no means light (in comparison).
Although the Bentley Manual suggests you remove the gas-charged hinge from the hood supports, I didnt. Instead my helper and I (one on each side of the hood) removed the bolts that connect the hood to the hinge. Removing the one nearest the windshield first. Once that bolt was removed we simply loosened the upper bolt so it could slide off. Be careful with this step, as mentioned the hood isnt light. BEFORE you loosen/remove these bolts, with a sharpie or a pencil, mark around the bolt. This will help for future reference.
Step 2: Install of OEM M3 Hood components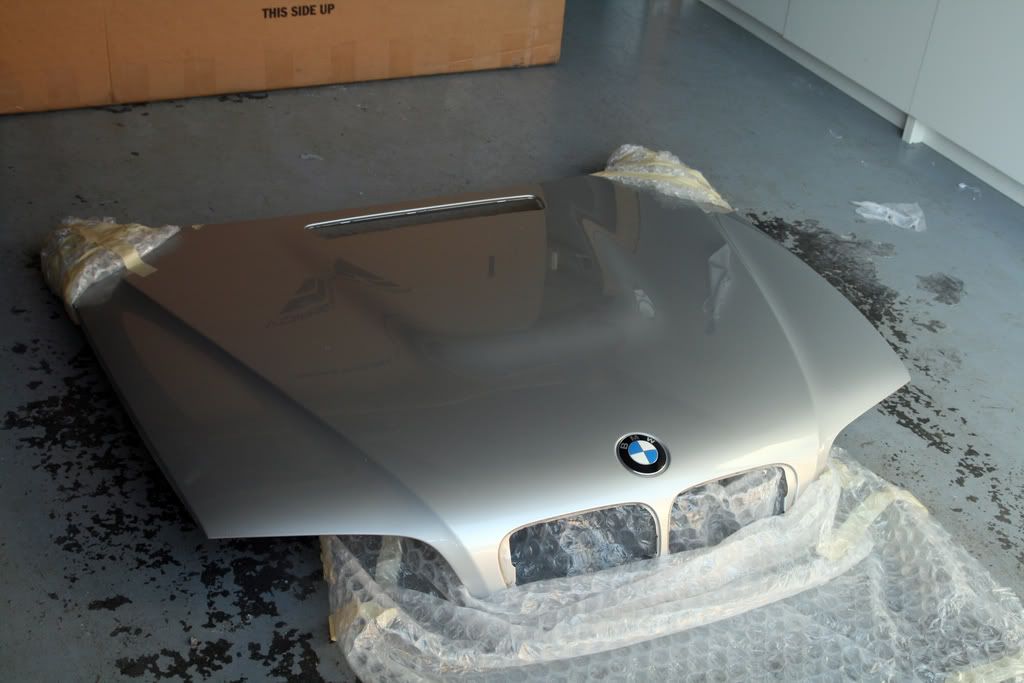 The basic install of the OEM M3 hood is simply the reverse of what you just did. But I will give you some tips on going about doing it.
You will notice right away that the M3 hood is significantly lighter than your stock one. You will still want help attaching it. I started off by starting the upper bolt (the one that goes to the hinge) to the M3 hood. I started it simply so it could slide into the hinge so we didnt have to hold the hood in place while someone else got the bolts going. Once the hood is slide on, put the bottom bolt (the one nearest the windshield) in place and get it going. Snug all four bolts down. This isnt final, you will be adjusting it later on, so do not fully tighten them, just get them snug.
Althought you arent tightening them completely, try and line up the bolts with your reference marks, although they wont be dead on, they should be fairly close to where they will end up being.
Once the hood is on, take your time and run the hose and wiring back through the hood. This is very tedious and can be annoying as hell :rofl: Just take your time and be patient. I end up using an extended grabber but it isnt a common tool so I dont expect many of you to have them.
Put your washer grill and washers in place, simply snap in. Then reconnect the hose and wiring. I ended up looming my wiring and zip tying it to the hood, but its completely optional.
Time to see how it initially fits. GENTLY lower the hood, DO NOT CLOSE IT COMPLETELY. It is very possible that your hood and fenders could rub, so gently lower it and see how things look. From here you can get a general idea how much you need to adjust the fenders and hood.
Step 3: Adjusting for Better Fitment.
Although every car isnt the exact same. The common case is that you will have to "pull" out the rear portion of the fender and "push" in on the front portion of the fender. To do so you will need to take out the upper torx bolts that hold the fenders in place, you have to take them out because you will need to widen the holes a bit so you have enough room to push and pull.
Widening the holes isnt as dauntening as it sounds. I ended up using my dremel and some sanding bits to widen the hole. I am very anal about how things look so I made the holes as close to OEM looking as possible. I also took a paint pen and touched up the exposed metal. I cant really tell you how much you will have to do because like I said, each car is a little different. Some require the holes to be a little larger than others.
Once the holes are widened to your needs, you will need to bring the fenders up in certain areas. Most people do this by using washers where the bolts go. Although I did use metal washers in certain areas I found the best option was the use of hard rubber grommets. The use of grommets allowed for more play (ie I could really tighten the bolts down to compress the rubber or back off a little bit to bring it back up. But that method only words for a mm or two. It will take a lot of tweaking at playing with to get just right. Just buy a selection of washers and play around with it. This is the most time consuming thing you will be doing. Just getting things aligned the way you want.
In some cases, you might need to shave some metal off the hood itself. In my case the sidewall of the hood was hitting the bottom of the fender, so it was unable to get down low enough to be completely flush. To find what spots needed to be trimmed a bit I placed some play-dough on the fender (very thin) and then close the hood to see where it's touching. Trim as necessary or desired. Again, I used my dremel to do this. Also, touch up the exposed metal with a paint pen (not necessary, but again, I am anal about this crap).
Another thing that you will need to adjust it the rubber bumpstop on the front near the headlight (see pic)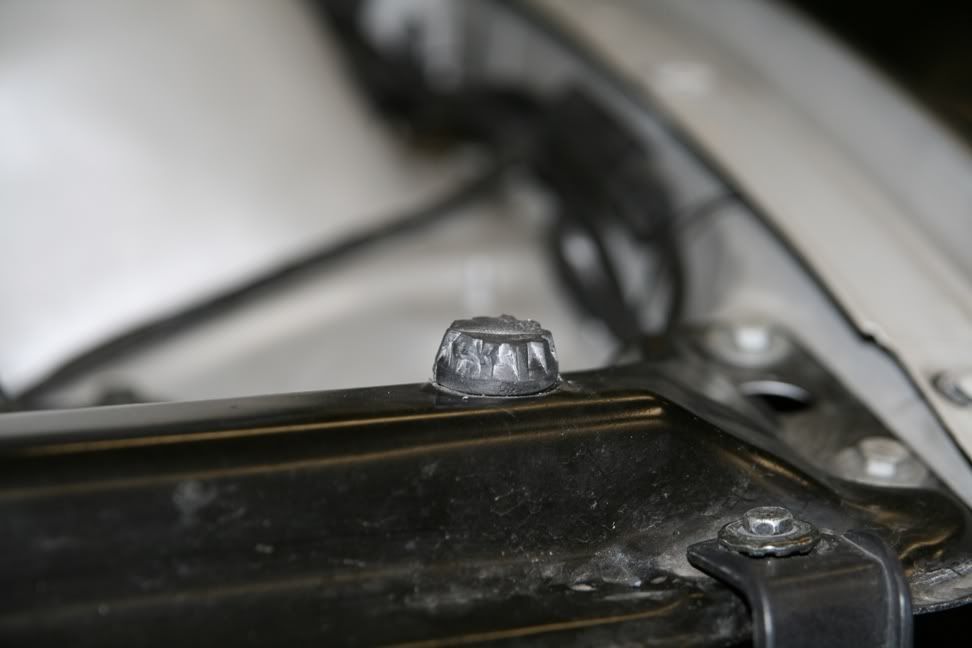 you will have to turn this so that it is ALL the way down. I actually even head to trim mine a little bit so the front of the hood could come down a bit more. I simply trimmed it down using an exacto knife.
For the most part it just takes a LOT of playing around and testing things out.
I know all of this sounds like a lot of work, but it is actually really easy. As long as you are patient it'll come out just fine. If you have any questions or want some pictures of something please feel free to ask.
You can also check out these (among several others) for references to my process.
E Popa's DIY Thread
Blade929's Thread
My Alignment/Fitment Thread
Final Product (during bimmerfest, disregard the decals :rofl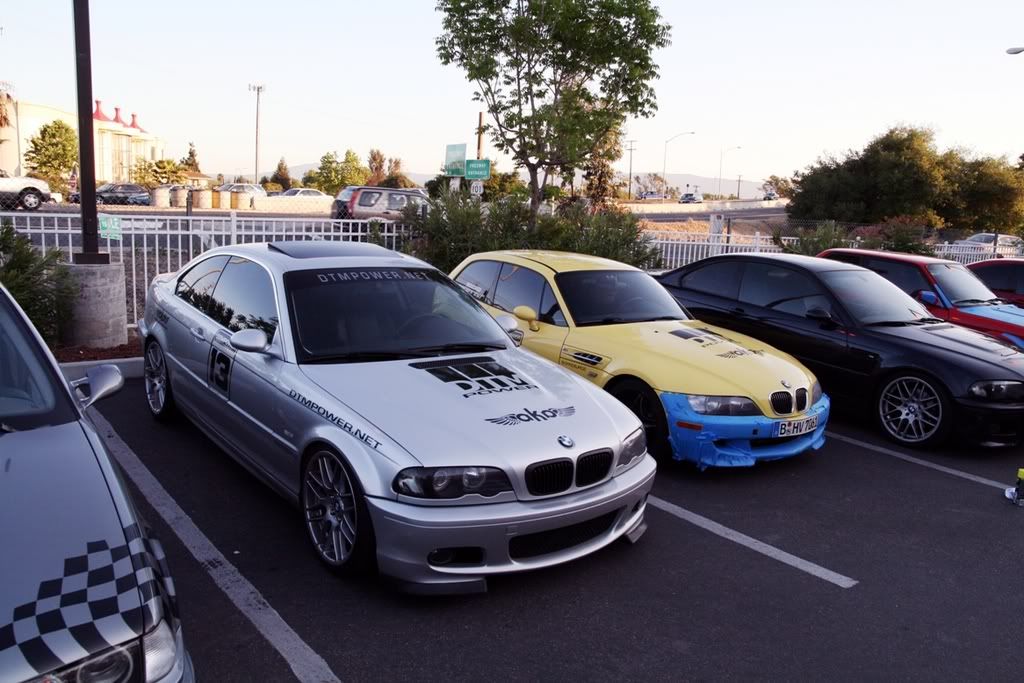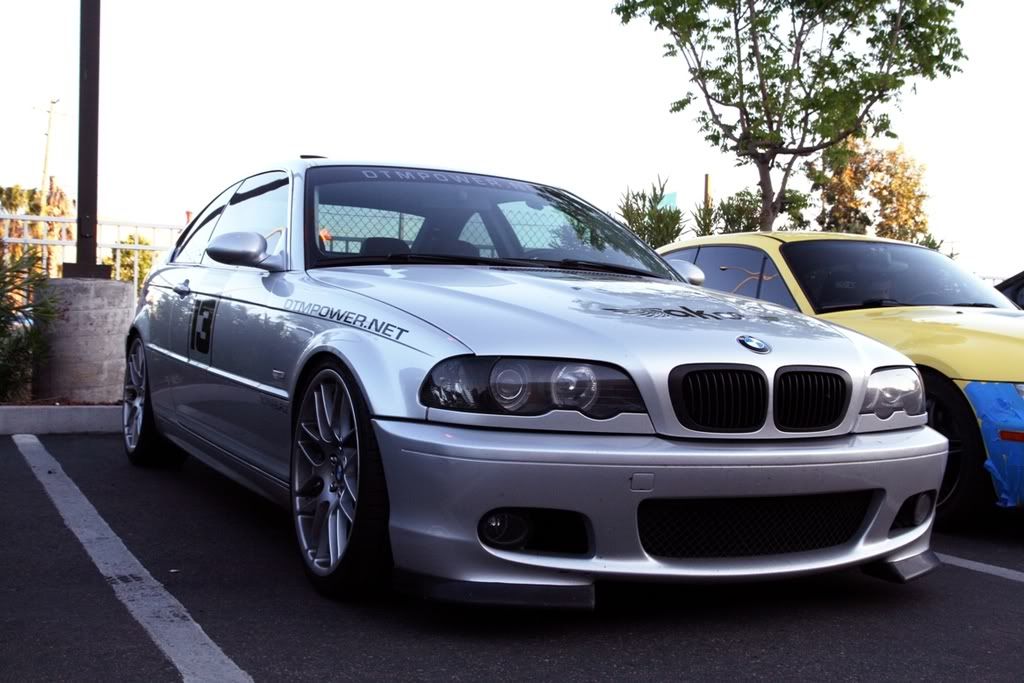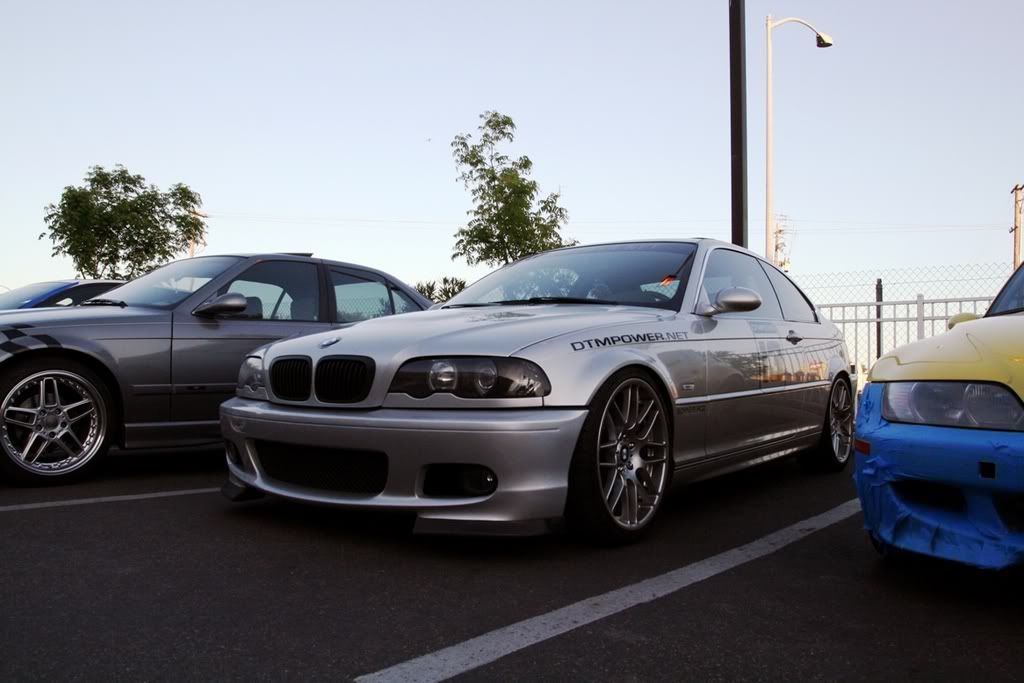 PLEASE POST ANY QUESTIONS OR CONCERNS YOU HAVE HEAR. YOUR QUESTIONS COULD HELP OTHERS. IF YOU SEND ME A PM ABOUT AN OEM M3 HOOD INSTALL, I WILL PROBABLY BE POSTING IT HERE (with names blocked out).