Opinions needed on this one... :hmm:
Tonight I was just minding my own business using Google to search for BMW E46 heated sport seats for my 330i when I come across a guy at a Russian classified site selling seats from a parted out E53 X5 called "BMW Comfort Seats For E53 and E46 BMWs". :yikes:
He says that they
not only
cross fit between E53 X5 and E46 3 series but
also
the seats are plug and play fitment between the two cars.
So I do some anoraking to verify if anyone has done this crossfit/retrofit mod and come across a seller on eBay selling the same seats from an X5 and his auction page claims that fit perfectly into E46 sedans. They are also many other auctions selling E53 power seats that state they fit into an E46 Sedan.
I go on realoem and discover that some late model BMW E53 X5 seats have P/Ns that cross lists with BMW E46 Sedans as a direct fit!
Part 52100145764

(SEAT FRONT RIGHT) was found on the following vehicles:


E46: Details on E46

E46 320i Sedan

E46 323i Touring

E46 323i Sedan

E46 325i Touring

E46 325i Sedan

E46 325xi Touring

E46 325xi Sedan

E46 328i Sedan

E46 330i Sedan

E46 330xi Sedan

E46 323Ci Coupe

E46 325Ci Coupe

E46 328Ci Coupe

E46 330Ci Coupe

E46 M3 Coupe

E53: Details on E53

E53 X5 3.0i SAV

E53 X5 4.4i SAV

E53 X5 4.6is SAV

E53 X5 4.8is SAV

Details for all
Here is a video showing the idea of how these amazing seats work:
http://www.youtube.com/watch?v=q5vTqjSU7IU
So now I am looking at these Tan Beige seats at an eBay auction page and I can't help to think if I could pull this off... :hmm: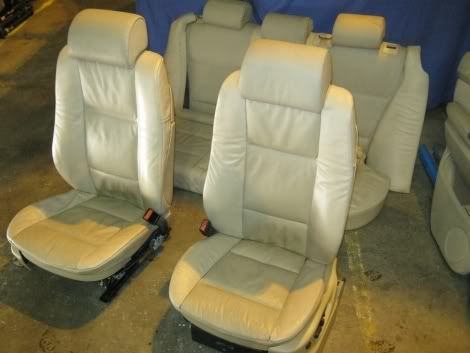 Even the basic seat controls are identical to the ones in our E46 car plus there are the extra Comfort Sport Seat controls.
By The Way before some mentions it:
These are
NOT
the same seats as found in the E39 and E38 BMWs.
Those E39/E38 seats are much heavier and bigger. As seen in these pics below: