Hi everyone. If you don't feel like reading the story behind it... just go ahead and scroll to the pics at the bottom of the post. If you like a good story... keep reading.
I just managed to get my hands on my all time dream car. An 87 M3 in Diamantschwarz... almost completely stock. E30 M3's in Germany are getting hard to find, especially good ones. Prices have gone through the roof in the past years, it's pretty much impossible to find cheap M3's... even in poor condition.
Since I already have a nice E30 ( see thread:
http://www.r3vlimited.com/board/showthread.php?t=214425
) I really wasn't actively looking for another. But much like the story in my other thread, I just seem to magically attract once in a lifetime deals on these cars...
About a year ago as I'm driving through my neighborhood I notice an M3 just sitting on the curb. The car looked neglected, it was obvious that it had been sitting in that same spot forever. The tags had been expired for over 3 years. I couldn't believe that someone would just let my all time dream car sit on a public road without driving it!
So I immediately try to hunt down the owner. This already proved to be harder than I had originally imagined. No one seemed to know who owned the car. So I left a note on the windshield asking the owner to contact me. No one ever replied. I kept looking at the car, sometimes just staking out the spot in case the owner ever showed up. This went on for a about three months.
Then finally it seems to be my lucky day on one of these stakeout operations! Someone walks up to the car and opens the passenger side door. I immediately confront the owner with my intention to rescue the car. Unfortunately this conversation went nothing like I had always imagined. He just laughed at me and told me the car is not for sale. I did manage to exchange phone numbers with him, in case he ever changed his mind. I also noticed that the car seemed to be in good condition, if you looked past the dirt and grime that accumulated from years of just sitting there.
Time passed. Priorities changed. I never really forgot about the car, but I kept telling myself that it just wasn't meant to be. I would pass by the spot every now and then... the car still just sat there, completely neglected.
One day, as I'm passing by the spot again... the car is gone! This is when I try to erase it from my memory completely, hoping that it went to a better home. The thought of owning that car one day seemed completely absurd. I thought it was gone for good.
Fast forward to new years eve 2013. I'm at a party and meet a long time friend that I hadn't seen in a while. Back in the day I told him about the M3 and how badly I wanted it. Were just talking when he casually tells me: "Remember that old BMW that just sat there forever"... "it's been sitting on my road for a while now, without ever being driven" ... "to top it off, it even has a sticker on the windshield that says that the car needs to be removed from the side of the road by January 13th, otherwise it will be towed and crushed"
Those words sent chills up and down my spine. The good: The car was still there! the bad: it'll be sent to BMW heaven in 13 days!!!
From now on I made it my mission to buy that car... no matter what.
Remember how I got the owners phone number? It was disconnected. But I had his name and address. So I went there every day after work for the next couple of days. Ringing his doorbell, staking out the car. No luck. The guy is nowhere to be seen.
Then on thursday I finally see him coming out of his front door. As I walk up to him he seems to already know why I want to talk to him. But he doesn't seem any more eager to sell the car. I negotiate with him and tell him that I want it, no matter what. All I want is for him to tell me how much he wants for it! Out of nowhere he finally caves in and says "If you want it, I'll let you have it ". I haggled him down to an insane price. I had just bought an M3 for a price that I didn't think was possible!!!!
The next day I picked it up with a trailer. The car came with all the paperwork. The engine had undergone a complete refurb in 2006. Everything was complete and mostly original. Did I just get the bargain of a lifetime? I wouldn't know for sure until I started digging into it. So thats what I did all day today. I cleaned it, checked out all the problematic areas that are prone to rust, changed out the flat tires... etc.
The verdict: The car is in great shape. No rust, no dents, no scratches, no leaking fluids, no missing parts, and only 140000km's on the ODO.
I've been grinning cheek to cheek all day today!
I'll let the pictures do the rest of the talking:
How it had been sitting
: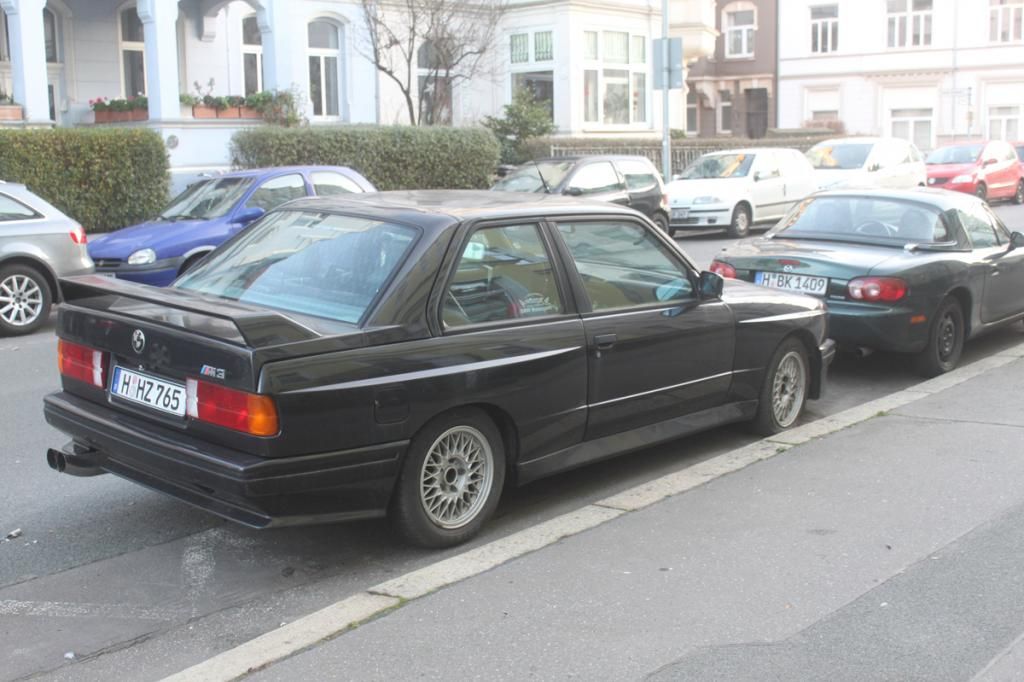 How it looked when I finally got it home: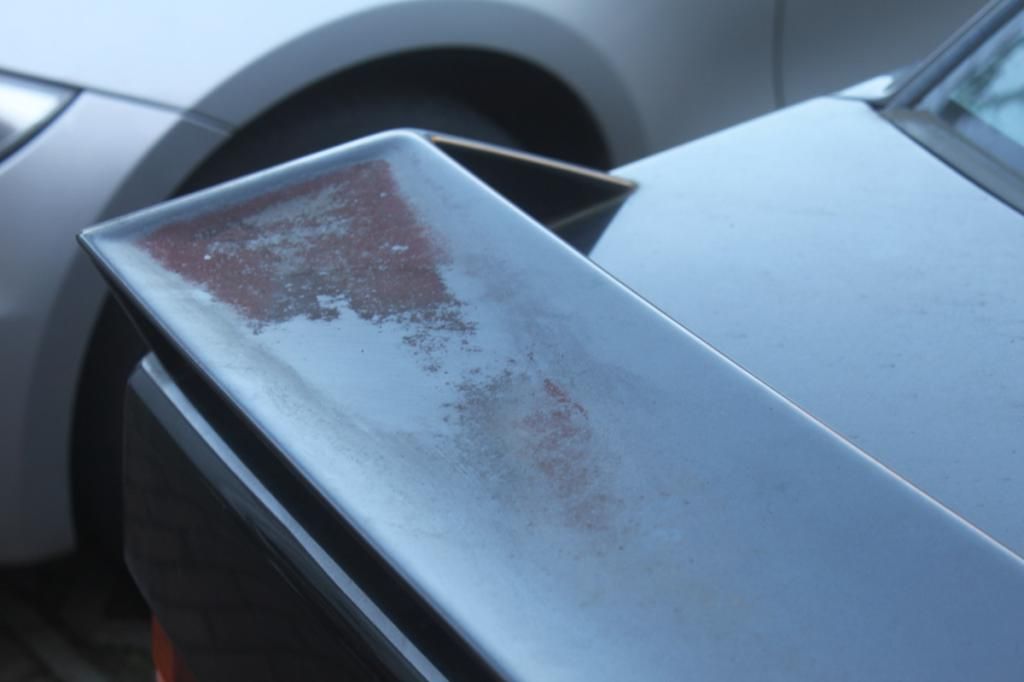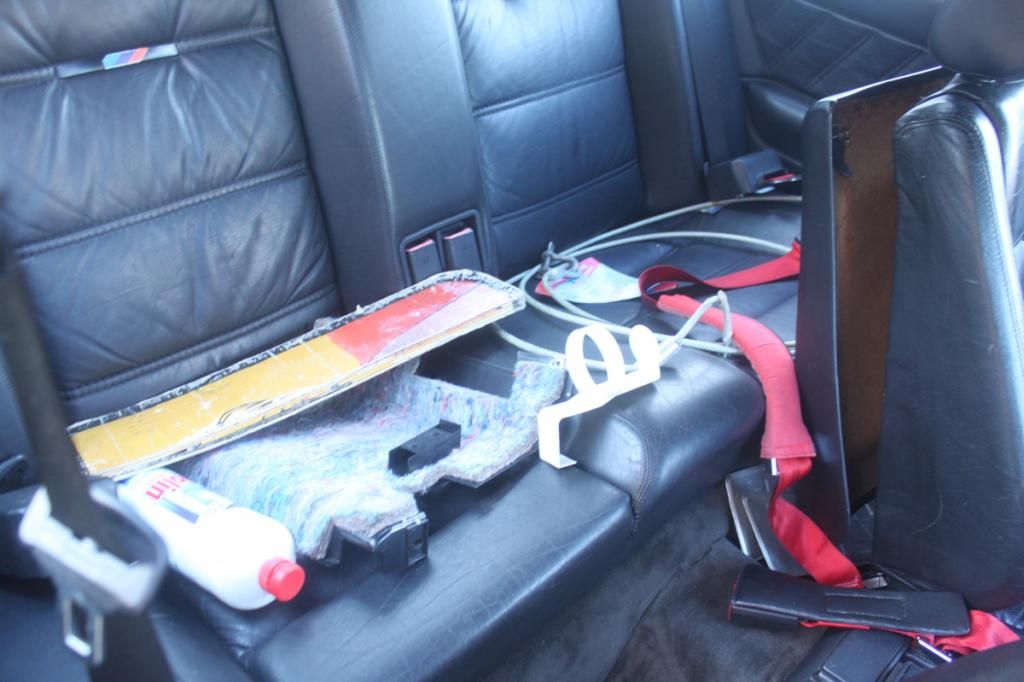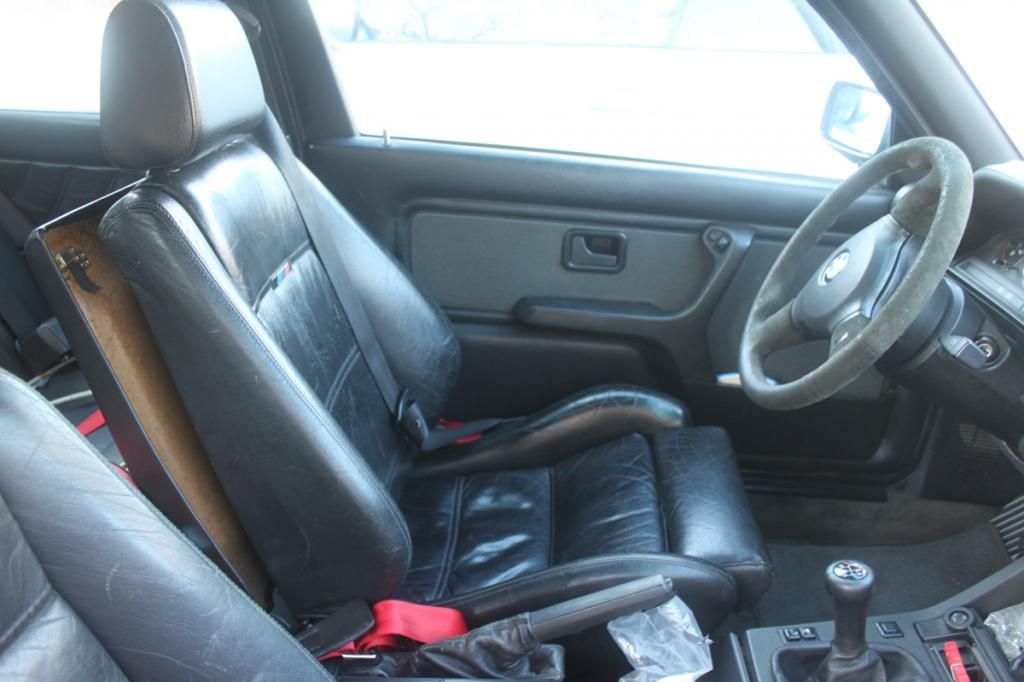 How it sits after today (the AZEV wheels where included in the deal):