Hi guys
I've been lurking around here, and causing trouble, for a while now and thought i'd do my bit to support the site
As some of you may know, my main past-time is detailing and as a hobby i run
Micropak Australia
, specializing in high quality microfibre detailing products
So that's my intro, on to the products
If you have any questions on any of the products below, please feel free to ask - I'd like to keep this thread running to answer any questions you might have
Micropak Microfibre Ultra-Plush Towel $12 ea. or 5 for $50
I decided to stock only Micropak's most premium softest Microfibre Towel, the Ultra-Plush Towel. These come in a range of 4 colours (yellow, blue, green, purple), which makes it easy to assign a different role to each towel - one for interior cleaning, removing wax residue, waterless washing, etc. Micropak's Microfibre Towels are unique in that they are not only much thicker than other brands, but also feature no tags and silk stitched edging to prevent scratching your car's paint. Micropak's Microfibre Towels work equally well in cleaning interiors as they absorb dust and don't give off any lint. Grab a glass cleaner or slightly dampen the Microfibre Towel to clean windows leaving them streak free
Micropak's Microfibre Ultra-Plush Towels are larger than other brands at 40x60cm, providing a greater swept area to remove wax residue or apply spray waxes and quick detailers. In testing I was using only one towel for a whole detail including polish, paint clean and wax, such is the great absorbency of Micropak's towels
Micropak Waffle Weave Drying Towels $30 ea.
By far Micropak Australia's most popular item. If you haven't already discovered the benefits of using Waffle Weave to dry your vehicle, then now is the time to do so. Micropak's Waffle Weave Drying Towels absorb water so well you will only need 1-2 passes to dry an average size vehicle. Ring out when done and hang to dry. More importantly, Micropak's Waffle Weave comes with Micropak's own silk stitched edging and no tags to prevent scratches. These towels are quite large at 60x90cm. I find it easier to fold the towel in half on flat panels such as the bonnet and roof, then fold in quarters for side panels and bumpers. I decided to stock the light blue version of this towel as it better shows when the towel is getting dirty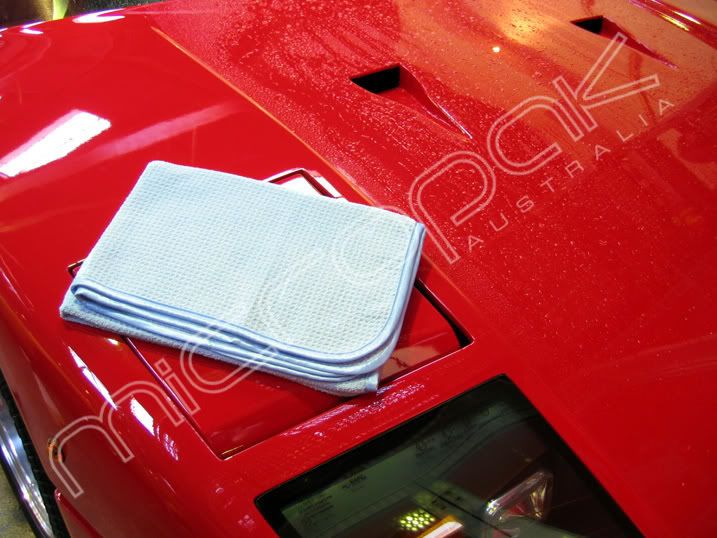 Micropak Waffle Weave Drying Towel Small $20 ea.
Also available in a smaller 40x68cm size, these Waffle Weave Drying Towels are perfect for drying your wheels, inside door jams/boot/engine bay, lower bumpers/skirts, exhaust tips, basically anywhere you don't want to get your regular size Waffle Weave Drying Towel dirty
These towels are available in a light grey colour to easily differentiate from your regular Waffle Weave Drying Towel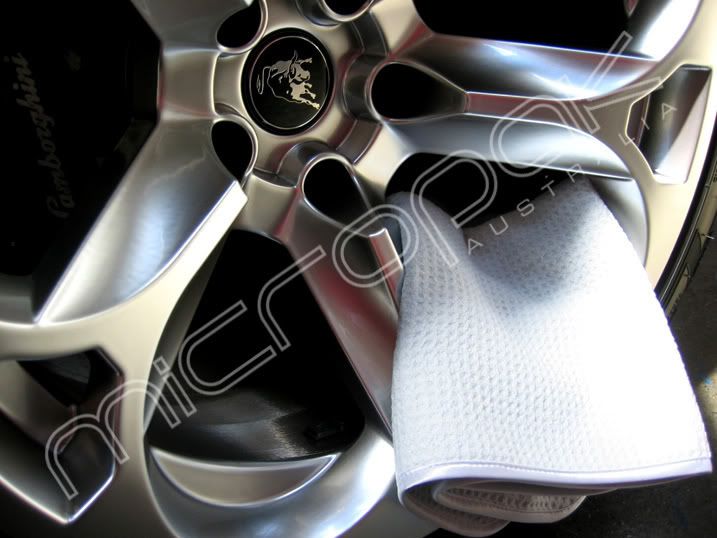 Micropak Microfibre Foam Applicator Pad $5 ea.
Applying waxes can be time consuming and fiddly for some. I know I often drop those small thin applicator pads on the garage floor because they are so hard to grip and don't glide over the paint surface smoothly. Micropak's Microfibre Foam Applicator Pads feature a thick foam centre which makes gripping the pad more comfortable. Stitching is kept away from the pads surface and on the sides, and of course no tags to prevent scratching your car's paint. These can be used not only for waxes and paint cleaners, but also for applying leather cleaners and conditioners. The inherent grainy texture of Microfibre is excellent for getting cleaners inside the grain of leather and plastic trim
Micropak's Microfibre Foam Applicator Pads are larger than other brands at 10x15cm, providing a greater surface area for faster product applications
Micropak Microfibre Ultra-Plush Wash Mitt $18 ea.
Most of us know the simple act of washing our cars can induce swirls and light scratches in the paint. Micropak's Ultra-Plush Wash Mitt is made from the highest quality microfibre, and features a short pile and widely spaced micro fibre surface to prevent dirt and debris from getting lodged deep within the fibres. This widened filament surface makes it easier to rinse dirt and debris out of the mitt during the wash phase.
The Micropak Ultra-Plush Wash Mitt features a unique foam inner lining that keeps the wash mitt hydrated with your wash solution, and also provides a cushion against catching your fingers against the sharp edges of panels. The relatively large size of the wash mitt (18x23cm) provides a perfect fit for all size hands and allows a greater swept area for quicker washing. The inherent grainy texture of the microfibre surface is excellent for removing even the most stubborn dirt on delicate paint surfaces with very little pressure, in turn promoting a faster washing technique
Micropak Australia Microfibre Concourse Wash Sponge $18 ea.
For those who prefer using a sponge to wash their vehicles, we are proud to offer our own Concourse Wash Sponge, exclusive to Micropak Australia. Our wash sponge features the same short pile and widely spaced micro fibre surface as our Ultra-Plush Wash Mitt. This prevents dirt and debris from getting lodged deep inside the micro fibres. The thick foam centre offers a sturdy comfortable grip, and allows you to easily ring the sponge out to release dirt and debris. The lack of visible stitching further aids in preventing swirls and lights scratches during the wash phase. Additionally, the white colour will allow you to visibly see when the sponge is getting dirty. Offered in a 22x12x7cm size.
Micropak Australia does recommend a second bucket with clean water be used to rinse and ring out the wash mitt/sponge during washing for the highest prevention of swirls and light scratches.
Micropak Australia is proud to offer E46F members Postage at a flat fee of $10 Australia wide via Australia Post EXPRESS POST
Feel free to place your order via pm or email at;
[email protected]
Sam
Micropak Australia