MasterC17's 2005 330Ci ZHP Project Build​
Background:
Basically, I was looking to purchase an 01-03 330Ci. Needed to be a manual, with ~55k miles, good colors, and mostly a good price (max about $12,500). I started my search around two months ago and I looked at a few cars during that time frame but none worked out (one was an automatic, etc. etc.).
And one day I found a salvage, wrecked 2005 330Ci ZHP. It was perfect, colors were great, 6-Speed Manual, Cold Weather, 54k Miles, etc. :thumbsup: Now, obviously this was going to be a risk and I didn't want to end up with a bunch of money in the car. In the end I bid what I believed it was worth to me and I got it! Within a week I had sent the money to the dealer and was ready to go pick up the car.
The Pickup:
The car was located near Philidelphia, PA, and I am close to Boston, MA. Yesterday (day after Thanksgiving), my father and I loaded up and set off to get the car. It took us almost exactly five hours to get down there and we arrived at 10 in the morning. We checked the car over quickly, it was just as we expected with no surprises.
Next, we picked up the U-Haul trailer (had to buy a ball and different wiring...:banghead
And we headed back to the dealer. Once there we loaded up (that was a hell of a time
). And lastly, I signed the Bill of Sale, got the the Title, etc. and off we went. It took about six hours to get home, and we got back around 5:30. At that point we were both done for the day.
The Project:
Basically, I want to complete my car within two months at a reasonable price. All parts will be Factory, OEM (not from the stealership though
) Most all of the work will be done by myself (except the inner fender work and paint). Overall I want to make the car look just as it did BEFORE the accident while spending a reasonable amount all with factory parts. The work will be high-quality and it should be as if it had never been hit at all.
Phase I: Breakdown:
Today, we went in and unloaded in the morning. Here is how the car was right after we pulled it off the trailer and into one our bay's: (sorry, first set of pics are crappy):facepalm: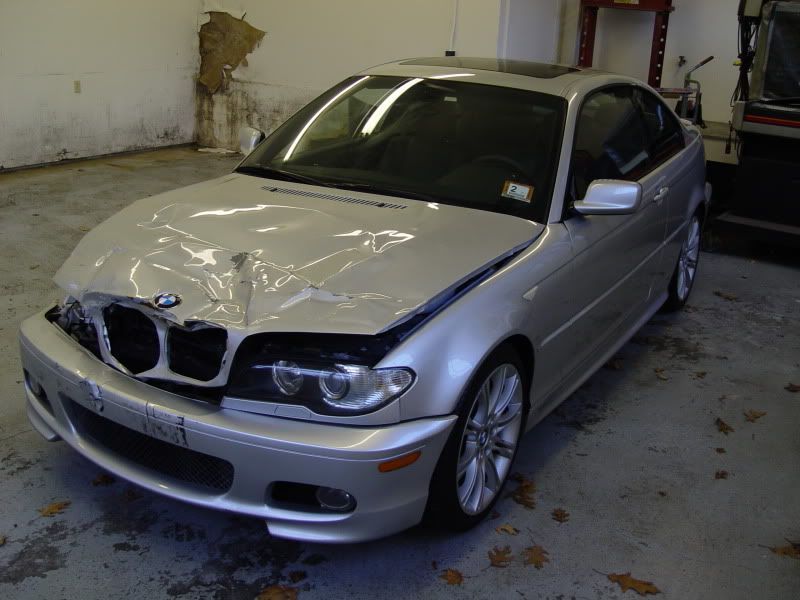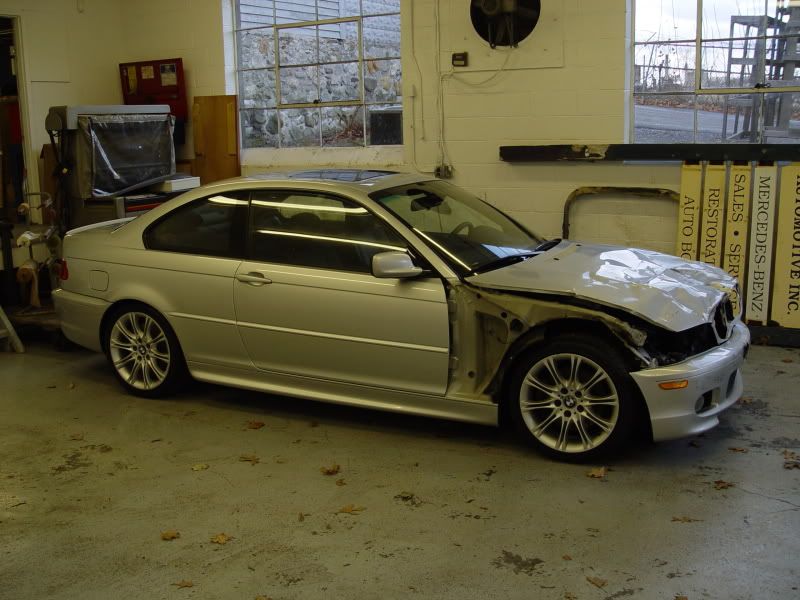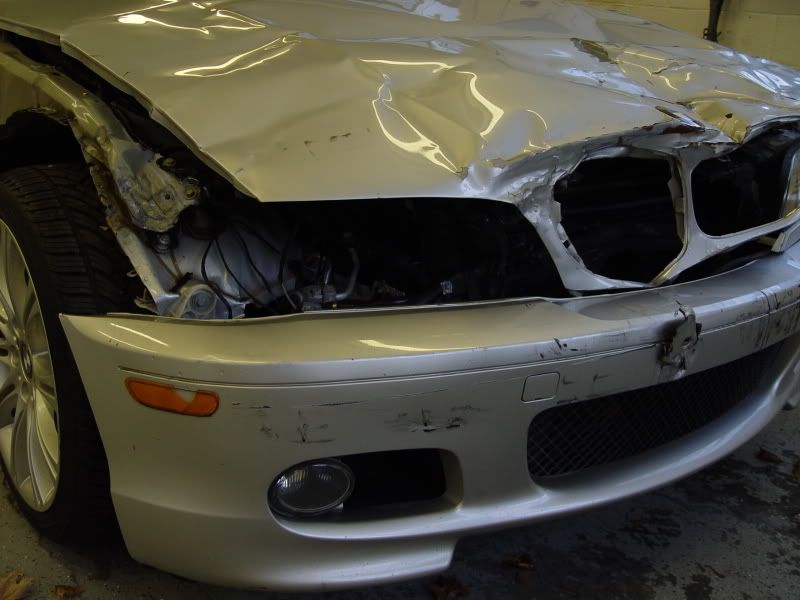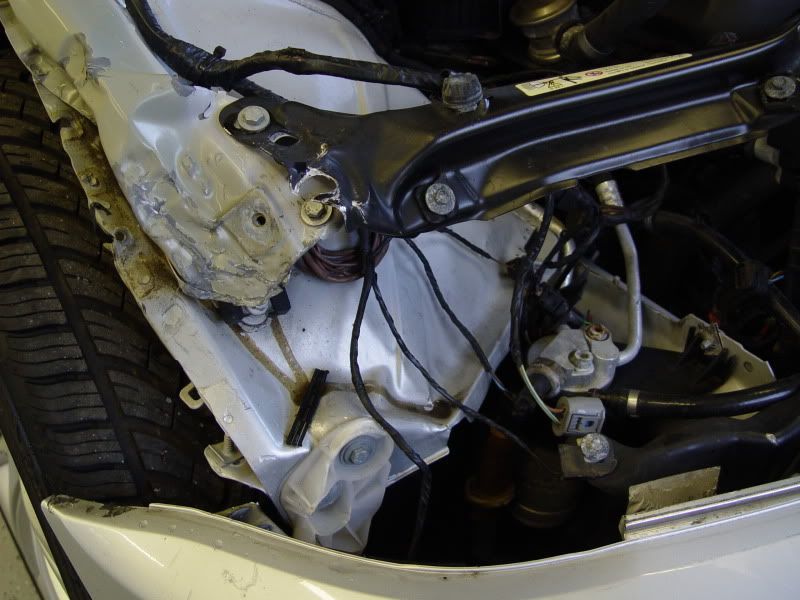 The damage on the car is pictured, and is contained to the front of the car
.
Step I: Remove Hood:
Very simple, one hood shock is blown, the other is intact. All wiring, insert, and even the emblem (amazingly) are good. Hood, not so much.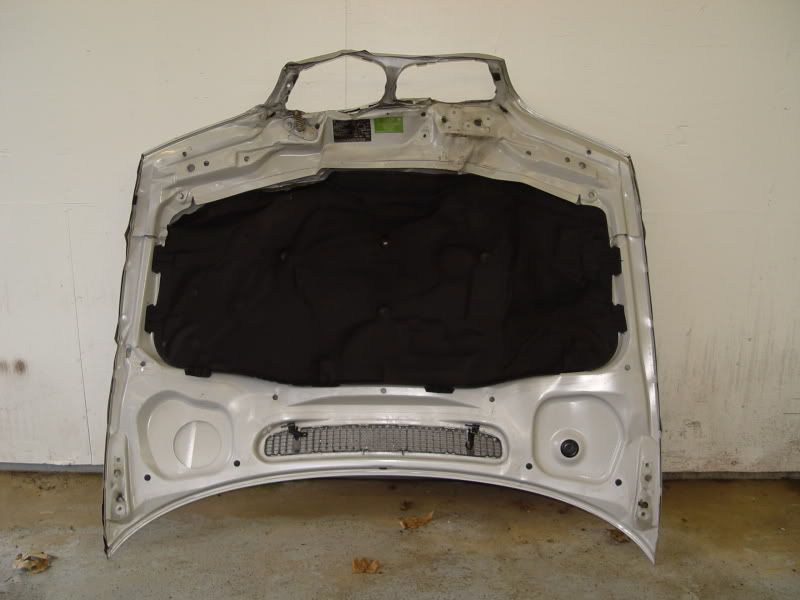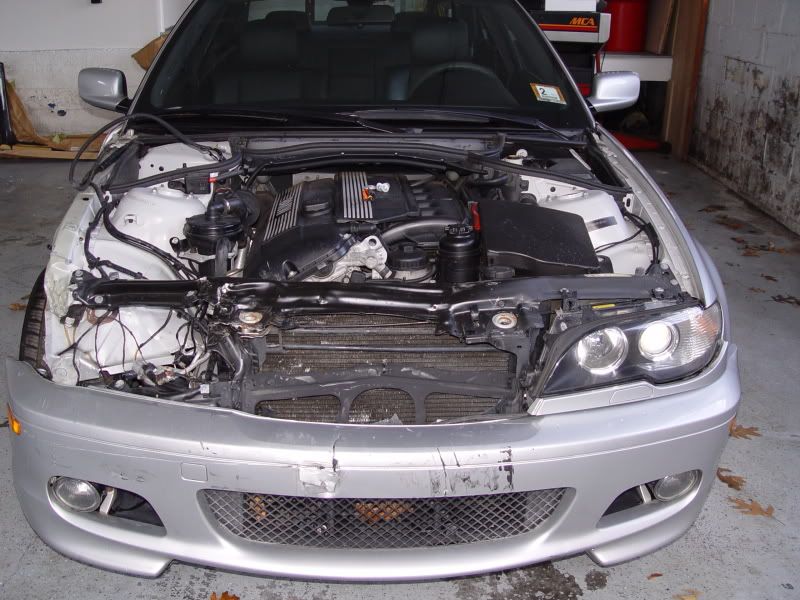 Step II: Remove Headlight & Misc:
Left Xenon is near-perfect, top two clips broken but can be repaired. Removed other little things before the bumper.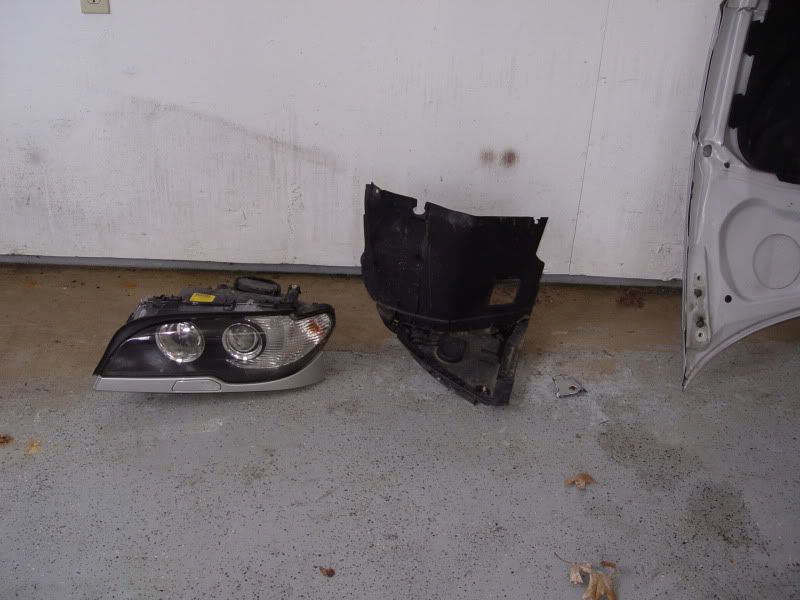 Step III: Remove Front Bumper:
The bumper is suprisingly intact, the reinforcement is just barely bent, so really the only bad part is the bumper cover. Grille insert is good as well.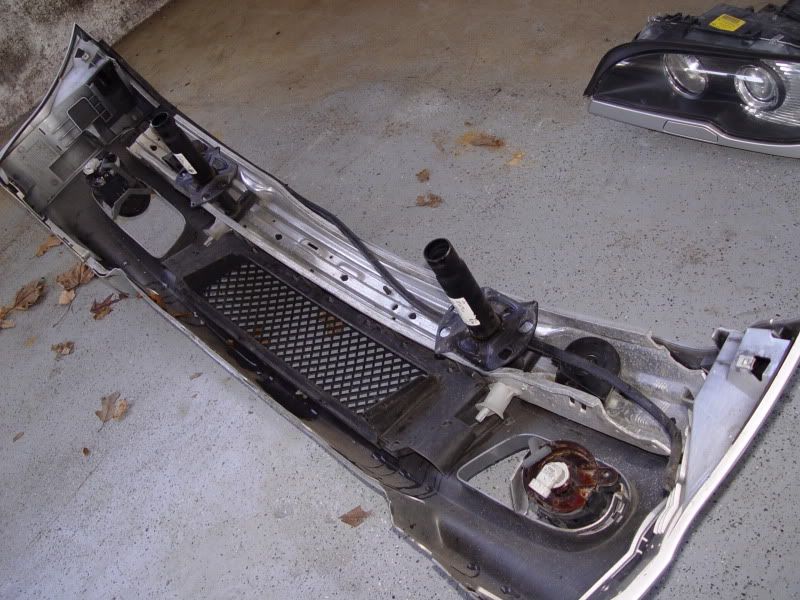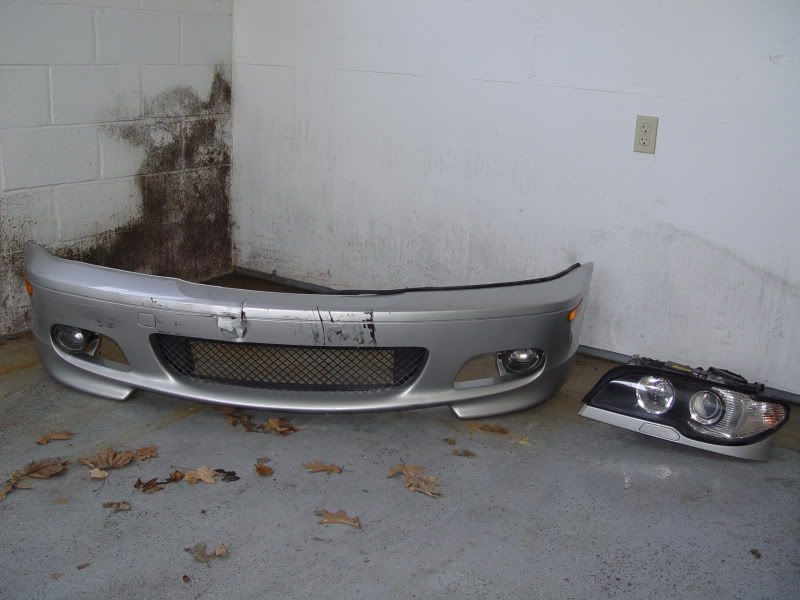 Step IV: Remove Radiator Support:
The radiator support came off pretty easily, but as you can see it is mangled.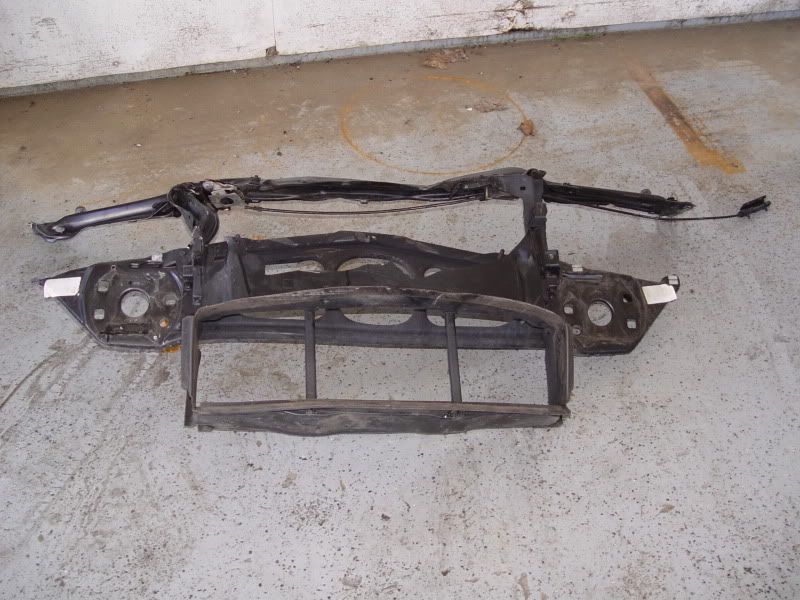 And this is how the car stands now: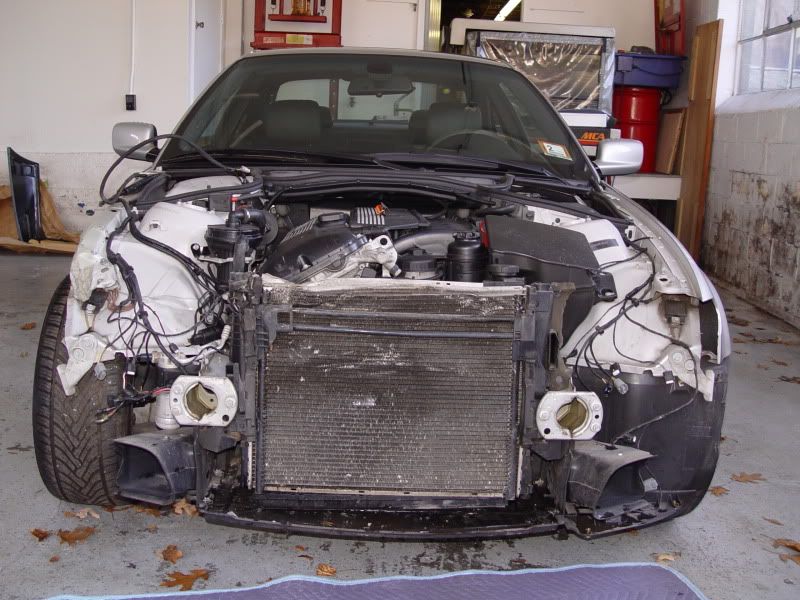 The really GOOD part is that the frame rail is perfect, no bending or likewise at all!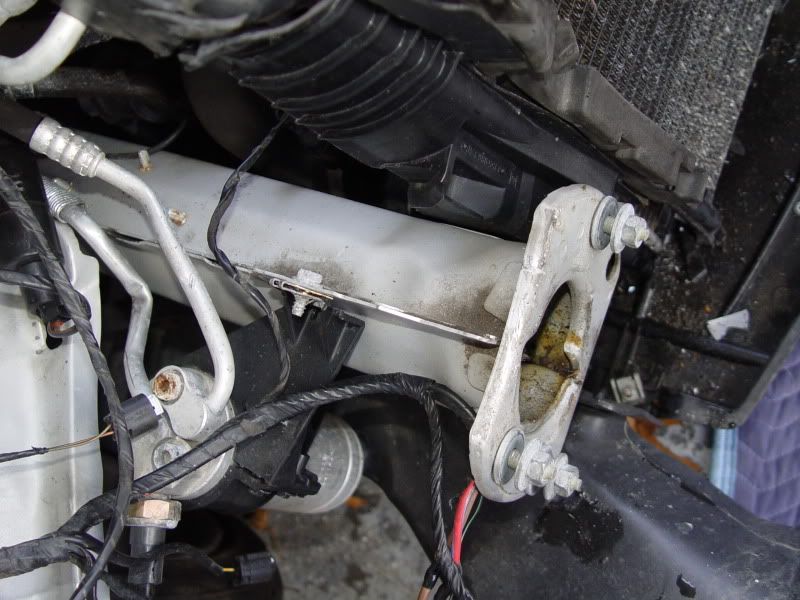 Here's some close ups of the body damage: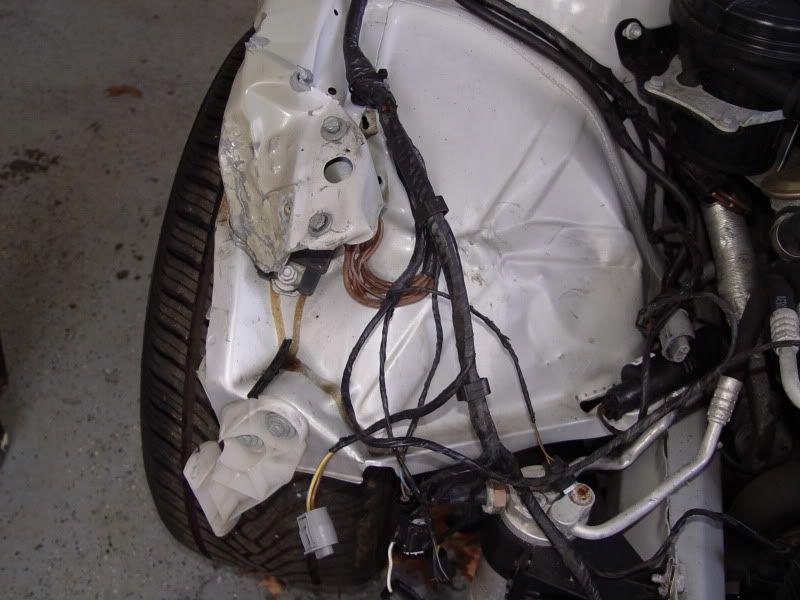 And that is what was accomplished today, I will update as progress is made. :hi: Next step is to purchase a Radiator!