So...
I was thinking about maybe upgrading my amp and installing a sub, for a bit more kick.
So I take out my boot lining to see what I have to work with... *cue comical sound* There's not even an amp there to begin with, just a couple of cables with copious amounts of wires leading nowhere!
So I searched, like a good boy, for the wiring diagrams and colours of wires etc and came up with nothing, everyone else's plugs seem to be very different to mine and I have an extra couple of plugs (I think they may be for a CD changer though). It seems every other bimmer is different to mine.
I have a 1998 E46 323i, with 6 speaker (two tweeters, two in the front door and two on the rear parcel shelf).
Has anyone seen these before and have wiring diagrams or guides!?!?!?
This was in a blue lever type plug.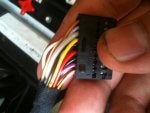 This was in a white lever type plug
Don't know what that's for. I thought maybe the aerial... made no difference.
CD changer? :dunno:
Thanks!