I have noticed a lot of threads coming up on people worried about leather wear and tear as the e46 chassis ages, and as I know a decent amount about it I thought I would consolidate my findings into one thread. If your leather is looking old, cracked, or needing replacement, do not worry. It can be made to be newer than a 2011 model car. And it isn't that big of a deal. I would like to provide my story on how I replaced mine.
First of all. there are a few ways to go about it.
You can:
1 - Leatherique/soften the leather - cheapest and pretty self explanatory- not going to go into it much as it is a pretty basic concept - $
2 - Have a shop custom reupholster - medium expensive, but results may also be medium - $$
3 - Replace the leather cover with OE bmw parts from the factory, pre sewn and pre cut ready to put on. - $$$ but by far the best obviously
So, since 1 and 2 are fairly obvious I am mainly recapping my experience here with 3.
Mine weren't bad, but i got a really bad scratch on my passenger seat from this girl on the way back from the horse show from those stupid jeans, and i had extra money and was bored so i just did it. Then after replacing the passenger I did the driver's side because I got such great results.
To start , find your oem Leather part number from realoem.com using the last 7 digits of your vin to get the accurate part. double check color.
It will be similar to this drawing and will be part number 3 or 4 here
Then go to tischer to get a real price using your part number from realoem . getbmwparts.com . this will give you a ballpark lowest price possible.
My bottom leathers were $450 each from tischer. it was a bit pricey, but the primary reason is that with the natural brown, the leather was only available with the heating grid.. for the standard colors i believe you can get the non heated for about $250. i am wired for heated seats though with OEM connectors etc so it was a plus. now, basically, anywhere you see a seam on the seat, there is a wire in the foam, and also a wire on the leather which you will reuse from your current leather (see pic) so what you are doing is taking hog rings (kind of like thick staples), and clamping the two parallel wires together by smashing the hog ring closed. (see pic) this is how the seat is pulled inward at all seams. then the outer perimeter is stretched with a sort of weather stripping built onto it. really fun job it takes about 2 hours. i really just figured it was going to be one of the first things to go in the car so i did it as preventative and mostly just out of curiousity. i am confident to say it is better than factory now because i really put some time into making it nice.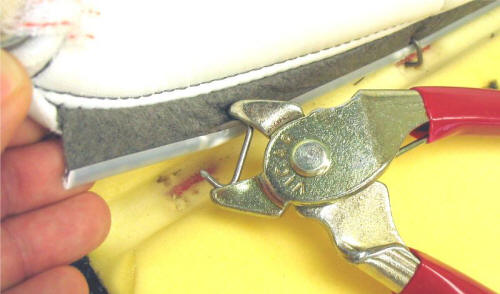 <<< not a bmw pic but similar example
Finished product:
the final comment i do have is, that if your seat is sagging and the foam is smashed down, just replace the foam as well or add extra yourself if you are feeling crafty. the foam is $96 or so if i recall correctly.