Discussion Starter
•
#1
•
Hi Everyone,
I did this just over a year ago now, and it's still looking good so thought I'd just pop up the pictures from when I did it now i have some more time!
Ever since i got the car I was amazed at how tidy the bodywork was!
However it's safe to say the original grey on grey interior was really starting to show it's age (although the leather was all remarkably good).
I had originally planned on replacing the trims with Black equivalents, but being on an island makes shipping ridiculous, and the idea of completely removing the dash did not immediately appeal anyway (although it seems a lot WAS still removed to do what I did).
Hold you breath as i know this may upset some viewers... I panted it... O_O
The whole lower portion of dash and the strip near the windscreen.
I then removed the leather panels from the door cards and gave them a coat as well!
I used a flexible plastic primer and HYCOTE Matt Black (about 3 or 5 coats) I can't remember exactly.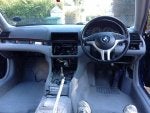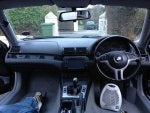 Sorry about the quality we started to loose light near the end!
Overall the strip down of radio, vents, glove boxes, trims dials etc, then the prep of areas not to paint (especially the windscreen), and drying time/re-assembly was done in a day! but it really was a WHOLE day.
A year on it's still looking great, it's been through baking sun, kicks and scuffs.
The worst areas at the base of the doors still wipe clean and only if it is scrapped very badly that it just requires a touch up and it's like new!
Of course I disconnected the battery to take out the seats and took the opportunity to scrub the interior too.
While at it, I also addressed the damaged tatty dark grey rubbery trims car came with.
I used paint thinners to remove the damaged rubbery coating, leaving the original plastic in good condition, and using HYCOTE Wheel Silver got these trims in a remarkable OEM colour/color free of scrapes and damage, looking new!!
I applied 4 coats with the same plastic primer as the dash and even with ring bearing passengers it's going strong.
I have only touched up the lower passenger door once following a rouge high heal incident!
All in all it cost £30 ($50) for everything and the interior is like NEW!
All I would say is the paint only truly HARDENS after about 48 hours so although perfectly dry within 20 mins it is delicate for about 2 days.
Of COURSE appropriate respiratory protection and leaving the doors open was a must! I don't condone paint fume inhalation!!
On that note, the smell faded after shortly after drying, and was essentially completely gone after 72 hours.
Hope this was an interesting thought if nothing else! I know it's certainly not for the faint hearted!!
I went into it having done bodywork before and I'm pretty handy with an aerosol can, but still potentially ready and willing to just go replace the trim if it all went wrong but thankfully it was perfect.
I hope it made for an interesting read if nothing else!