Discussion Starter
·
#1
·
Just got done hard wiring my ESCORT and custom mounting the SMART console that has a power on indicator and a mute button.
I decided to locate the SMART console in the ashtray. I smoke, but not in the bimmer, so no biggie.
First thing I did was to pull the 330's console apart to see what I was dealing with. lift out the shift boot surround by grabbing it by the inside (leather) and lifting up on the "frame". Once it pops out you have two screws toward the rear.
(NOTE: ALL screws for this project are exactly the SAME, thank you BMW!)
Take those screws out and slide-and-lift the piece that has the window switches, backwards. It won't go far. If you have a manual you could take off the shift knob/boot and that would make things easier, for sure. On the Steptronic, you only get a little room to play with, but that's fine.
You should see two more screws at the base of the ashtray housing frame. Take those out.
Open the sunglasses holder and pull firmly on it until it snaps out, set aside. You'll see two more screws, remove those. See pic: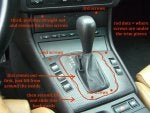 My favorite part of this project is the stealthy SMART console in the ashtray. All I did was drill a large hole in the bottom of the ashtray (so the module's grommet sat inside the hole), ran the wires through the hole, mounted the module with HD automotive trim double-stick tape, and pulled the wires up behind the trim into the area where the sunglasses holder goes. Here's some pics of it mounted in the ashtray: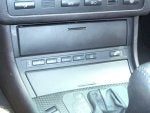 I ran the power wires to the right, toward the fuse box. I ran the detector wires toward the left toward the steering wheel. You'll have to fish the wires through and around. Use your skills and you'll find a way!
I used a fuse tap and fuse #24 for the switched power. It is for the rear parking assist, which I don't have. The fuse was there though and it was an easy hookup. I guess you could have followed the wires and used a wire tap as well. This required me to remove the glove box; I needed a good ground, and there is plenty of metal once you remove the glove box.
I ran the detector wire under the dash, up the side moldings, around the window trim and to the detector. I stashed the extra 7" of wire behind the dome light with a cable tie. A good safe thing to use for the wire stashing operation is a putty knife with duct tape over the end. This will prevent scratching. A plastic putty knife might work good to, without the duct tape maybe.
Here it is mounted:
Hope this helps somebody out there!