Discussion Starter
·
#1
·
I recently purchased an Eonon GA9540 head unit like the one here: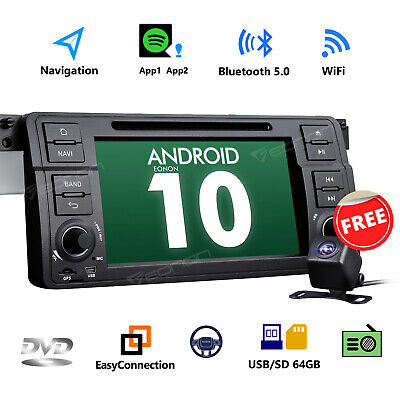 Find many great new & used options and get the best deals for GA9450 7" Android 10 Car Stereo GPS Radio Bluetooth Fits BMW E46 325ci 330ci M3 at the best online prices at eBay!
I thought it would simply be a matter of plug and play but it is
Not.
My problem is that I have the newer style stock head unit which already has Nav/Tv and the head unit works with two twelve plug connectors, a Blue and White like below:
These do not plug into the Eonon head unit and the plugs supplied by Eonon do not take these connectors.
After more reading, their product page says that if I have this type of connector, I need to purchase this:

<li> Designed ONLY for Eonon Model R50, R49, GA9450, GA9450D AND GA9449 Car Stereos</li> <li> </li> <li>17 pin power cable is applicable to: BMW E46 (1998-2001) BMW E39 (1996-2001)</li> <li> </li> <li>40 pin power cable is applicable to: BMW E46 (2002-2005) BMW E39 (2002-2003)</li> <li> </li>...
This is an extended wiring harness. So apparently the stock setup I have means the radio is located in the boot of the car, under the spare tyre.
In their installation instructions, they say I need to Plug in one end to the BM54 radio module in the boot, and route the cable through the car to the dash area, to be able to plug the head unit in.
Some photos from their ebay on this process below:
With all that said -
I'm really not that confident/keen to rip up carpet and try to route this cable from back to front in the hope that the headunit works - And if I decide I don't like the system I'm worried that I may have to repeat the process for another head unit.
So, I was thinking..
Is there some sort of connector I could buy that would plug into my stock (blue & white 12 pin) connectors at the dashboard - and bridge that to the Eonon connectors for the head unit.
Simply - Can i get a connector/converter to bridge;
THIS (the stock cables that are in my factory head unit)
TO THIS;
(The connectors on the right side for the GA9540)
If all else,
any recommendations on a headunit that is simply plug and play with my white and blue 12 pin connectors?
Thanks