TONS OF NEW INFO ADDED:
The Dynavin threads are a little out of hand so I decided to make a new thread so everybody doesn't have to read through 100 pages of BS to get the info they are looking for, as we get new info I will add to and edit this post so all the dynavin knowledge can be accessed here.
I would like to keep this thread factual and helpful, please keep unrelated discussions and opinions in the other three threads.

Please read EVERYTHING before you ask a question, pretty much everything has been answered at some point and I will do my best to put it all in this thread.
The moderator from Dynavins forum is also putting together a forum here:
http://dynavin.freeforums.org
Check it out for tips, tricks, hacks, and info.
INSTALL
I am an installer, not full time, i run a small family business that in part sells auto parts and accessories including mobile electronics. I do the installs, Ive been doing a couple a week for 15 years so Ive done.....a lot..... I am an authorized Pioneer Electronics dealer so most of my experience relevant to the Dynavin is with the AVIC line of Pioneer units. I also have owned two cars with factory nav, a 2006 acura and a 2007 lexus, so understand where I am coming from, Ive used quite a few systems like this.
Be careful who you buy from!!! Stick to known forum sponsors!!!
http://forum.e46fanatics.com/showthread.php?t=773341
http://forum.e46fanatics.com/showthread.php?t=744234
Due to this post, my involvement in the Dynavin community, and the scary situations in the above links I have decided to become a Dynavin dealer. You can now get a Dynavin from me along with all the help and advice you might need.....DYNAVIN SOLUTIONS.... PM me for details, look for me in the sponsor forum, or click the link in my sig. Yes....I sold out!
Im not going to go into every step of the install here, there are existing DIYs that cover everything you need to know and more about taking your dash apart, running wires, hooking up amps, ipods, etc.... im just going to try to stick to the dyanavin specific stuff here.
Here is what comes in the box, nothing you haven't seen before on the other threads: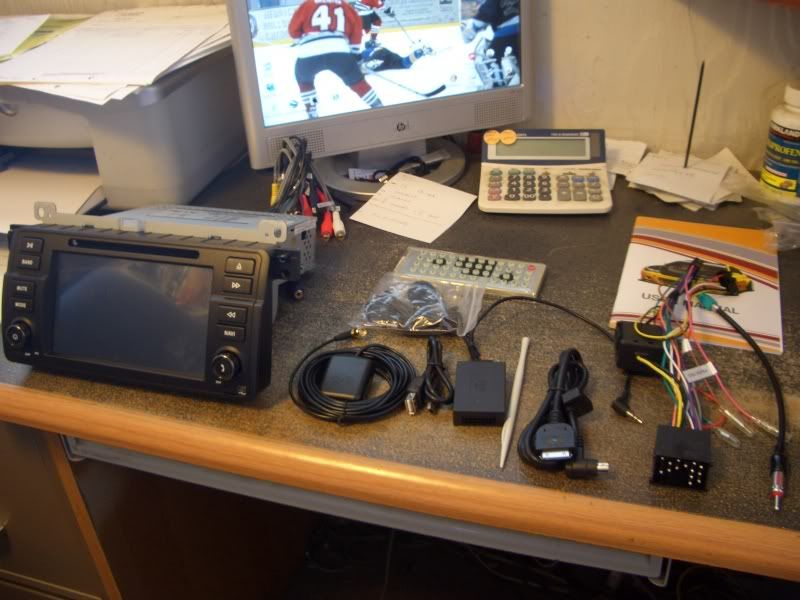 But this you haven't seen, this should give you a good idea of how the wiring is laid out: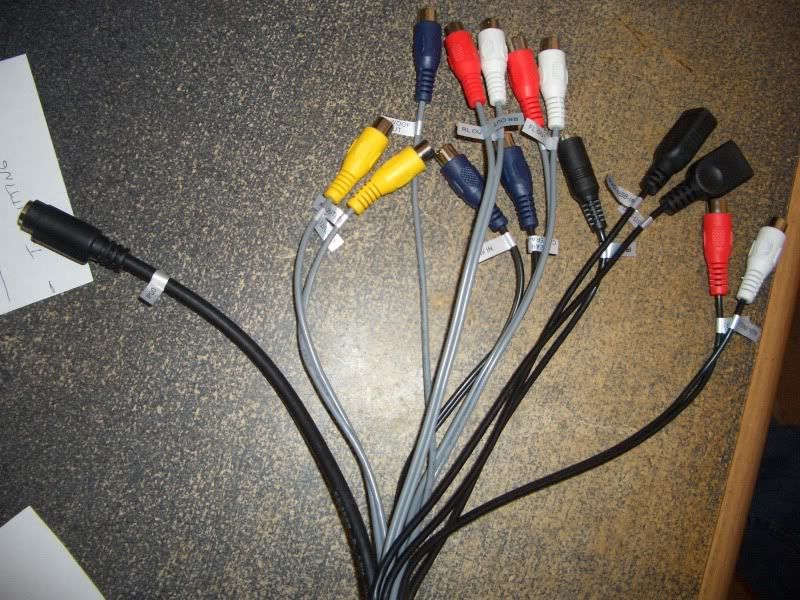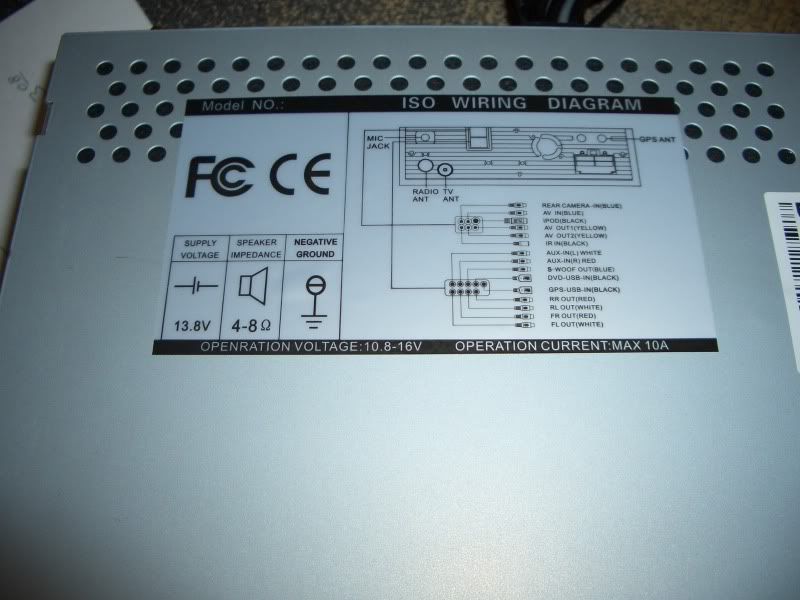 Here is what I'm starting with: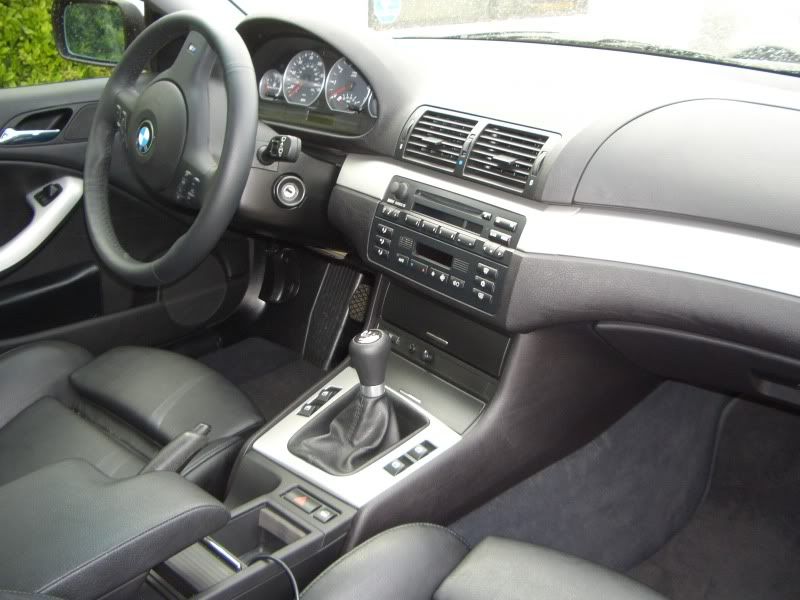 Regular business HU, no HK, but it doesnt matter, everything here applies to the HK system as well, I had the parrot bluetooth running off the steering wheel buttons and an ipod adapter. Its all coming out.
I also have a 4 channel amp, front two channels running the front speakers and the rear two channels running a sub, the signal was being delivered via the factory amp input wires, cut and spliced onto RCA connectors and fed into an EQ and then into the amp.
The rear speakers are stock and still running off the factory amp although I am not using them and have the fader on the HU faded all the way to the front.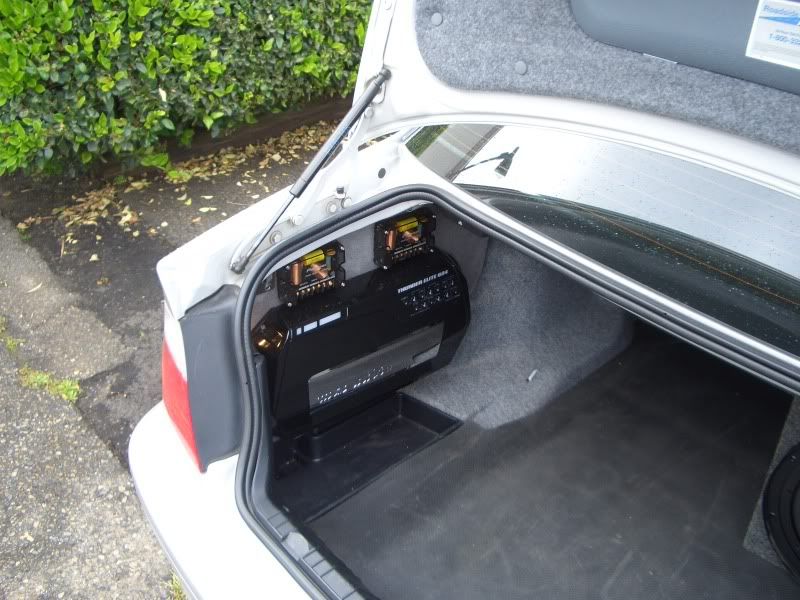 look here to do a system like this, awesome write up on amp install using the factory head unit:
http://forum.e46fanatics.com/showthread.php?t=245914
So I took everything apart and took a look at what I was in for: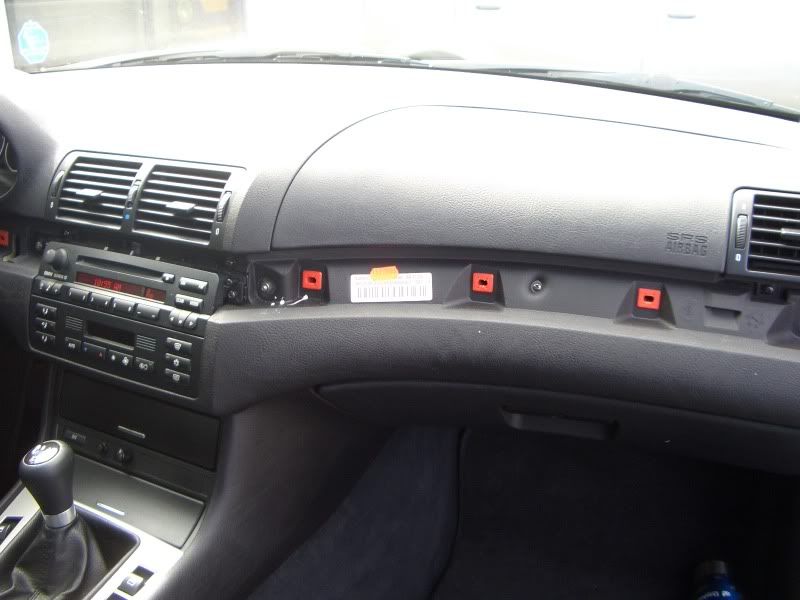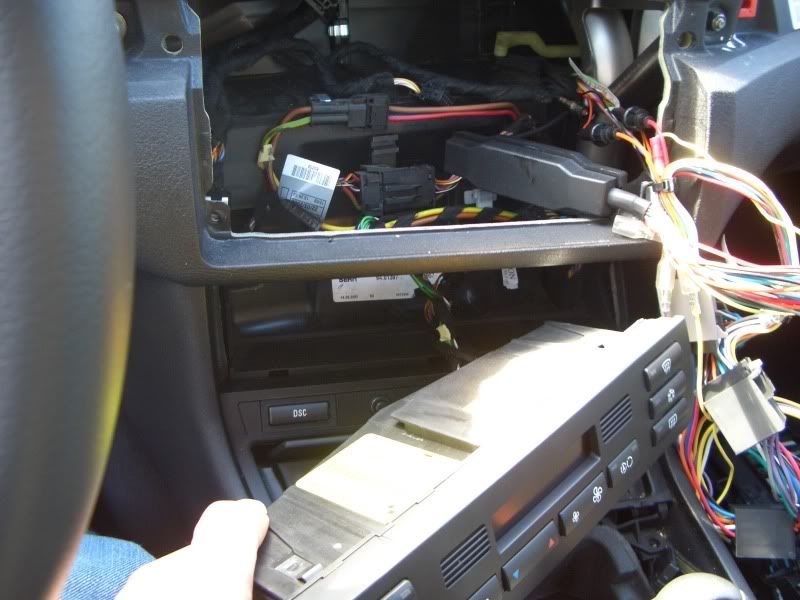 Take note here that the wiring for the HVAC controls just drops down to the new location for the controls, it only has to move a few inches and there is plenty of slack. I have not yet ordered the HVAC control relocation part but the control fits the old part ok, I used a little bit of 3/8" black weatherstrip foam to support it and hold it in place, it wedges in there pretty tight and looks fine, we will see how it works out. Ignore the mess of wires on the right, thats my parrot blutooth kit, its gone now.
This is important, right in the middle of this picture you can see a white plastic arm that moves a black plastic lever in the airbox, some part of the HVAC system, this part ends up directly below the back of the dynavin unit, be careful that you dont get any wires hung up on this or you are asking for big trouble. I will double check it later from the glovebox side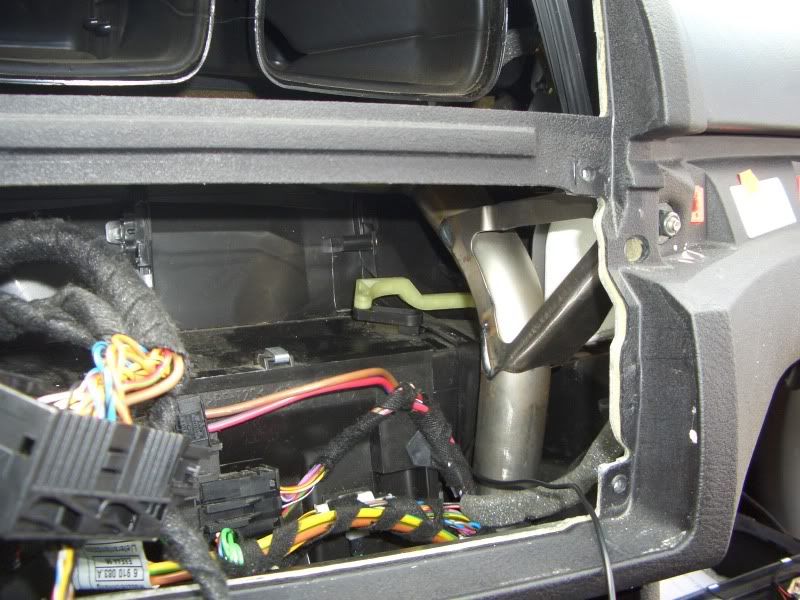 Next I put the GPS receiver right behind the unit on the metal dash frame, right below the vent ducts, it is magnetic and will stick right there, reception here is good.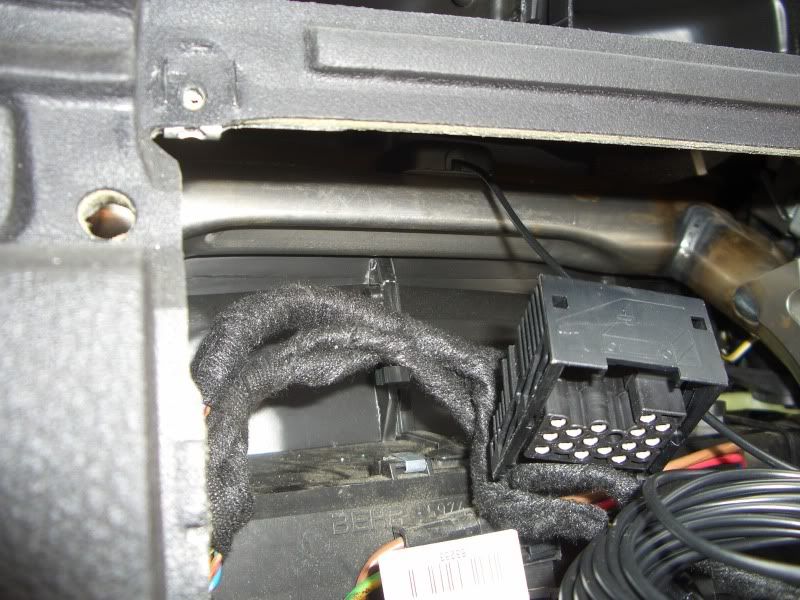 So then I plugged everything into the factory wiring: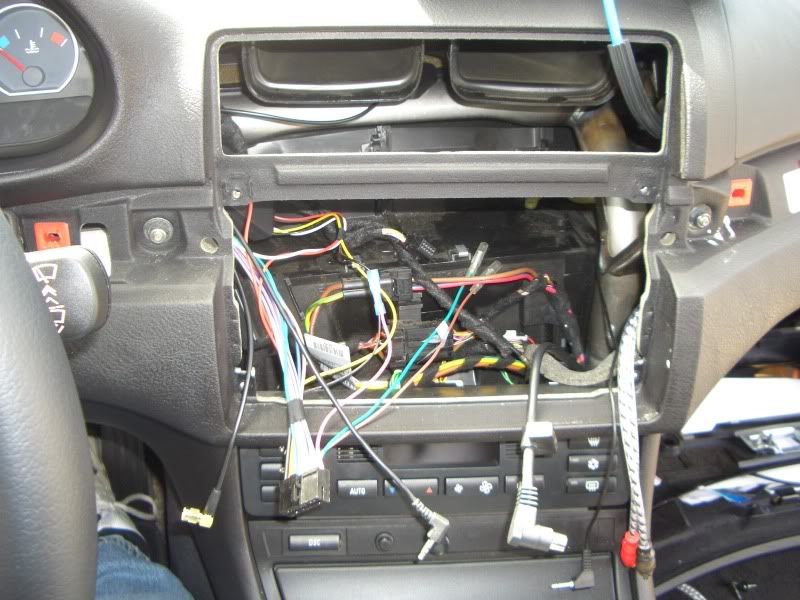 Plugged in the dynavin and put it in the dash, other people have been complaining that there isnt much room in there....they are correct. There is a good amount of space on the left side of the unit, thats where my harness and extra wire ended up. All of the AV connections ended up on top of the dynanvin, there is NO space behind or below the unit: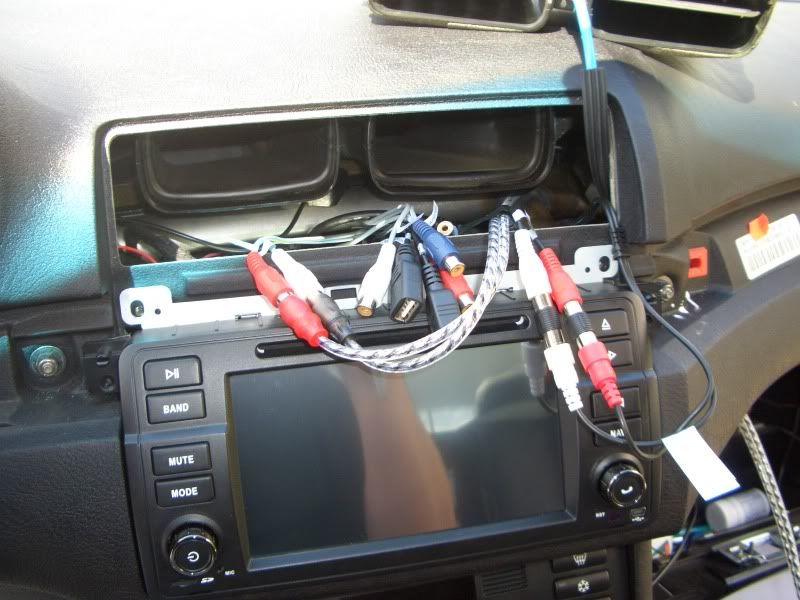 You can see an RCA cable and a "headphone plug" plugged into the aux in jacks for later use if I want to plug in anything to the aux in or you can run a a/v cable and use the video input as well.....more on that later....
I put all the unused plugs in a plastic bag both to protect them and to keep them from accidentally touching the chassis of the dynavin and causing any weird problems.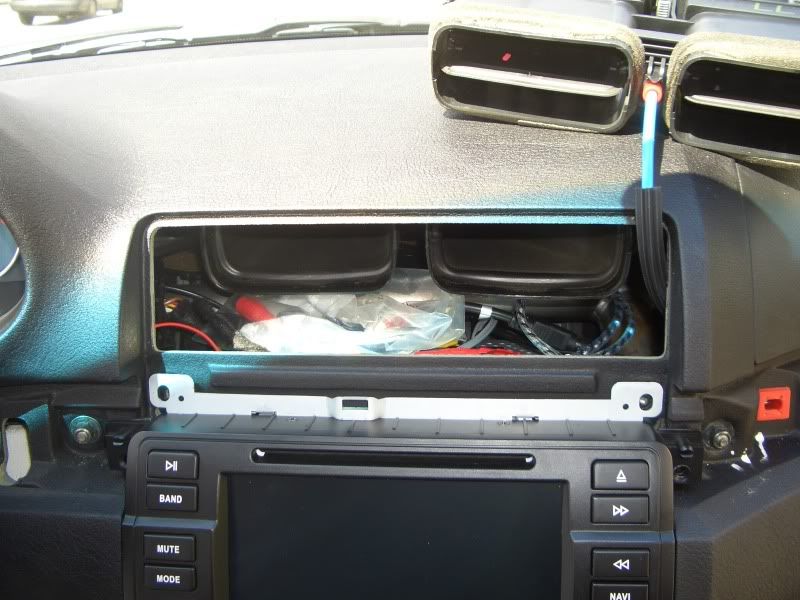 Shoved the dynavin in...took a couple tries to get all the wires out of the way and everything where I wanted it. Put the vents back in, and put 2 screws back in to hold everything where it belongs, here you might want to make sure everything is exactly where you want it before you tighten up the screws, the dyanvin fits very well but there is a little wiggle room and I wanted to make sure my gaps were even all the way around.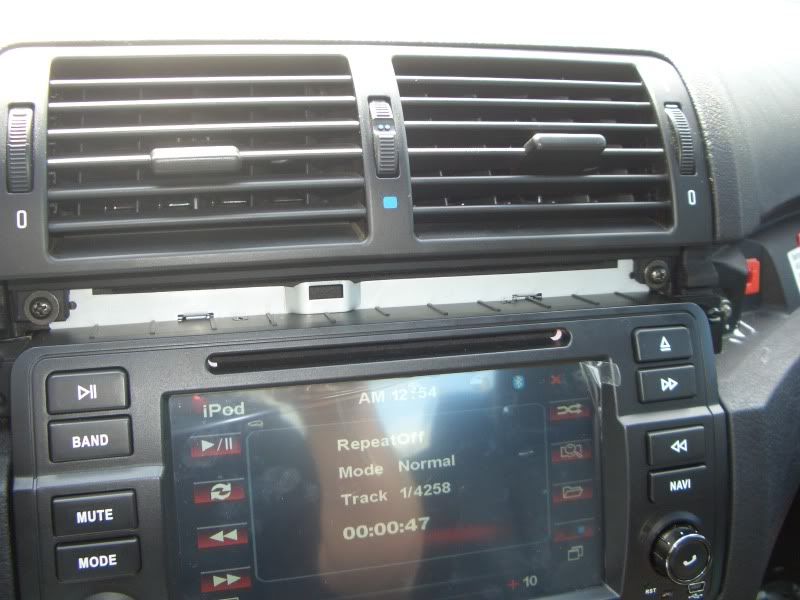 Now back to that plastic arm and lever....I had my glove compartment out to remove my old bluetooth kit so I stuck my head in there to verify that nothing was binding up the lever and arm. There was a wire back there in this pic, a little too close, I moved it.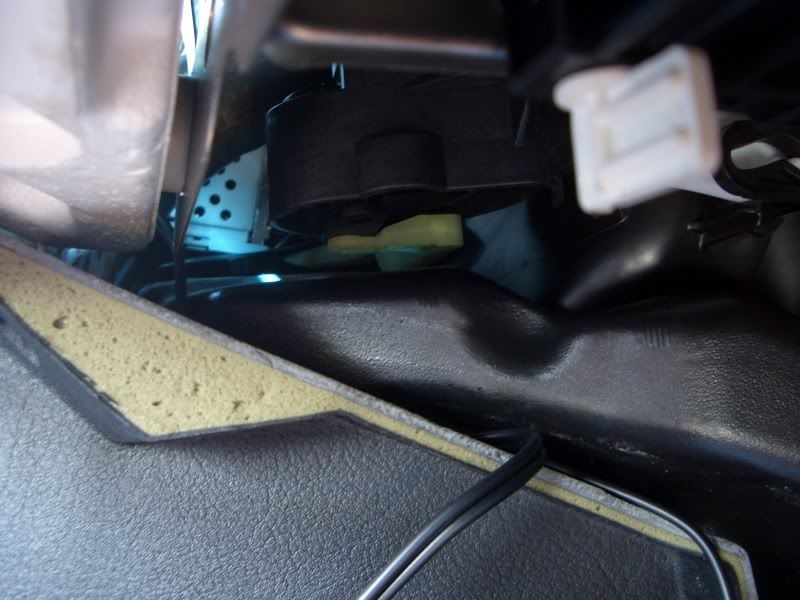 I ran the mic, ipod cable, and aux in to where they belonged, you can put them wherever you want, in my case i put the plugs in my euro tray and the mic above the rearview mirror in the factory location. Ran the RCA cable to the trunk, I ran the rca so I could do a little experimenting using the "speaker outputs" vs.the rca outputs.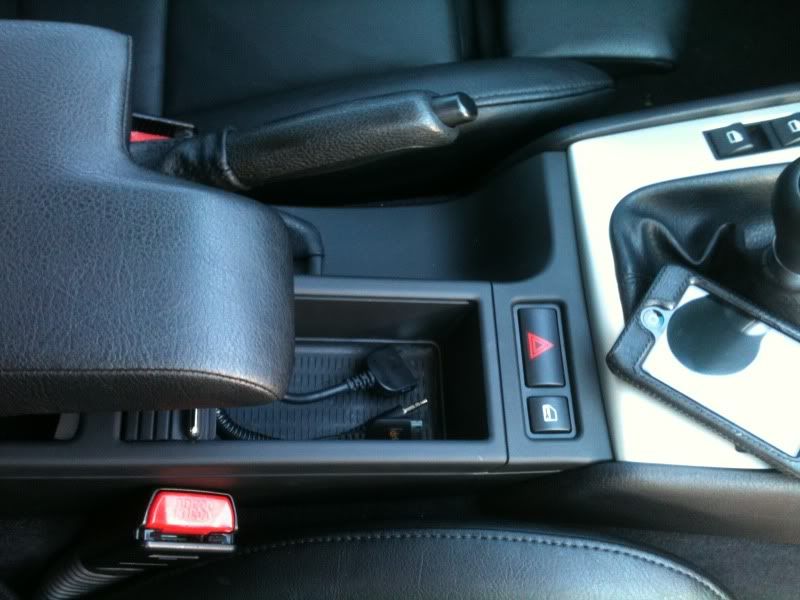 back in one piece: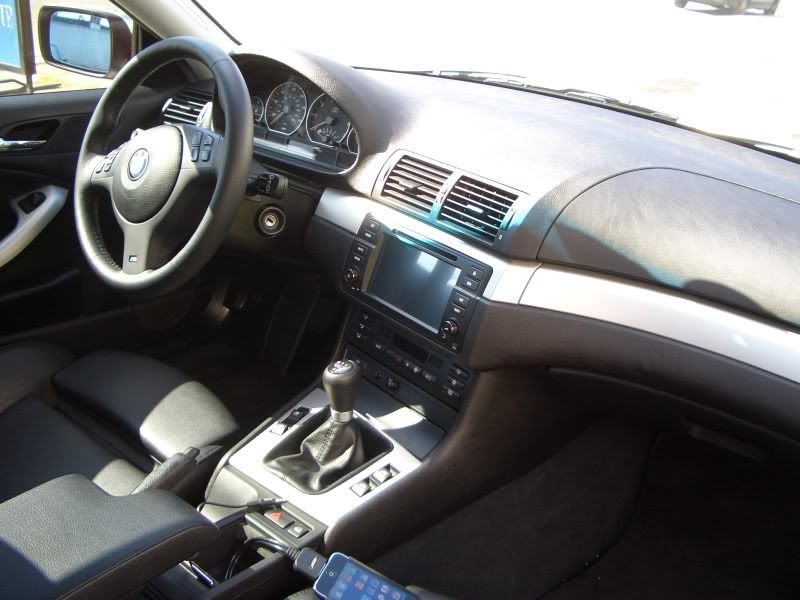 SETUP
I turned it on, my amp gain was too high and I was getting some noise, I expected this considering all the past noise problems that other users were experiencing.
YOU MAY NEED TO USE A LINE OUTPUT CONVERTER if you are going to use this unit with the factory system, see the third post in this thread for more info on the LOC. Dynavin is working on a harness that has one integrated into it to fix the noise issues but until that happens just expect that you may need to add a LOC.
I however had gain controls on my amp so I turned them down and all the nasty noises went away....well except for that horrible "beep" every time i hit a button, I found the menu to turn that off, much better.
The radio bleed was BARELY there with the amp gains up, once I turned them down to a correct level it was gone. I set my amp gain so that the hiss was very slight, cant hear it with the car running, and this made "very loud volume" correspond to about 30 on the dynavins 0-40 scale, just about right.
Remember now that I had my rear speakers hooked up to the factory amp.....well they were still problimatic, I was getting a nasty turn on thump with them and thier volume was not well matched to my aftermarket components up front. I may put a LOC on them in the future to better match them up and quiet down the noise problems but for now I just unplugged the factory amp since I am not using the rear speakers anyway.
Now I ran into a problem.....the dynavin would distort heavily when I turned it over 30 on a loud song, remember that I was still using the factory signal wires, so either the dynavin's built in amp was clipping pretty bad or it was overdriving my eq. In either case this may not be the situation for those of you running the factory amp (chime in guys) but in my case the dynavin didnt like my EQ very much so I tried switching over to that RCA that I had ran.
the line level RCAs work great, as far as I can tell with just my ears the dynavin will go to max volume on the RCA outputs clean. This gave my system significantly more available volume than I had with the BMW headunit. Subjectively I would say it is 30%+ louder without any audible distortion. Sweet!
Now it was sounding good and running so here is my assessment as of now, I will edit this if any of these things change:
THE GOOD
It turns on very fast, only a couple seconds and its up and running, MUCH MUCH MUCH faster to start up than the pioneer units that I install regularly and also much faster than my oem NAVs in my acura and lexus.
The touch screen is also very good, the most responsive I have seen on a device like this. Never have to hit a "button" twice and it never seems to "hang up" after a press, very good.
Overall the audio portion works pretty good, the radio is good, although the tuning is very slow .05 increments takes forever but the seek works fine, just use it instead.
DVD looks and sounds good, responsive controls, works as expected.
Bluetooth paired to my iphone 3GS no problem and the blutooth audio works fine (quality is of course limited), both audio and phone connect VERY fast, only a couple seconds to connect. I was suprised to find that the play/pause button worked with the bluetooth audio, so I can be listening to a podcast with my iphone in my pocket, leave the car, come back and press play and pick up right where I left off. Very nice. I also stream sirius to my iphone using the sirius app or "pocket tunes" app. Works as a nice alternative to sat radio. The phone book doesnt work well with the iphone, the formatting is all jumbled up, however it does display recent/missed/dialed/recieved call activity correctly from the phone so I can kind of use that as a workaround for my common numbers. Im sure your results may vary depending on the phone.
There has been a lot of controversy about the knobs. Now that I have seen this thing in person I can say that they look good, they are "black chrome" and look petty much black most of the time. I looked them over pretty close and would say they definitely cannot be removed without at least taking the front of the unit off. Not worth it for me, they look fine the way they are, but to each his own.
THE BAD
Now some bad stuff. I hooked up my fist gen 32GB ipod touch and it didnt work, it would play a second or two and restart, controls would not respond. Plugged in my iphone, it worked fine, plugged in a nano, it worked fine, I did a full restore on the touch, with about half the music synced I tested it and it worked, then I synced the rest...didnt work. I saw this mentioned on one of the threads, Ill work on this some more and edit this post when I figure it out.
Next problem, Delmarco, you are going to love this......The glare on this thing is insane! The screen is fairly reflective but the big problem is that it is aimed right at the rear window. This will of course vary depending on your seating position and your hight (I am 6") but for me the angles are terrible. Maybe ill put some 5% tint on the back window.......maybe I will just paint my rear window black:str8pimpi, that should take care of it.
(See post number three in this thread for a Glare Fix that I came up with that might help some of you.)
I put the camera right in front of my eyes so this is what I see, uuuggghhhh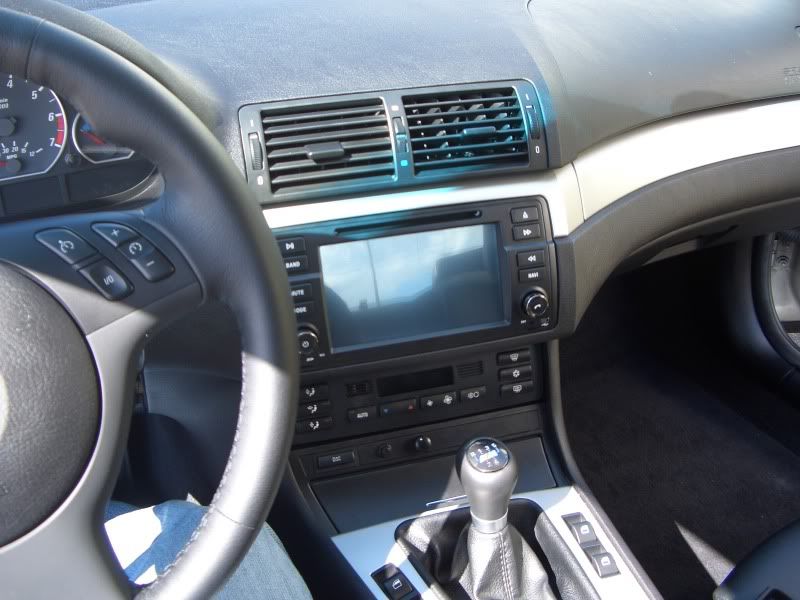 interestingly however for how glossy the screen is, no fingerprints!!??
After playing around with all the audio settings I found that a lot of the audio controls that appear on screen do not seem to do anything. There is an audio settings menu that
should
allow you to adjust the
EQ center frequency and Q values
but these adjustments didnt seem to make any audible difference. Also when you go into the EQ menu you see this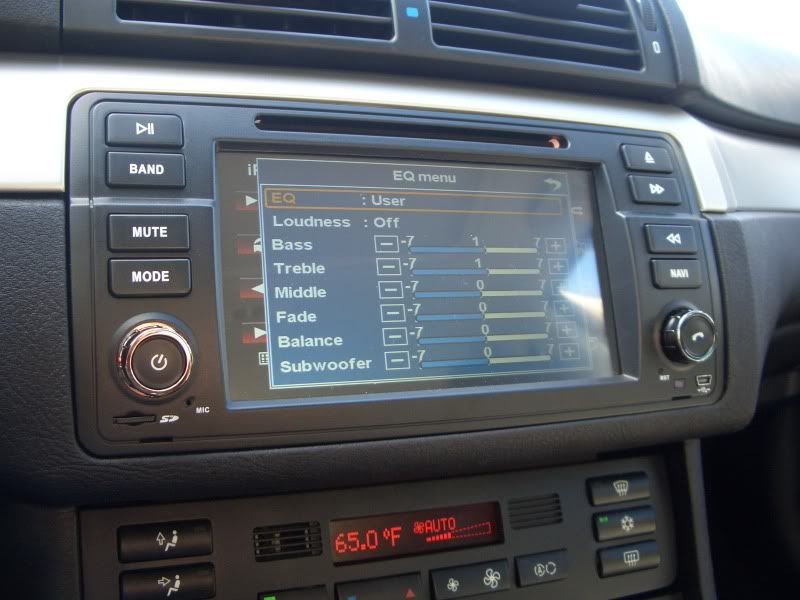 All of this works fine except again the "middle" setting does not seem to do anything.
I suspected that the GUI was showing things that the hardware/firmware didnt support and contacted Dynavin to inqure about this. They responded that I was correct, thier firmware did not support the more advanced audio adjustments and that they would remove those non supported features from the firmware. This isnt really a deal killer as most people dont know what "Q" is anyway, forget about how to use it, but it is sloppy and it needs to be cleaned up in the user interface.
Final problem is a small one but its there and its a noise problem, all the other noises were cleaned up by proper gain matching but there is a buzz when the headlights are on and the dashlight dimmer is set to a dim position, it is worse when the volume is set to "0" or when changing sources. If the volume is up even one notch it becomes almost inaudible or if the dashlights are set to the brigher side of their adjustment. Not a deal killer but not right either.
NAV/WINDOWS
The nav portion is good, the large font thing on the street names is kind of odd but is better on some of the zoom/angle settings. I also find it odd that I cant seem to make it display the direction of travel as "up" in 2D mode. I need to play around with this part some more to see if I can find settings to work a couple of the kinks like that out. Overall I would say that the Nav is on par or better than most of the other OEM or aftermarket ones I have used.
Map screens (iGo 8)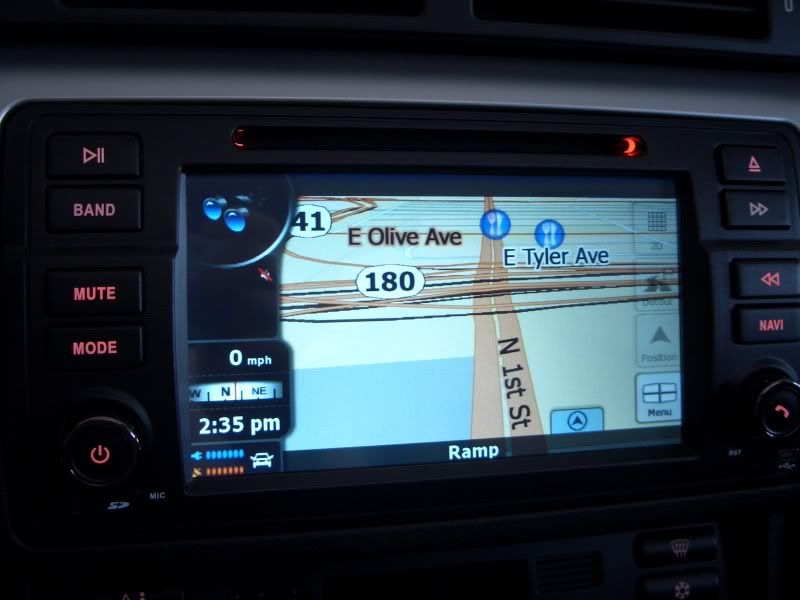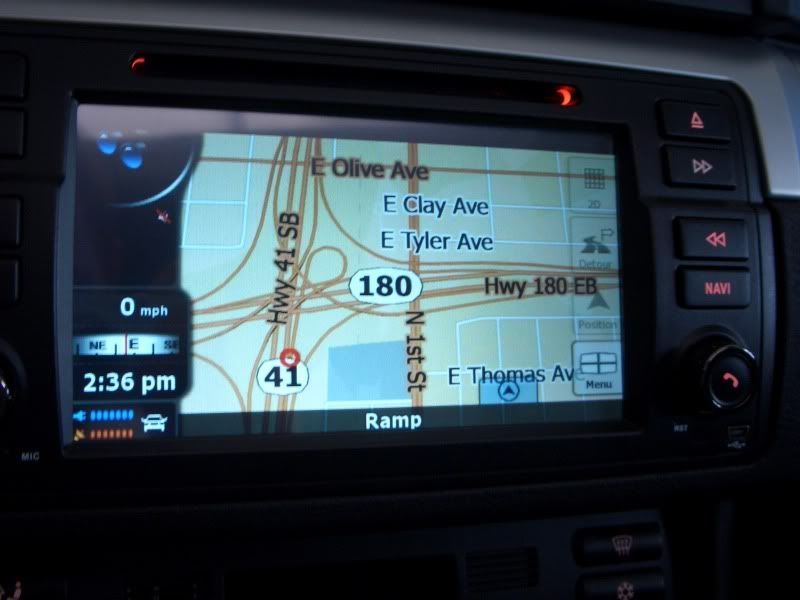 Looking for lunch....POI screen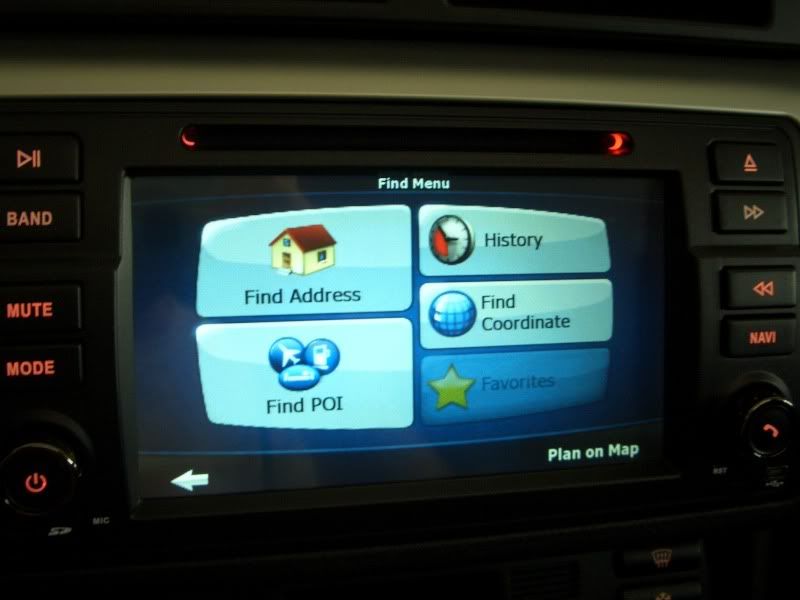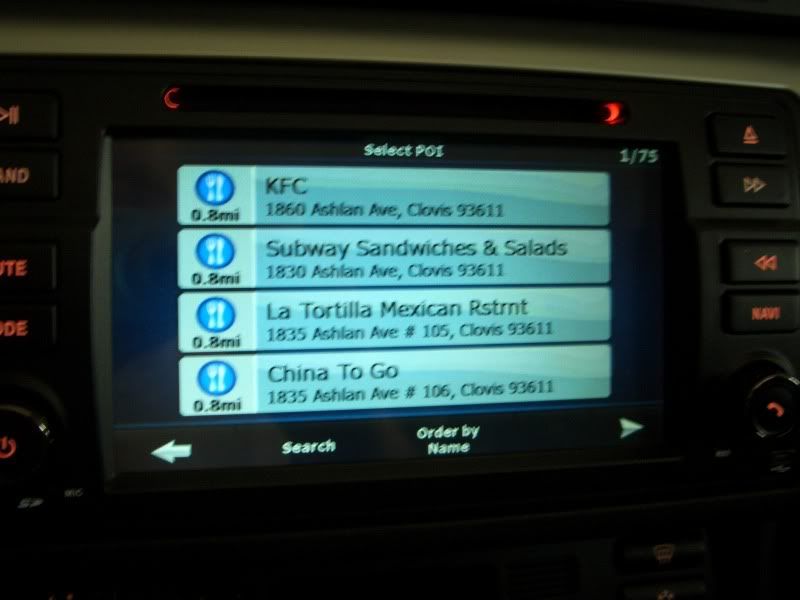 the igo software is easy to modify and there is a large online community dedicated to customizing and tweaking it. Since the igo nav system is on the micro sd card in the front of they dyanavin it is easy to take out, stick it in your computer and HACK it. Im not going to go into the details here but I googled it and found some skins and some different color schemes, played around with it, and found some some stuff that I really liked, much better looking, cleaner, more adjustable, even easier to use. Here is what the skin I am using now looks like: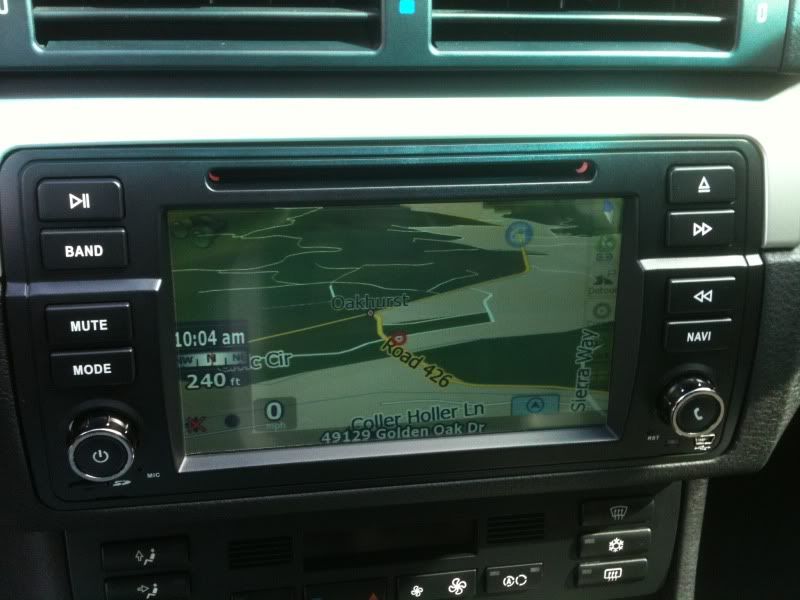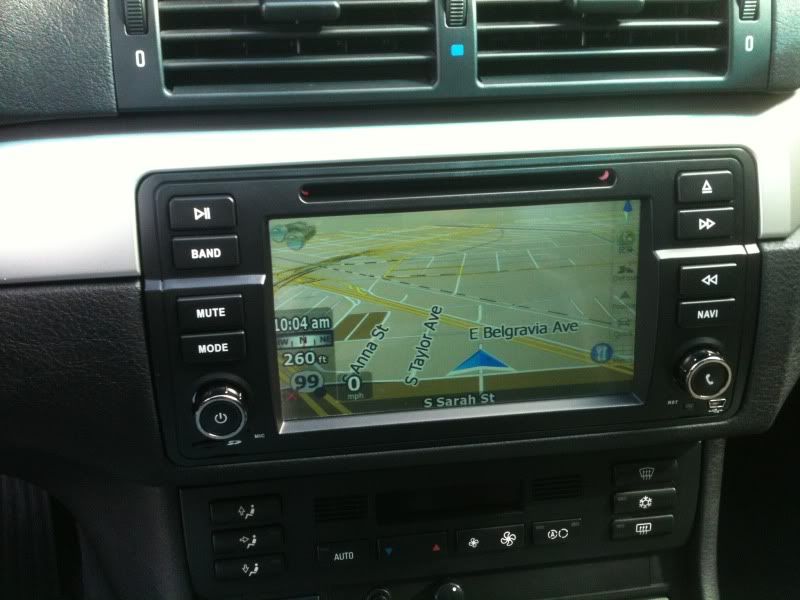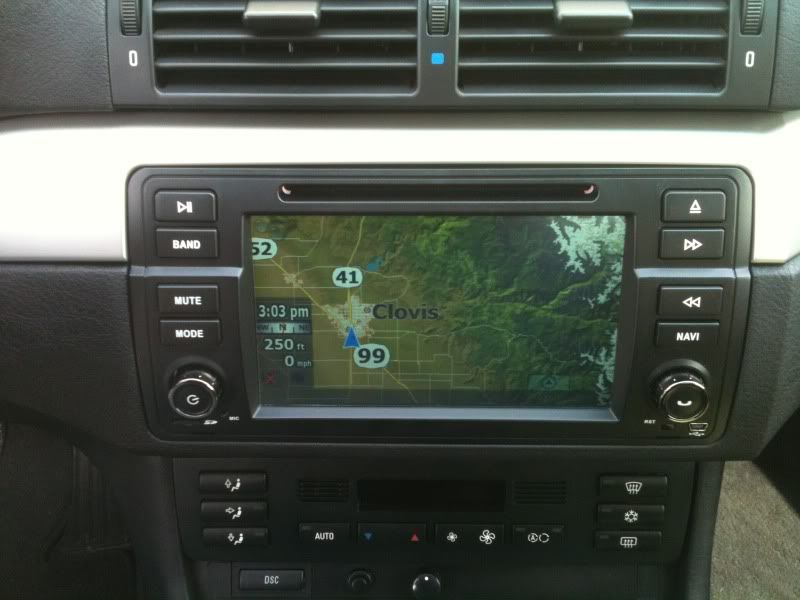 the skin you see here is from:
http://www.igo8mods.com/dimka.htm
And the color scemes I found here, I liked the stuff by "Xerses"
http://artwork-igo8.blogspot.com/search/label/scheme
Update:
Im now running a customized 800x480 high res version of igo8.3, It looks amazing, it works amazing. It wasnt easy as I am not a computer programmer but i was able to figure it out (with a little help), spend some time here if you want to make it happen:
http://dynavin.freeforums.org
Check out the size of the fonts (yes I can see them while driving, pic quality here limited due to iphone pic while driving).....800x480.....nice!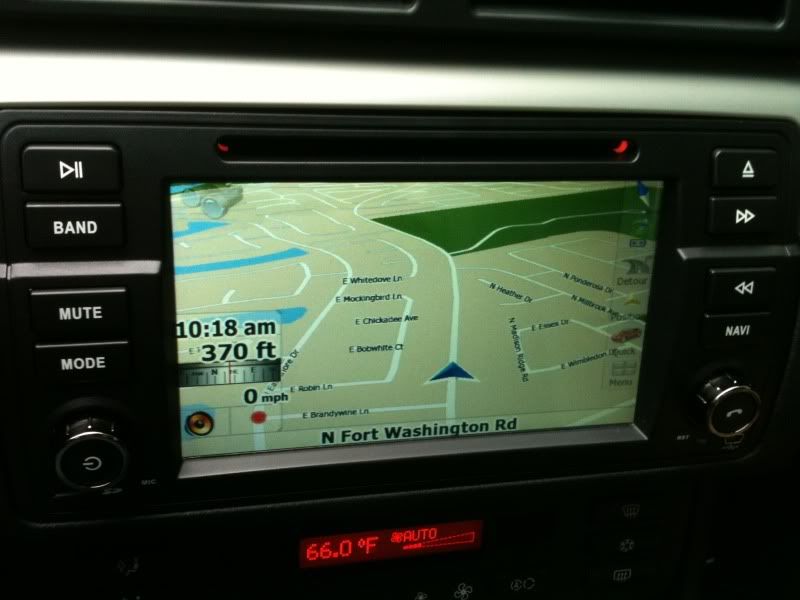 And the windows interface, you wont see this stuff unless you go looking for it.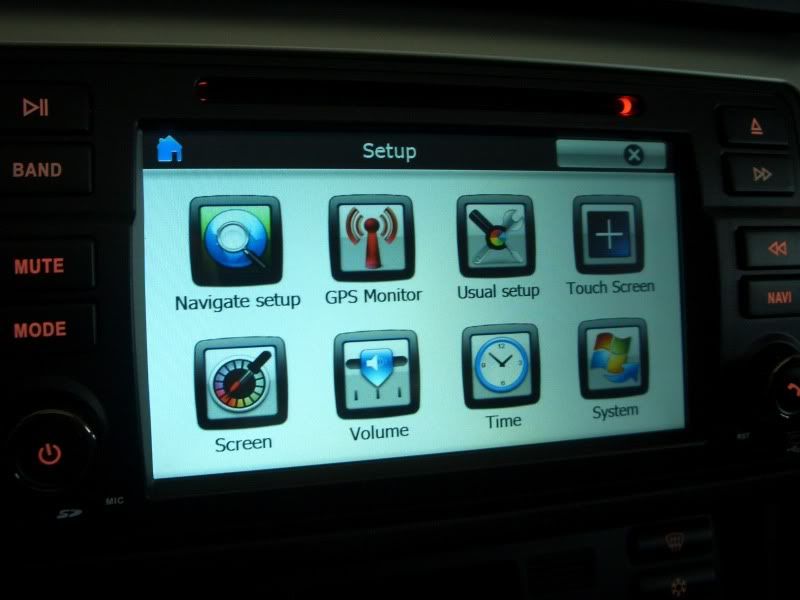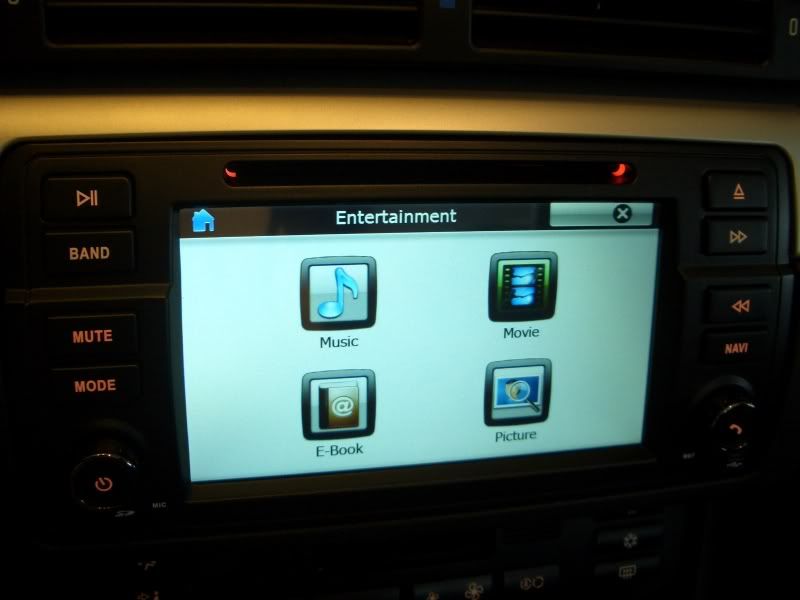 windows media player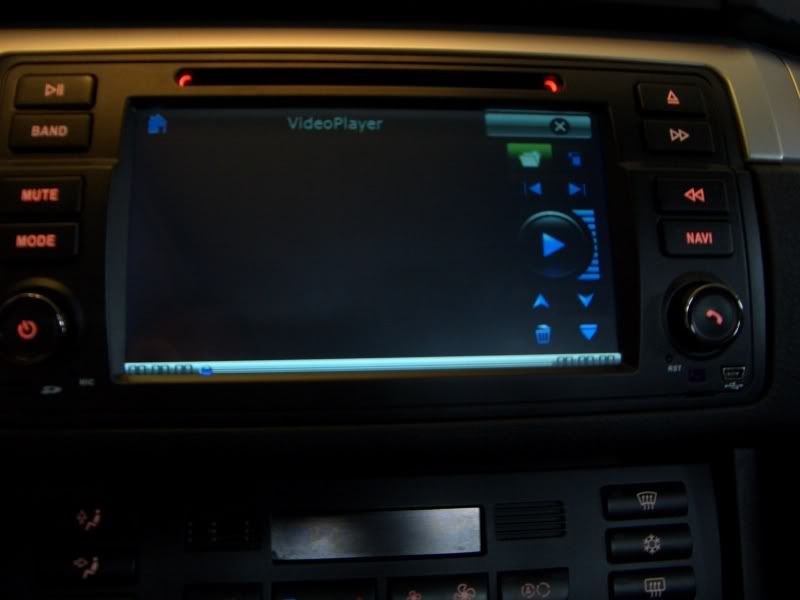 The only downside to the nice igo setup is that the integration between the "dynavin" portion of the unit and the igo nav/windows portion isnt very good, going back and forth is fast and works great, its just that they look, sound, and control like two completely different devices (of course they would, the windows and igo software has nothing to do with dynavin). Unfortunately it makes the whole experience seem a bit half baked. There are some custom skins in the works for the dynavin to better match and integrate the unit to look more polished and consistent. Stay tuned...
IPOD
The ipod interface itself is kind of hit and miss, while it does display all the song info on screen and its a lot better than an ipod adapter with a business cd but I dont think it is going to cut it for me. It allows you to sort by artist, album .....etc....but say you select "artist"....it will just show an alphabetical list of songs by that artist, they wont be split into albums the way they are on the ipod itself.
I have a ton of music on my ipod and I like to sort and search by artist>album>song and I cant do that with the way this interface works. To be fair, I tried it with my wifes 8GB nano and it worked pretty good, the smaller library made it much more useable. So how well it works will depend on each persons individual circumstances.
BUT....I did find that if you put it in ipod video mode (icon is on the lower right, below the "folder" icon) the unit reverts to ipod control and you can then use your ipod to navigate your library.
As far as getting ipod video to work, doesnt look like it does, when in ipod video mode the screen just shows the "BMW roundel"
BUT you can use the A/V inputs to run video off your ipod. I used an ipod>A/V plug hooked up to the aux in. You have to control it from the ipod obviously but it works.
USB
The USB plug works very well, the front plug and the back plug are for the same USB interface, it just has two plugs. Its what I wanted the ipod interface to be, It will navigate the files structure of the drive you plug into it so if you structure your drive artist>album>song, thats what you will see on the display. At first it wasnt seeing my songs but it turns out my music library is in M4a format (itunes default) and the dynavin like many devices wont play those files. If you convert your songs to mp3 they will work fine.....im in the process right now of converting 50GB of music to mp3......uuuuggghhhh.
I have run into one issue here however, The dynavin does not seem to support more than 196 folders on the usb, if I add more than that it shows the "artist" folder but not the "album" folders. Im still looking for confirmation from other users that this is a limitation and not something isolated to my setup, it seems like a low number for a hardware limitation so we will see what others find.
I got this plug from pac audio and decided to do a nice flush mounted usb in the eurotray.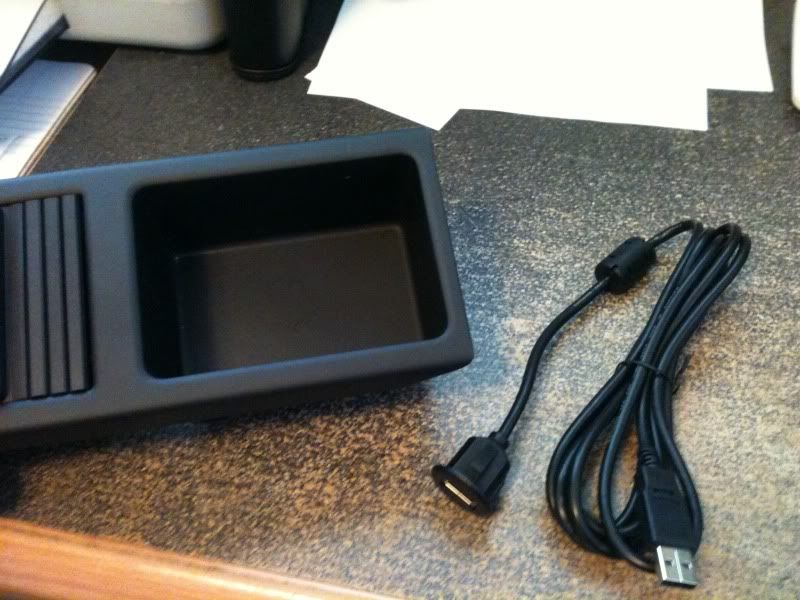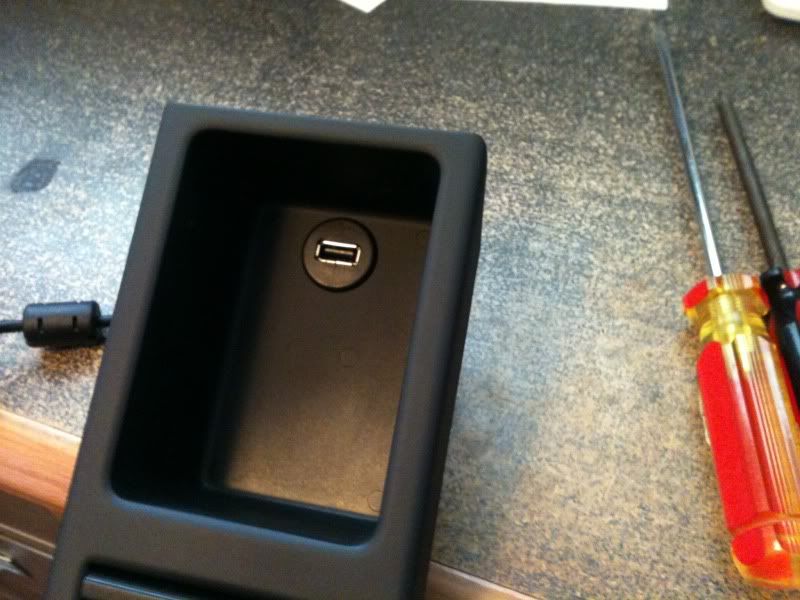 sweeeeet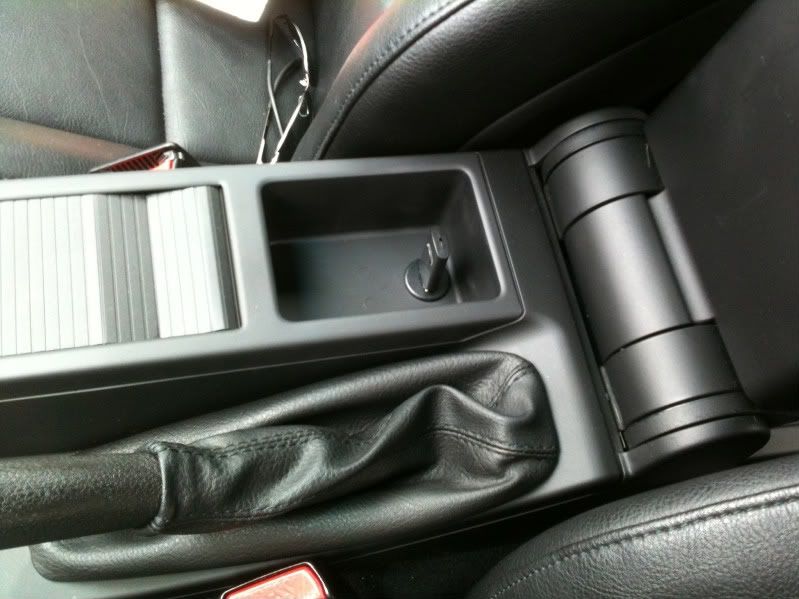 ETC......
By request, here is a look at some of the different screens:
the source selection screen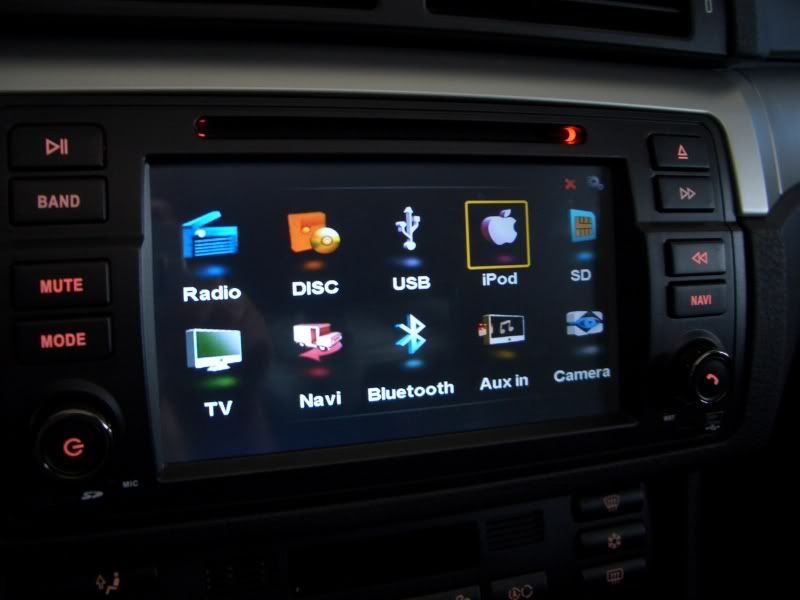 The basic user interface for most of the sources (this is the ipod screen but they pretty much all look like this.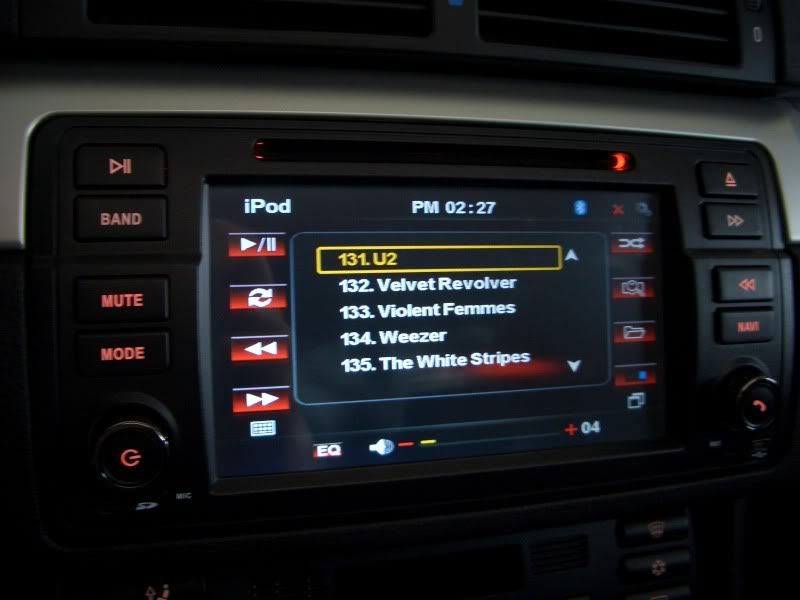 The generic background (very nice, although I doubt it has BMW's approval!)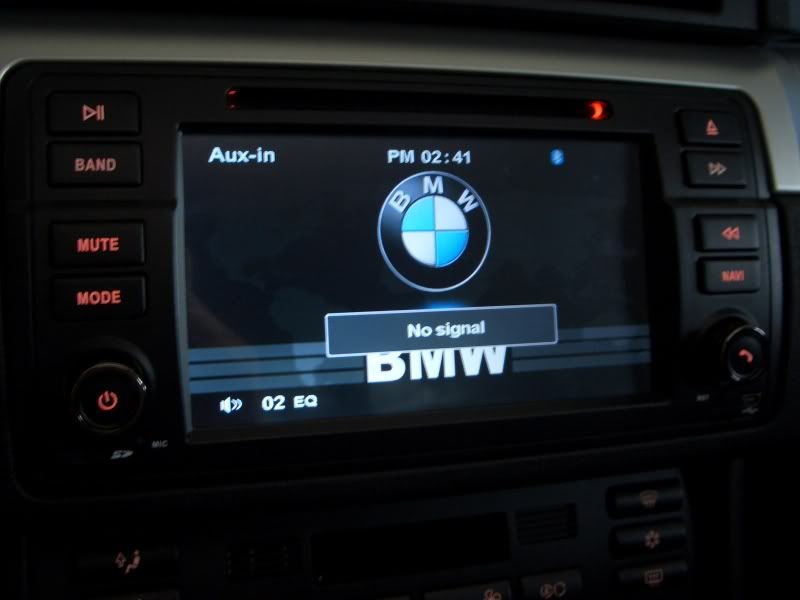 pic of the finished install.....well lit.....no techno music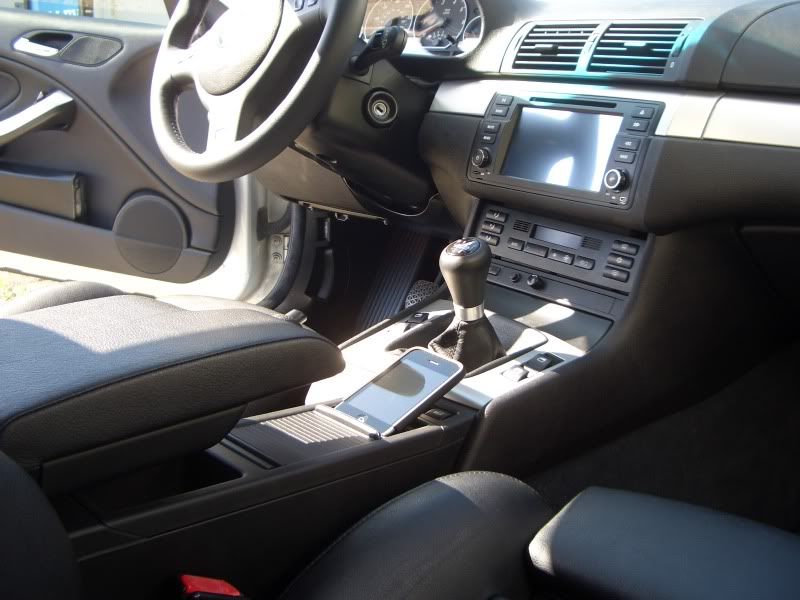 Some people have PM me wanting me to rate it, give it a score......so, here you go
VERDICT:
Its good, not perfect but it has a lot of potential left in it. Out of the box I give it a 6/10, after doing some things to reduce the glare problem and dialing things in with the settings and igo hacks, I give it a 7/10. With a firmware update to refine and clean things up a bit it could be an 8/10. At this point I am happy, money well spent.
to be continued...