Discussion Starter
·
#1
·
Hello,
I'm looking for second opinions on resetting the steering angle sensor/yaw sensor.
Here is my current problem: DSC Activating mostly on Left Turns
When DSC is Activating, Only Traction Control Light Blinks, Power is Cut Off/Acceleration Pedal, Braking Force is Applied to Front Right Wheel Only (not intentional).
Current Car Info:
2002 325Ci, M54 5Spd Getrag
3.62 Differential, M3 Rear End
NO Traction Control Light on Dash
NO Brake Lights on Dash
Recent Work Done: **(More Info @ Bottom)
M3 Knuckles Added
M3 Front Calipers Added
M3 Brake Lines Added
M3 Front Rotors & Pads Added
Angle Kit Added
4 Wheel Alignment Done
Alignment Specs:
Front -6* Camber, 0* Toe
Rear -1.5* Camber, 0.5* Toe In
Been happening this past 2 weeks, was kinda hoping it would correct itself or adjust on its own maybe?
Mostly happens on 1 left turn during my daily driving route to work. I've been passing this same road on the car for about 2-3 years now, daily driven. When coming in, I'm going from 60 down to 40mph to make the Left Turn, but then about 2-3 seconds in, DSC Activates and cuts my power, while applying brakes to front right wheel. DSC Activating, I'm taking this left turn at 15mph instead of my usual 40-45mph. I'm also wondering if DSC happens to turn on my brake lights when applying the brake force and Power Cut off, as I don't know if the cars behind me know how fast I'm slowing down w/ DSC activating.
I did do some light testing, when I press my DSC Button once and turn off the Traction Control, it drives normal but I still do feel the braking force being applied w/ Power Cut off but just not as aggressive w/ traction control on. The Left Turn is done @ 25-30mph, which is a bit better.
I never got the DSC Sensor's scanned while the car was running perfectly, so I'm not too sure if the values are correct with my car or if there is a underlying problem I'm not seeing.
If I recalibrate the Steering Angle Sensor is it possible that the DSC Problem could be worse?
*INPA, this is what I got in the DSC Sensors:
*Steering Wheel is True and Straight @ 0.0 Degree's, Car Drives Straight forward and in Reverse, Steering Wheel doesn't move.
*When Driven around the Lot, No Bizarre readings appear or value spikes noticed.
*Offset Steering Angle is in the Red @ 5.76 Degrees.
*PA Soft, this is what I got in the ABS & LEW Modules:
Attached photos of the road it starts to activate on:
Overhead View: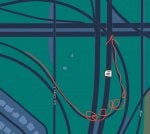 Start of Left Turn: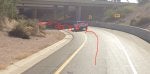 Middle of Left Turn: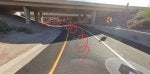 The Exit Path:
Additional Info:
3/19/2022:
Car was driving perfectly. (daily driven for almost 2-3 years now)
3/20/2022:
I've had an Angle Kit Installed, After Installation both Traction Control Light and Brake Light was ON (Yellow Lights).
Car was also on 17s 225/45 Front and 18's 225/40 Rear, Due to the added Track Width of the angle kit (6.5cm Per Side),
Wasn't able to run my previous 18x9.5's +22 on the fronts.
Was Able to Run M3 Knuckles, Rotors and Pads w/ Angle Kit.
Car was then Daily Driven w/ Both Lights ON & 17s Front Wheels w/ 18s Rear.
3/24/2022:
Car was Scanned using PA Soft to pull those error codes:

I went ahead and swapped out the 17s on the front to 18x9 +20 w/ same tire size as rear. (Hoping that running 18s all around would turn off, the Lights)
Car was also raised a bit, to prevent tire from grabbing the front bumper on turns.
Car was then Daily Driven w/ Both Lights ON, and 18s 225/40 all around.
3/27/2022:
Car was getting a 4 Wheel Alignment done.
After Alignment Traction Control and Brake Light was OFF (Turned off on its own).
Car was then Daily Driven as is. NO Lights, 18s 225/40 all around.
3/28/2022:
Noticed Traction Control Light Blinks on Left turns Mostly.
Car was then Daily Driven as is. NO Lights
3/29/2022
Turn off Traction Control by Pressing DSC Once.
Car was then Daily Driven. Traction Control Light ON.
3/30/2022
Noticed even with Traction Control Light ON, DSC Subtly still activates.
Car was then Daily Driven. Traction Control Light ON.
4/10/2022:
2 weeks of daily driving and monitoring this new "DSC Problem"
DSC was Scanned using INPA, to gather more info.
Car was Scanned using PA Soft, to gather more info.
This Post was made.