Discussion Starter
·
#1
·
Greetings. Below you will find my latest project; being the COMPLETE rear subframe reinforcement. In this guide you will find EVERYTHING required to drop the subframe, perform the reinforcements, and bolt everything back including torque values and parts needed. This project is a result of a lot of research (especially on deciding which kits to purchase) and took me from A to Z, 4 days (12h/day work). Feel free to ask me whatever you want.
I politely asked Solidjake to allow this DIY project to remain in the General Section for max exposure.
Since this is a very lengthy guide, I have uploaded it on my GDrive as a DOCX document, which contains embedded lots of TIS guides and the torque values. This also acts as a printable version or if the hosting decides to take the pictures down. I didn't convert to PDF yet/
https://drive.google.com/open?id=1GiL9S9nWMj--XNnRYIGAgw4Afj64fA6L
BMW E46 Complete RACP Reinforcement
This project tackles the weak subframe mounts found on all E46 vehicles. The approach is to reinforce the mounts in a holistic way, from both sides. Top side is from inside the car and bottom side from outside the car. Since the subframe is being lowered, it is great opportunity to also reinforce the weak sway bar (antiroll bar) mounts, especially if aftermarket kits are used. Replacement of bushes and of other worn parts can be done but are not covered in this project. It is unnecessary to say that if you find a rotten hose or something broken, it makes sense to replace it.
Reinforcement Kits:
• Top Side: PPRND Vincebar v2 Epoxy/Rivet Reinforcement Bar & Gussets.
• Bottom Side: Redish Motorsport Weld-On Plates.
• Antiroll bar mounts: Garagistic E46 Non-M sway bar kit.
Additional Parts:
• 2x 50ml Araldide 2014 Epoxy Gel With dispenser. Link here
• 1x Vincebar tooling kit (hole saw, drill bits, thread tap, brushes, extended drill)
• 1L Rust-oleum Anti-rust epoxy paint
• Underseal
• 1x Bitumen undercoating
• New bolts/nuts/clips of everything that are being removed
Tools Needed:
1. Angle grinder with thin cutting disks suitable for steel and grinding disks as well
2. Dremel with reinforced disks suitable for steel cutting
3. Heavy duty riveter (Vincebar uses steel rivets)
4. Sandpaper / files / cleaning rugs / brake cleaner / vacuum cleaner / body protection / WD40
5. MIG welder (or someone suitable to weld 2mm steel plates on the E46 body)
6. Powerful drill (as it will need to drive the holesaw through sheet steel)
7. ½" Torque Wrench (20Nm – 120Nm range)
8. Impact wrench (helps!)
9. ½" drive wrench
10. Hydraulic jacks, jack stands, mechanic's creeper, fire extinguisher
11. Assortment of sockets & spanners, pliers, various sizes from 10mm to 18mm, E12 for driveshaft
12. Rubber mallet, hammer, punches, copper grease, silicone grease, Loctite
13. Eye / Ear / Nose protection, latex gloves, mechanic's gloves
Initial Preparation:
Drove the car until no fuel left in tank. Soaked all bolts/nuts overnight with WD40
Parts to be removed:
1. Rear seats and trunk lining
2. Exhaust & heatshield
3. Driveshaft
4. Subframe
5. Fuel tank (for good all-round weld without fire risks)
Consider maintenance on the following:
1. Subframe/differential/trailing arm/control arm bushings
2. Center support bearing
3. Guibo
4. Fuel tank hoses, clips, fuel lines, fuel neck, fuel lid rubber cover
5. Differential output flange seals, diff cover gasket, diff fluid
6. New brake fluid
7. All bolts/nuts (I replaced them with genuine parts)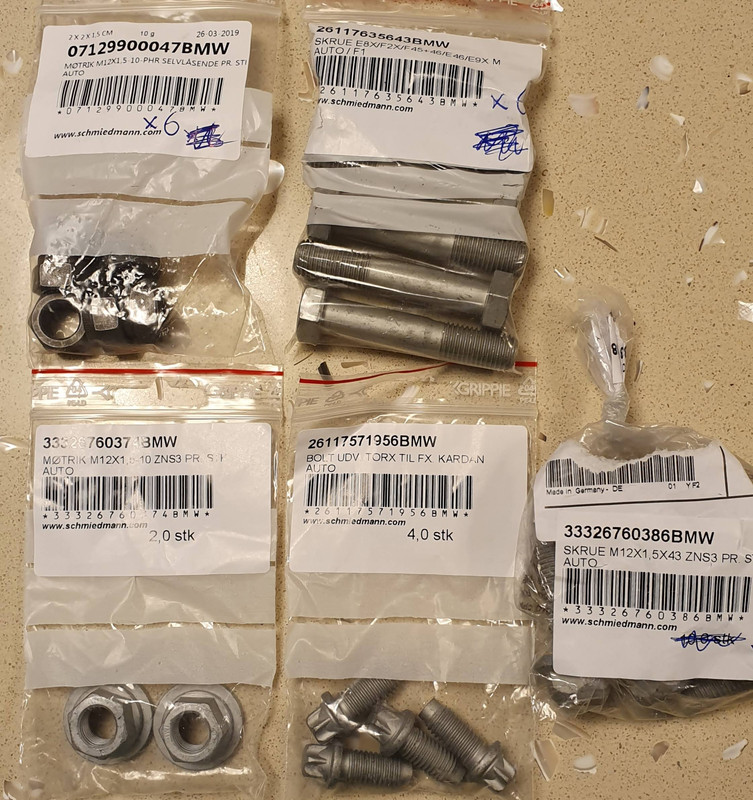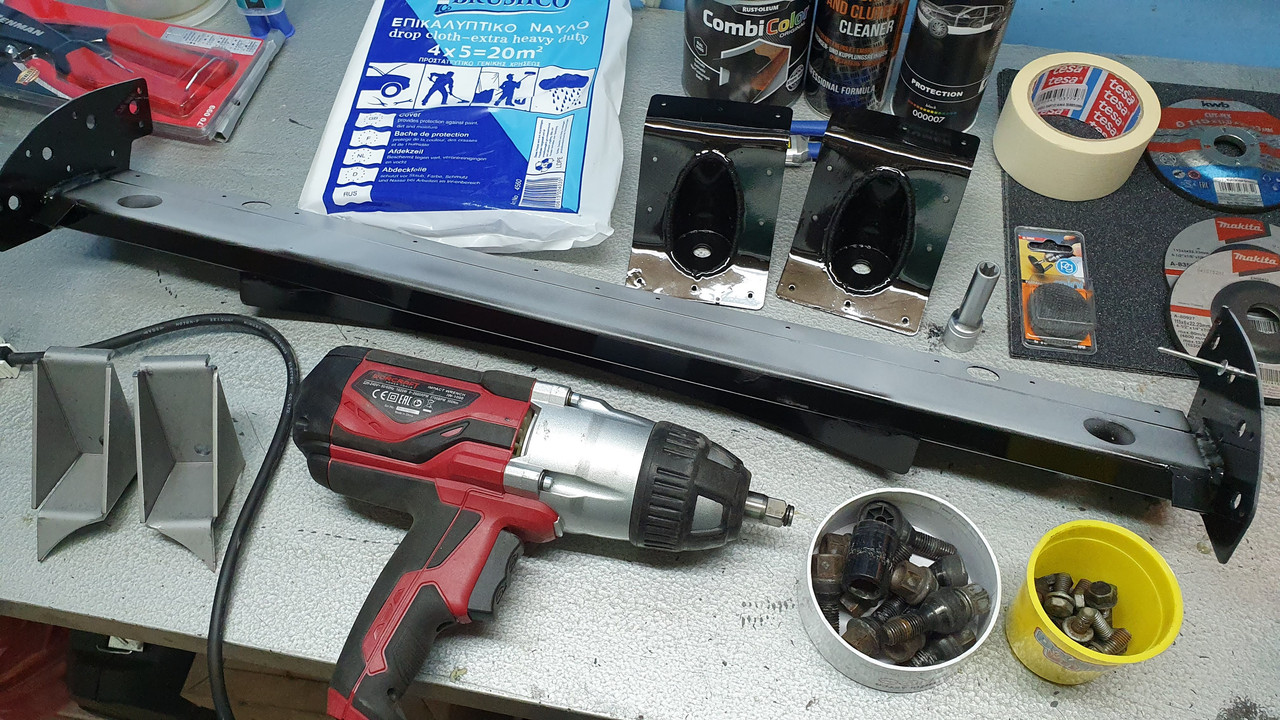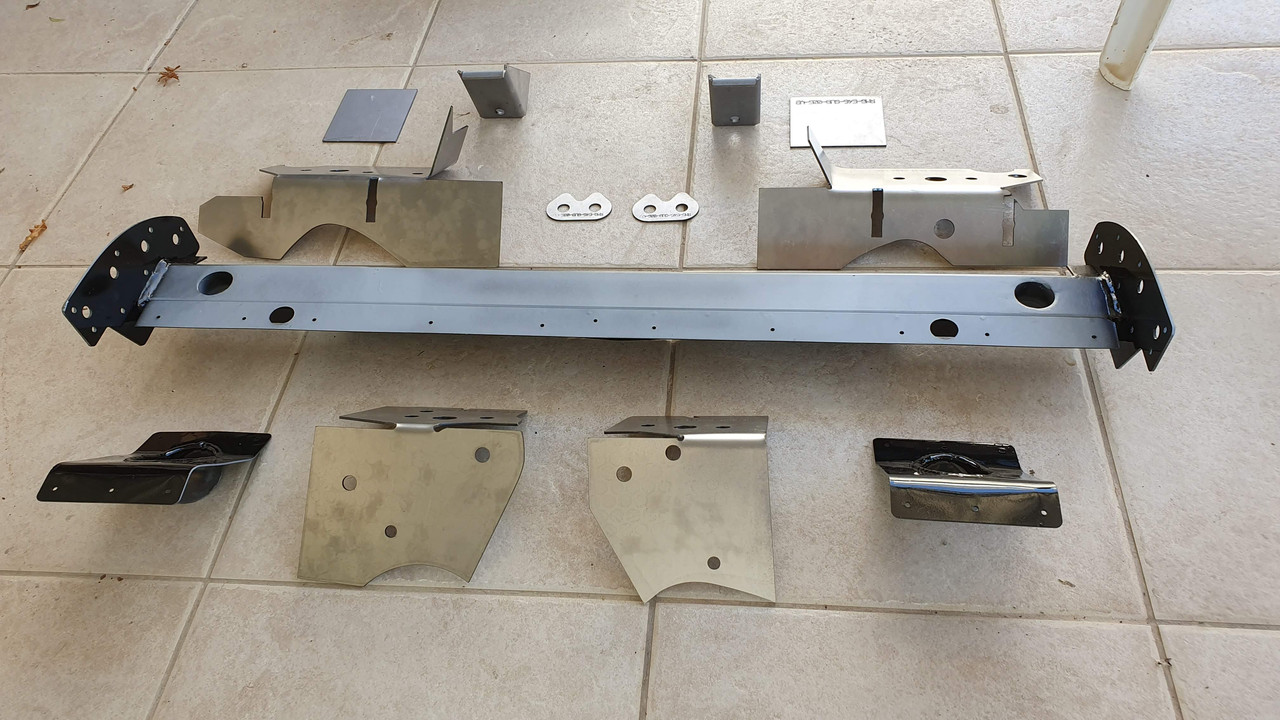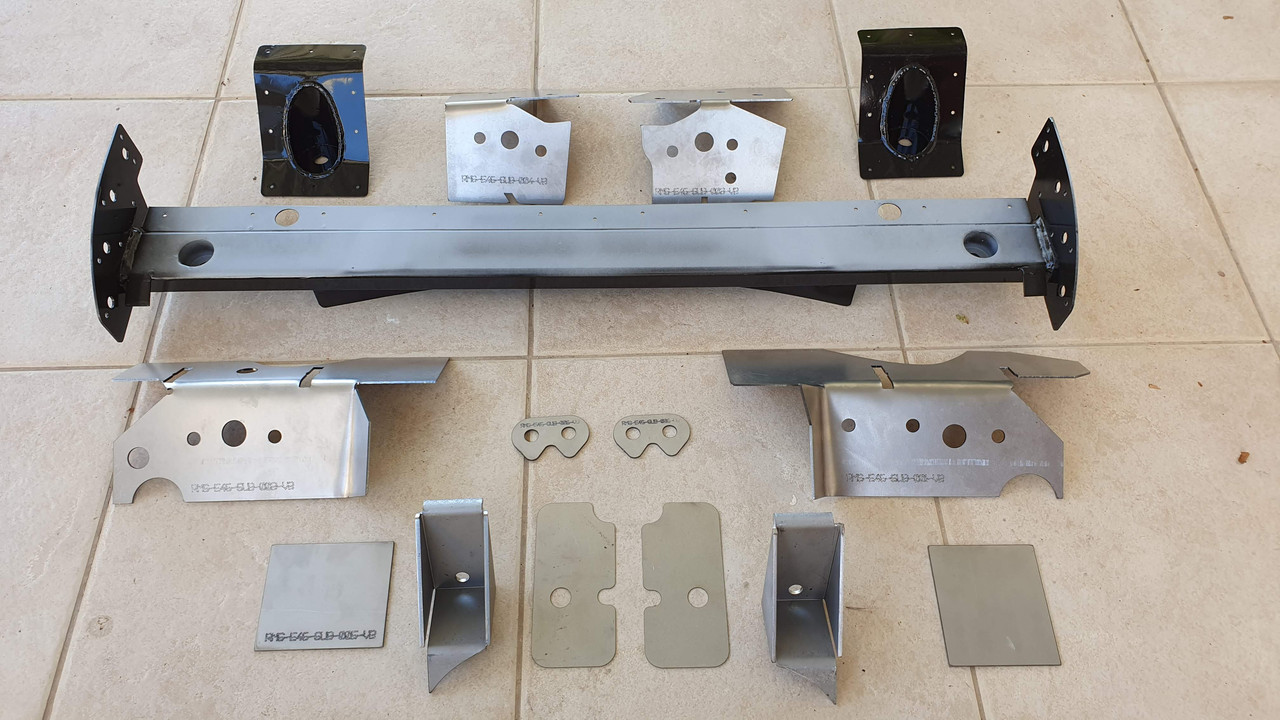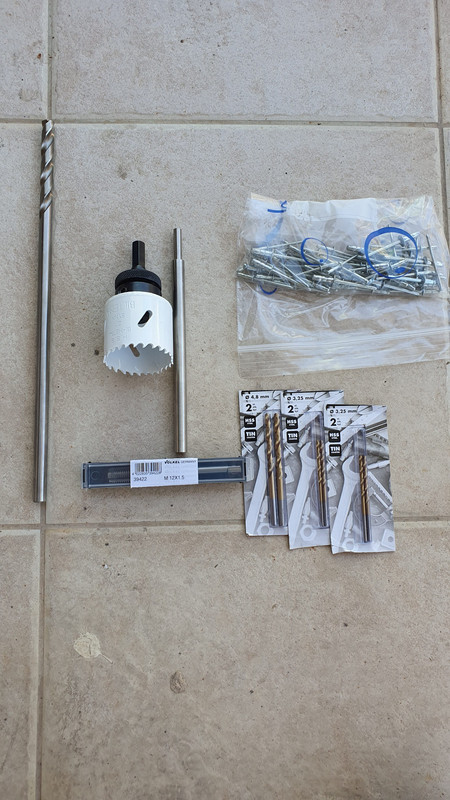 The top reinforcement is from Practical Performance RnD (PPRND), aka the famous "Vincebar". The subframe removal guide and the steps to install the kit are from the online posts from PPRND, which I try to gather and assemble into a more diy-friendly manual. I took many pictures throughout the project but I also used some pictures from Practical Performance RnD to fill some gaps or to provide more elaborations. Of course credit goes to PPRND for giving permission to use the pictures and guides. Obviously if some pictures seem that they are from a different car, it's because they are, they are the ones used to provide more detail/fill gaps. The process does not change at all, neither the order of steps.
After discussing with Vincent from PPRND, I decided to get the Epoxy/Rivet kit instead of the weld kit. The arguments were a cleaner install, no metal weakening due to heat, less chances of rust.
The lower reinforcement was purchased from Redish Motorsport. The kit came with printed instructions on what items to remove and where to weld the kit. It is a straightforward job once you've taken everything apart. Please note that I was considering the epoxy kit from Practical Performance at first, but due to availability and my own very tight schedule I went with the weld kit from Redish.***8195;
Part 1 - Main Preparation:
Step 1 – Jacking the car
Set the car on stands. I am obsessed with safety. I used 2 jack stands on the rear jack points, cinder blocks on frame, the removed wheels, and 2x hydraulic jacks just preloaded on the frame. Front wheels on ramps and locked with chocks and also another jack preloaded on the front central jack point. Intensively attempt to tilt the car to make sure it's steady and secure. I recommend getting it as high in the air as you can.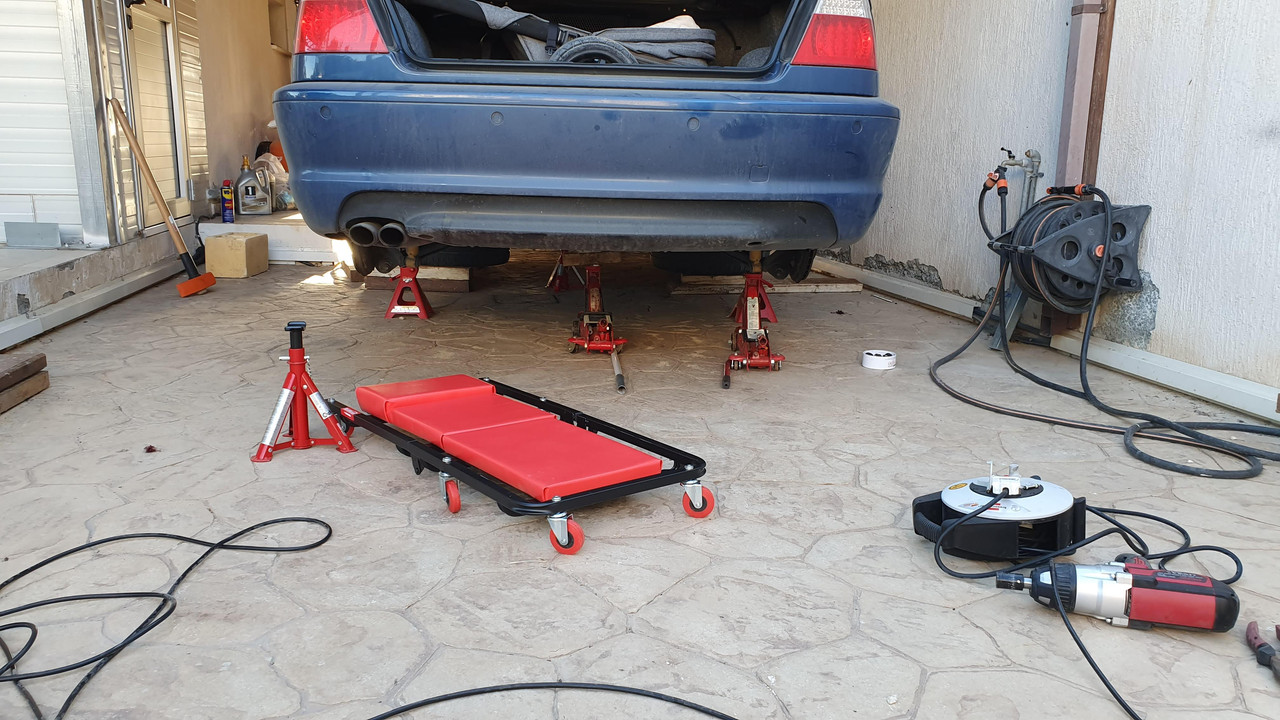 Step 2 – Rear Wheels removal
Remove the rear wheels. Set them under car for safety as mentioned. Set aside 4 wheel bolts as they will be used throughout the project for stabilizing the top bar and bottom plates.
Step 3 – Trunk lining and rear seats removal.
Trunk lining is secured by plastic clips, I have the folding seats which are only held together by a bracket.
Step 4 – Covering stuff.
There will be a lot of metal cutting and grinding. Grinded particles are magnetic. Cover as much area as possible, leaving only the place where the actual cutting will happen. I like to put a couple of magnets around my working area, especially near the grinder, it is amazing how much particles they catch.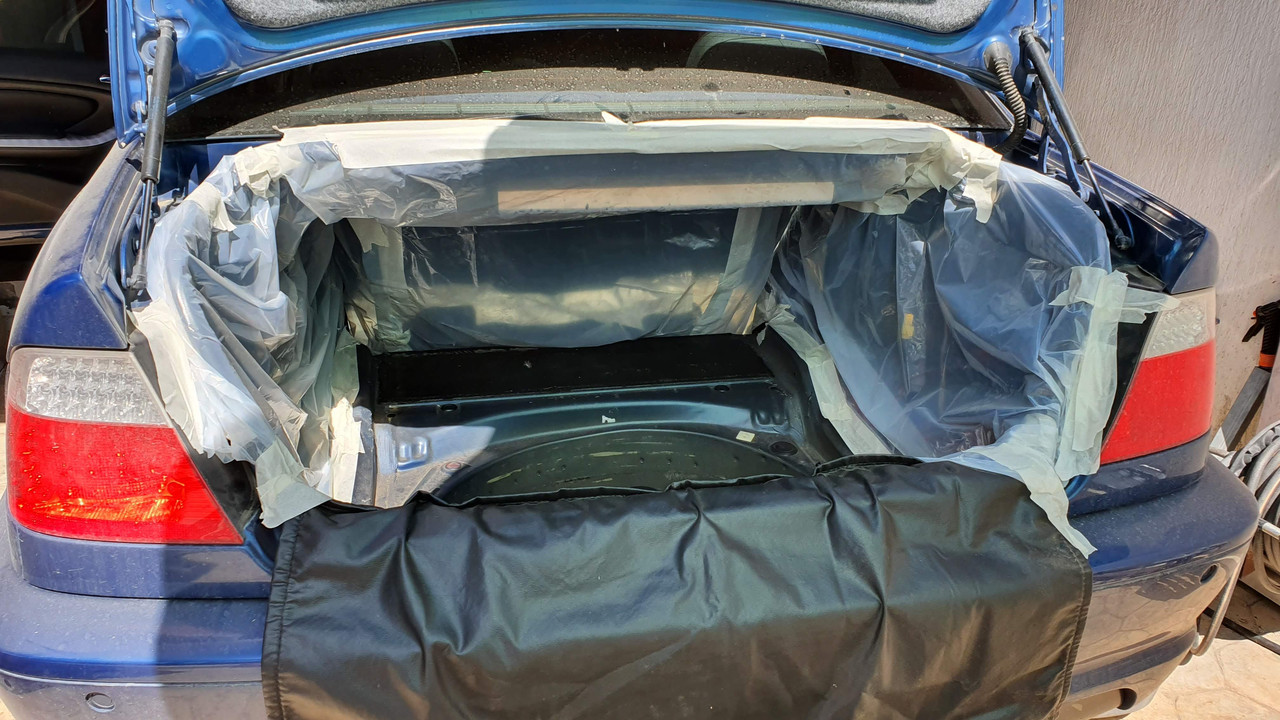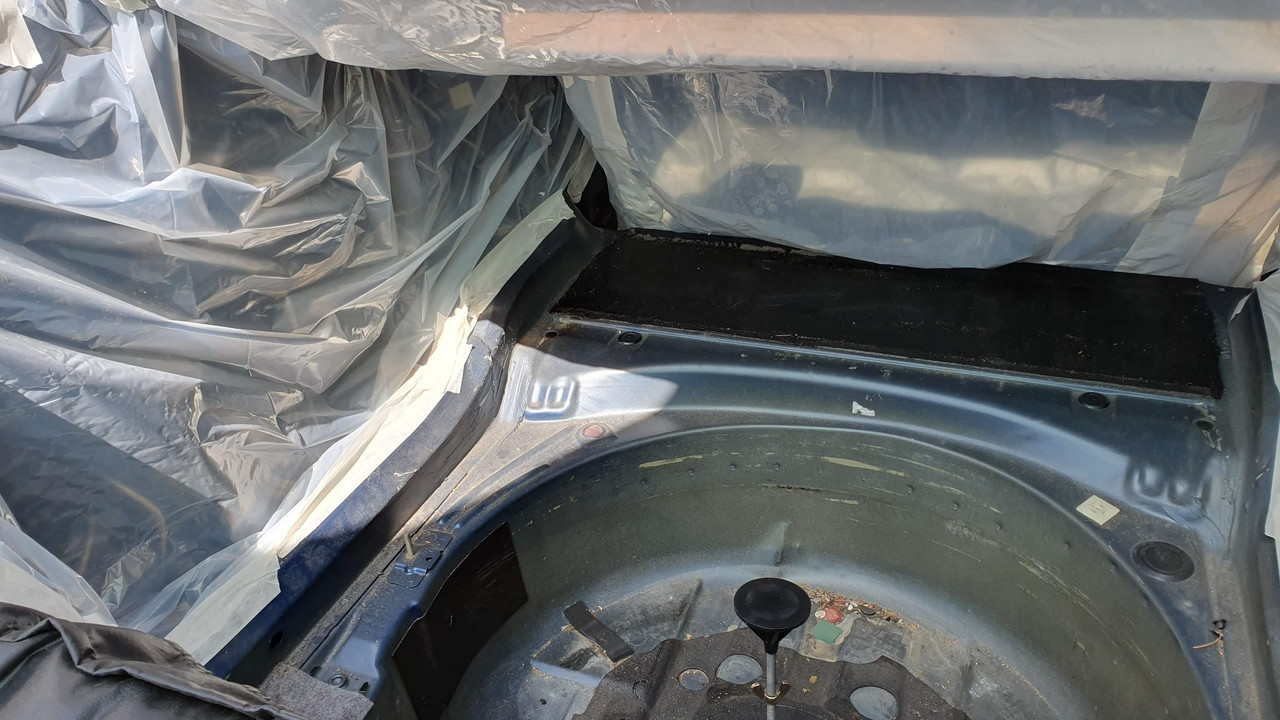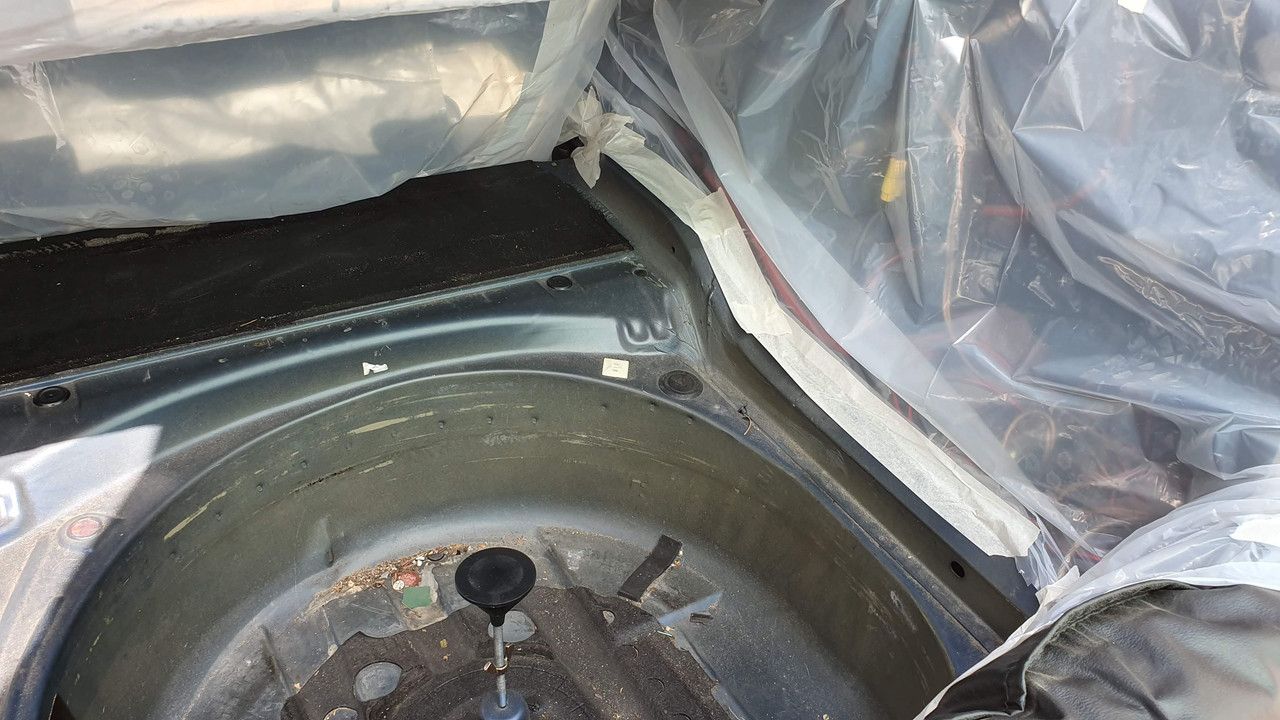 Subframe Removal:
Step 1 – Exhaust
Remove the exhaust. There are 4 - 13mm bolts in the rear, 8-13mm bolts on the middle cross members, 2-13mm bolts with rubber spacers that mount to the transmission, and 4-14mm bolts attaching the exhaust to the headers.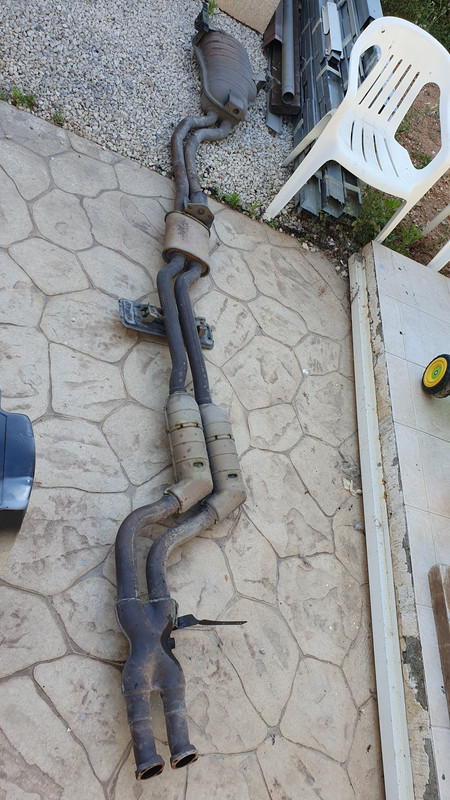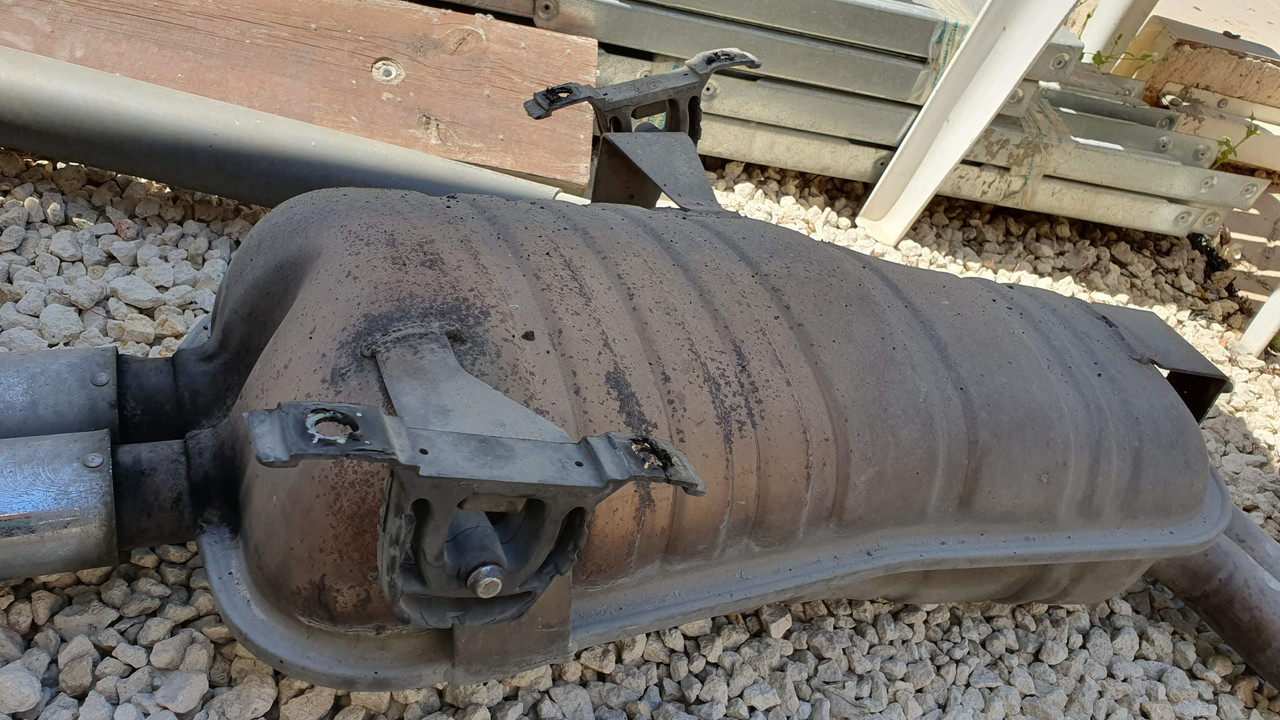 Step 2 – Heatshield
Remove Driveshaft heat shield. 4-10mm bolts, 2 front/2 rear - will need extensions. These screws are probably rusted and beyond reuse.
Step 3 - Driveshaft
a. Disconnect the driveshaft from guibo. There are 3-18mm nuts/bolts (60 Nm) that will require two wrenches to remove.
b. Disconnect driveshaft center carrier mount. 2-13mm (20 Nm) nuts that attach to chassis.
c. Disconnect driveshaft from differential. You will need an E12 torx to remove these bolts. Get whichever ones you can get to. Then, release the e-brake from inside the car, rotate the driveshaft, and re-engage e-brake to get the other bolts. There are 4 total. (82 Nm)
d. Remove small aluminum shield. There are 2-10mm bolts holding it on.
e. Remove the aluminum guard at the end of the driveshaft. It has 4-13mm bolts (30 Nm) and 2-18mm bolts. (77 Nm)
f. Separating the driveshaft from the differential will be difficult. There is a lip (as pictured) securing the driveshaft to the differential.
g. A few taps of a rubber mallet and some elbow grease should do the trick. The driveshaft should now be removed.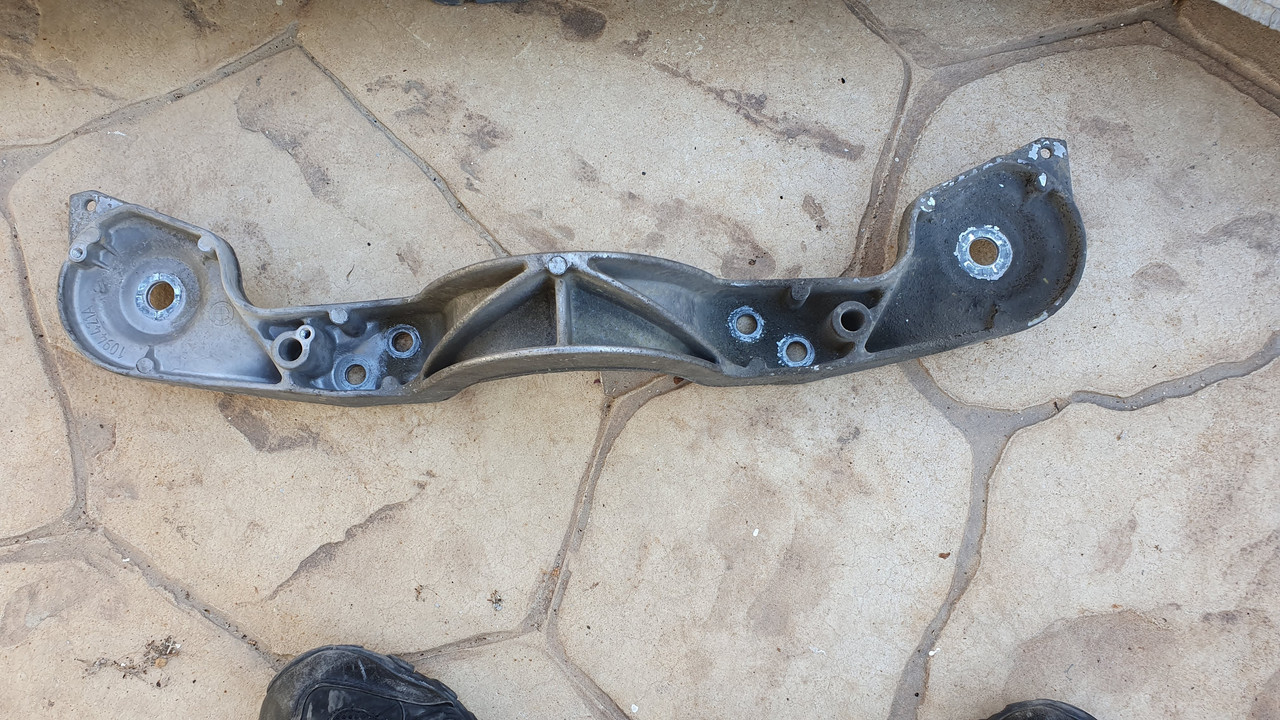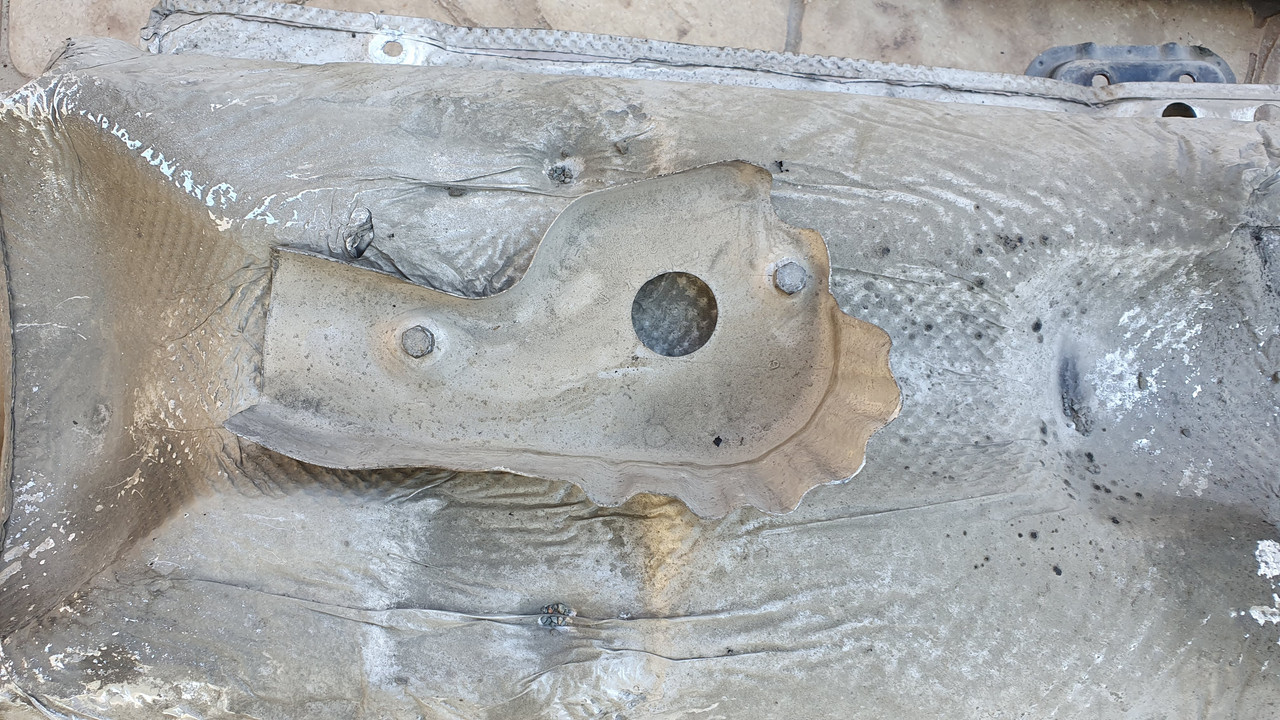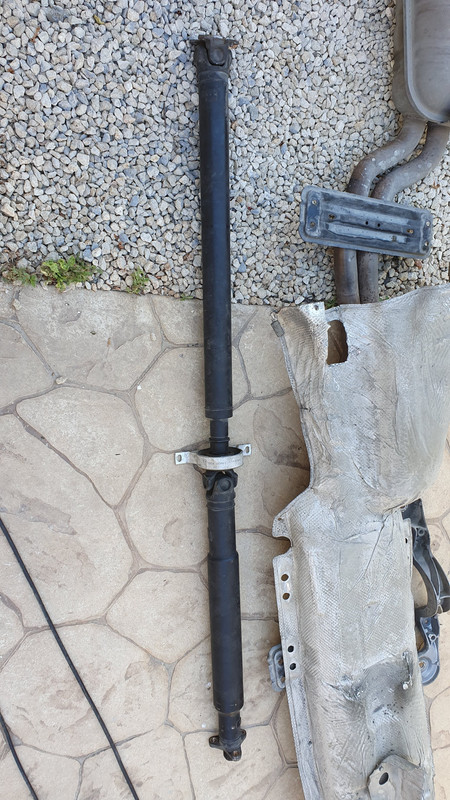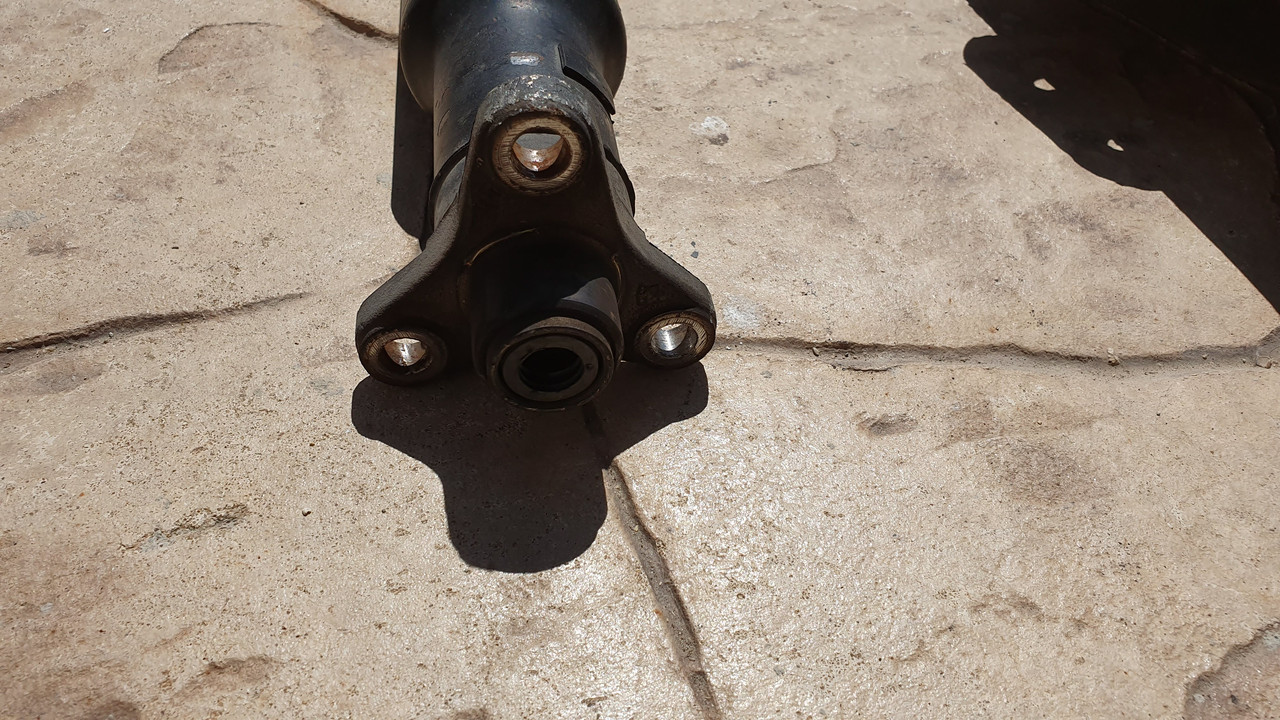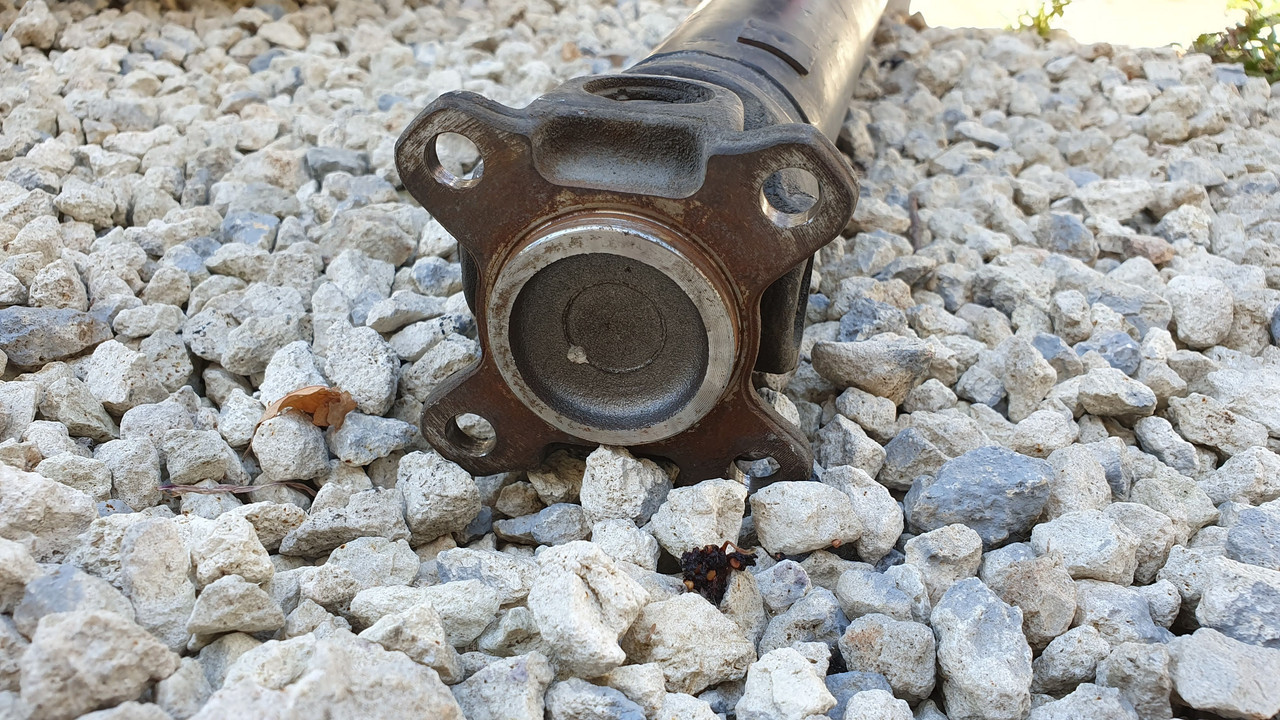 Step 4 – Shocks
Unbolt shock from the hub on both sides. There is 1-18mm bolt (100 Nm) on each side. Support the hub with a jack before you loosen to prevent the hub being sprung down and damaging the brake lines. Repeat on opposite side.
Step 5 – Brake Calipers
Disconnect brake caliper and hang. Disconnect the flex brake line from the steel line using a combination of 14mm (flex side) and 11mm spanner (steel side). Repeat on opposite side. I use a small piece of rubber hose that is blocked to one end, and with a clip I secure it on the steel brake line. This prevents spillage of brake fluid and eventually draining the system. The initial pressure will be inevitably relieved so have some rugs ready and some brake cleaner.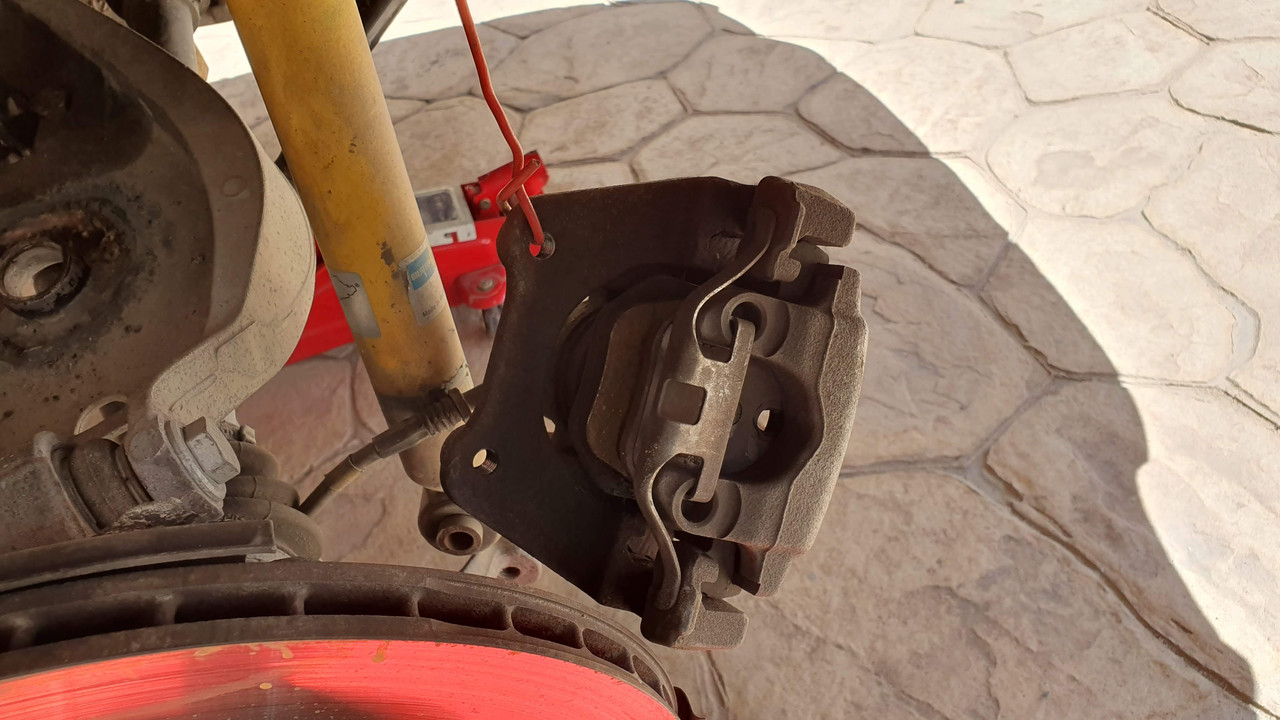 Step 6 – Trailing arms
Unbolt rear trailing arm from body. There are 3-18mm bolts (77 Nm) on each side. Make notes on their position. Car will need an alignment at the end, this is just to get it approximately back to where it was. Also take out the springs once the trailing arm is free. To remove the springs, just slide them away.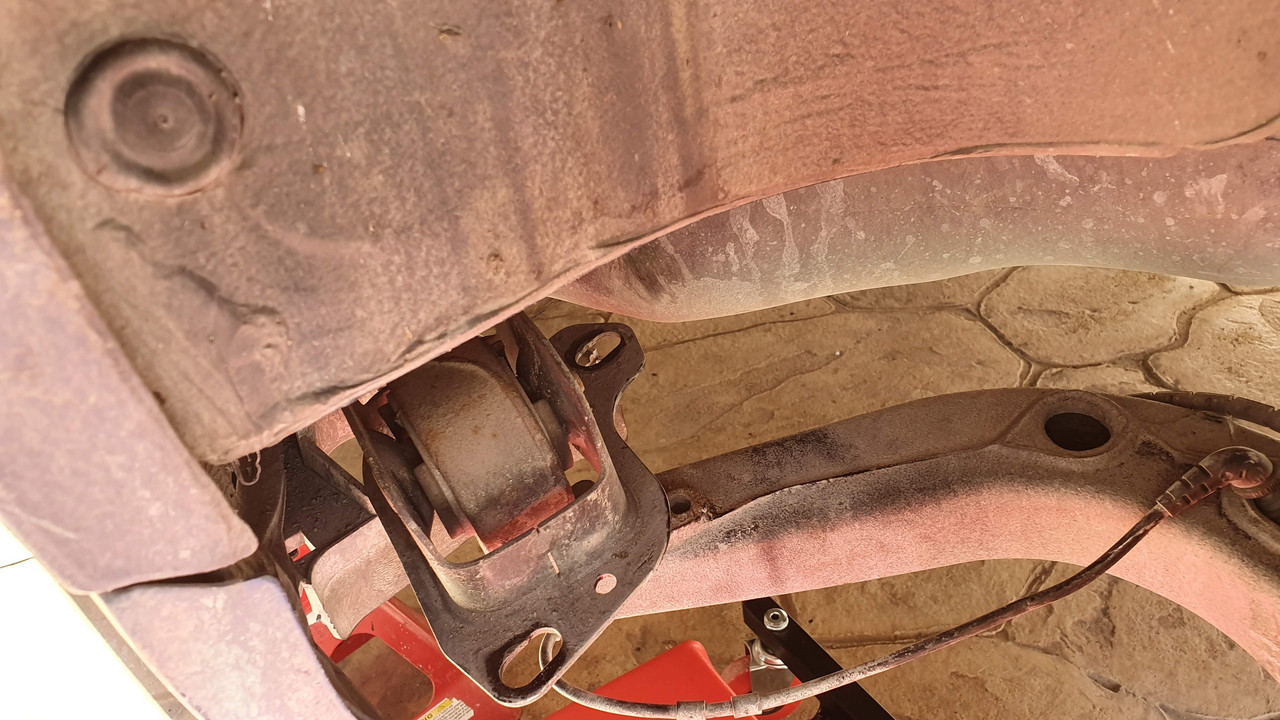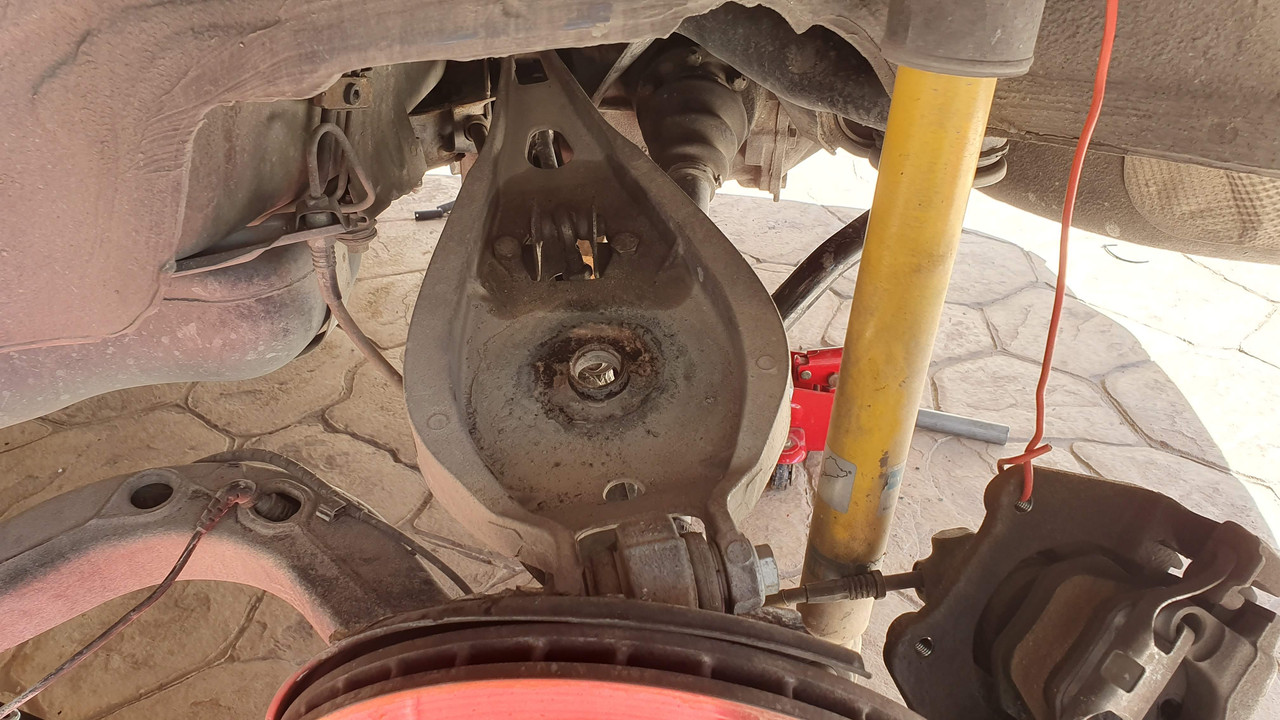 Step 7 - Electrics
Coming from each brake assembly, there will be one or two wires leading to a black box mounted on each inner fender. Open these boxes and disconnect the wires. These are the brake pad wear sensor and the ASC/ABS. My car had 2 wires on one side and 1 pair on the other side.
Step 8 – Parking Brake
a. From inside the car, remove the parking brake boot. You will see 2-10mm nuts under the lever. Remove these nuts and washers. I used a long tubular socket.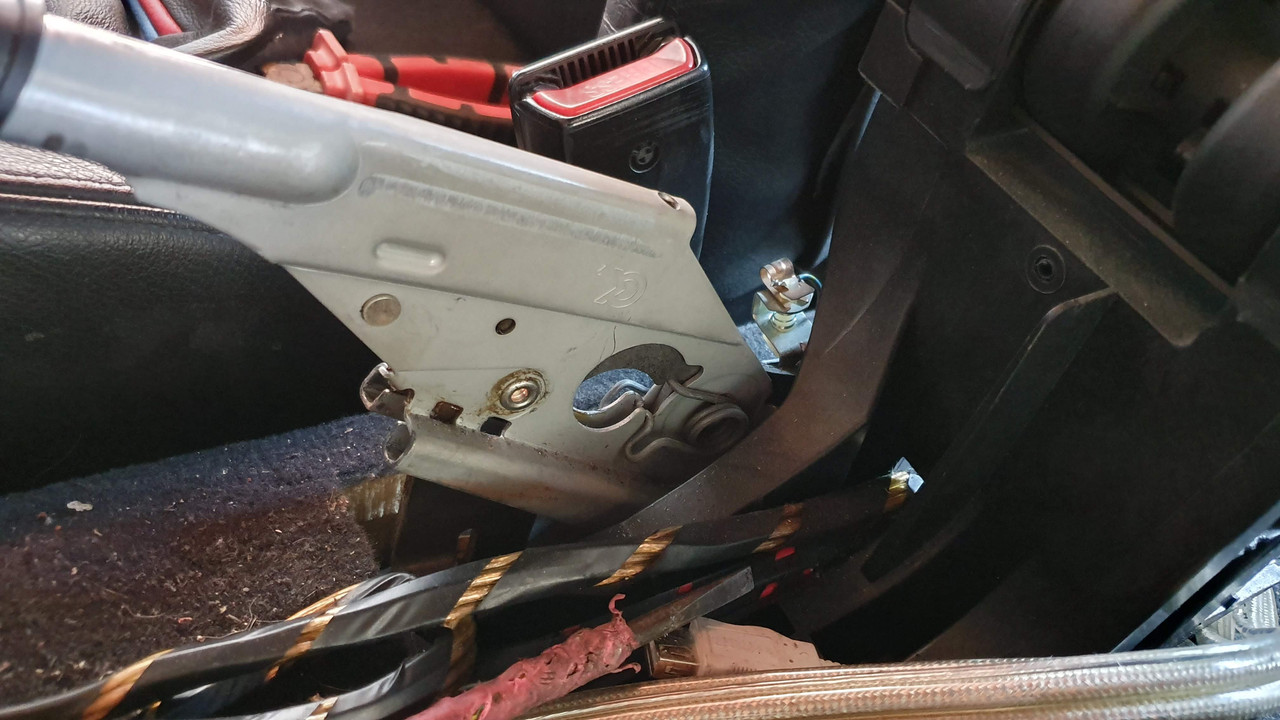 b. From underneath the car, pull on the two parking brake cables you see going into the body. Once pulled through, grip them by the control arm and pull them through the other body piece. I had some difficulty removing the cable as it was catching on the tube's end inside the cabin. So to make things easier, I removed the center console and used my assistant to wiggle the cable a bit while I pulled from below the car.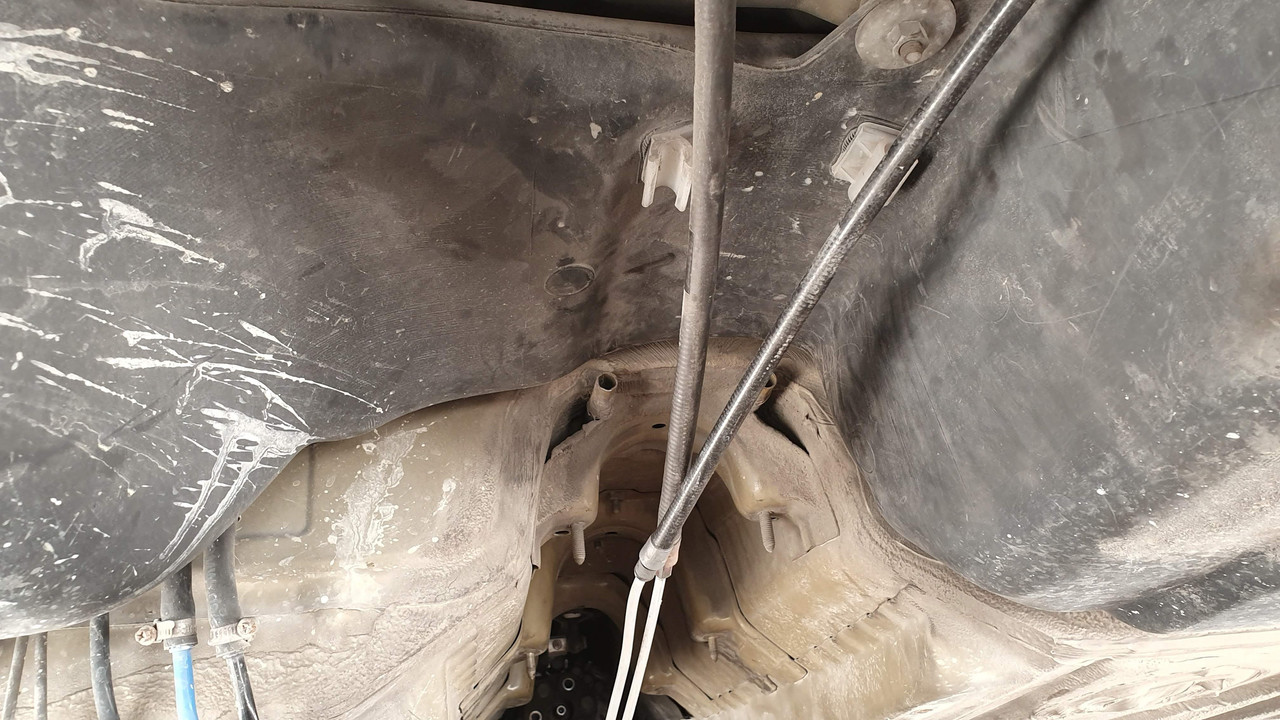 Step 9 – Dropping the subframe
Support the sub frame and everything else left. Remove the 4-18mm bolts (77 Nm) holding the sub frame to the body (the 2 nuts should have already been removed already during the driveshaft removal process). The front mounts may need a little crowbar encouragement to slip loose. Slowly lower the jack and roll the sub frame out from under the car. Do not forget the handbrake lines to be fully out of the car body. The bushes' aluminum core easily catches on the threads of the studs so the lowering must be as vertical as possible.