Hello fanatics, this is my DIY on xenon/hid conversion if you have OEM halogen lights and don't want to spend money on buying OEM or DEPO projector headlights. Personally I do not like the looks of the DEPO headlights as there is a day and night difference in the appearance of them. This is a DIY on a budget...the total cost was less then buying a set of DEPOs and at the same time the performance and looks of the headlights is significantly improved.
The retrofit hid I used is the Morimoto Mini H1 bi-xenon projector that can be purchase from Umnitza or TRS. Why did i choose this instead of the FX-R? Well like I stated I am doing this on a budget and it's easier to retrofit because you don't have to do any cutting or trimming.
They fit right into the bulb holes in the halogen lights and doing a D2S conversion costs more money for the ballasts/bulbs and a lot of cutting. I paired them up with a set of 6000K H1 bulbs and ballasts from ddm tunning and the results were amazing considering they use the same clear lens found in the FX-R or so theretrofitsource says....
the parts you need...
*1 pair of morimoto mini H1 projector -
https://www.theretrofitsource.com/components/projectors/bi-xenon-morimoto-mini-h1-7-0-projectors.html#.Vn1VjvmANBc
*1 pair of e46 replica shrouds -
(I bought the budget ones for $15)
https://www.theretrofitsource.com/components/shrouds/e46-r-projector-shrouds.html#.Vn1V6PmANBc
*1 pair of whatever kelvin hid H1 lights/ballast
https://www.theretrofitsource.com/components/ballasts/morimoto-xb35-amp-hid-xenon-ballasts.html#.Vn1WCfmANBc
*or the entire kit with the wiring harness:
https://www.theretrofitsource.com/complete-retrofit-kits/universal-kits/bi-xenon-morimoto-mini-stage-3-kit-h1.html#.Vn1VsvmANBc
Total amount for this whole DIY should be roughly $250, less then DEPO reps!!!
You can also buy the
complete kit
here:
https://www.umnitza.com/hid-projectors-parts-shrouds/complete-retrofit-kits/bixenon-complete-retrofit-kit-with-options.html
Select: no accessories, no angel eyes, LHD for US, H1 mini projector, 5000k temp for pure white, superslim three5 ballasts, H1 standard bulb and E46 R shrouds. Comes to $225 plus shipping
*Optional, flat black paint
tools you need
*Philips screw driver
*Flathead screw driver
*Small needle nose pliers
--Do this at your own risk, I am not liable if things do not go accordingly or any damages that may occur to you or your headlights--
Here is a video by Solidjake
http://www.youtube.com/watch?v=2BFQu1dDU1o
To start off, remove your headlights from the car...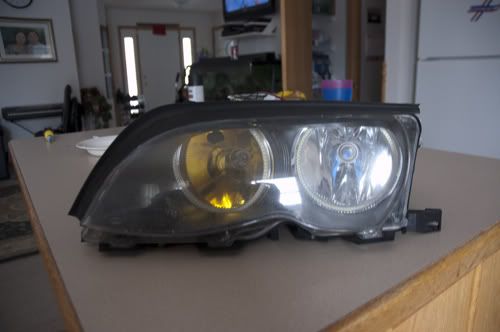 Then take your headlights apart following this thread.
http://forum.e46fanatics.com/showthread.php?t=609558&highlight=diy+replace+headlight
you should have this by the time you are done.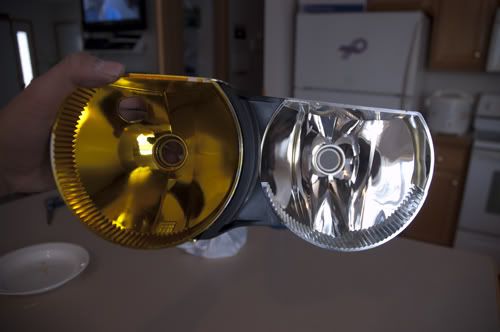 *Optional - you can knock out this H7 adapter if you so choose, the projector should twist right in even if you dont knock it out but I didn't know that until I already took it out so I just left it out.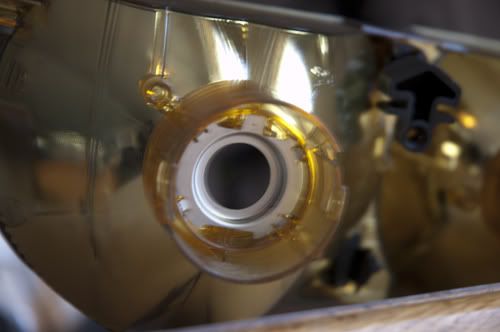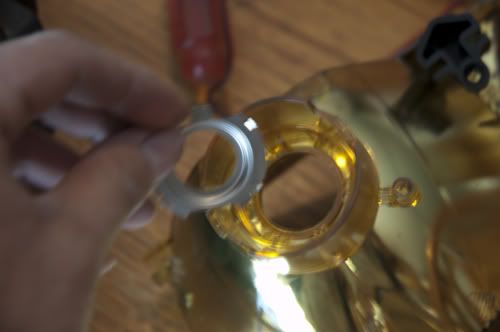 Heres the projector nice and pretty
The back of the projector, you are going to need to remove the backing, to do so just unscrew the 3 small philips screw drivers and everything should come apart. Don't lose the screws though.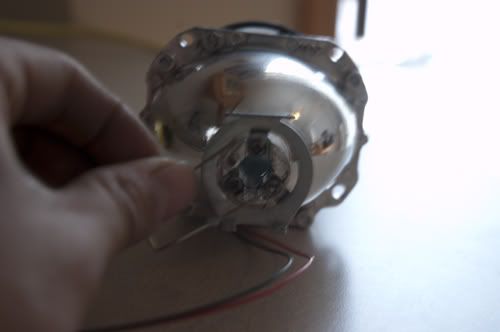 How is should look like with the backing off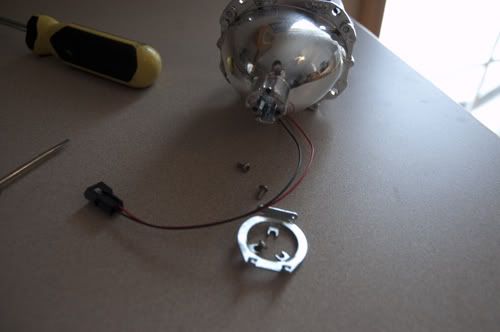 Here's the package of goodies that should come with the projectors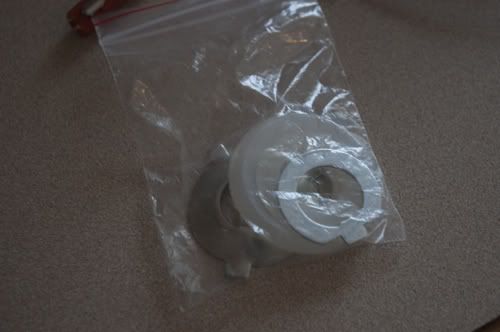 Now take this white rubber piece, the package comes with 2 different size white rings but I chose to use the larger one so the projector will sit farther up in the housing.
Put that rubber ring on the projector like so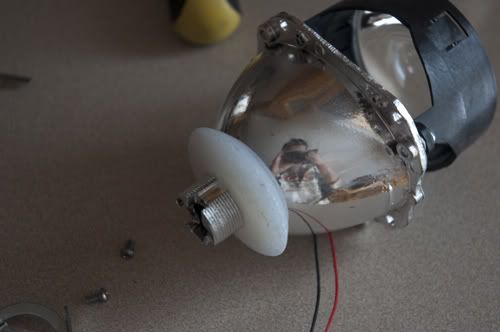 Now put the projector through the bulb opening in the housing and use this part and twist it on the back of the projector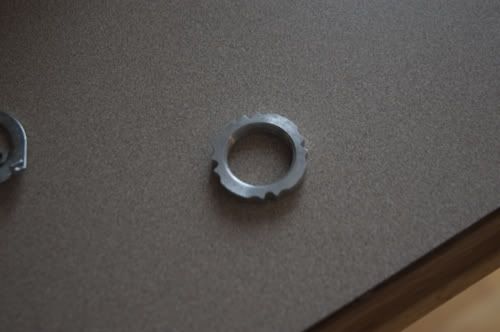 It should look like this when its on, you will need a small needle nose plier to twist it on snugly, after it's in there nice and tight put back the bulb holder with the 3 small screws.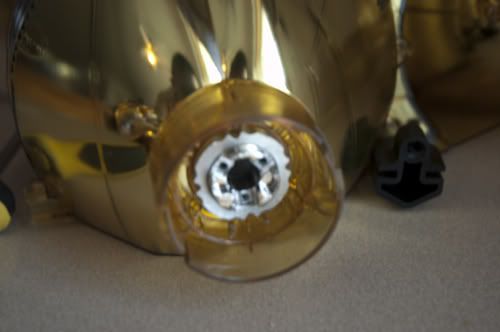 Here's how it looks like when it's in there
Make sure the part that says TOP is on the top!!
Hehe my workspace...nice and clean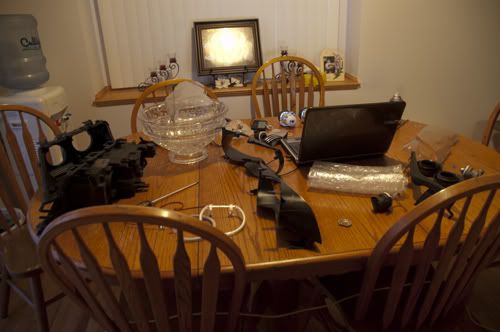 *Optional - if you choose to paint your housing and shrouds, like me, then you need to remove the projector again otherwise you may leave it in and skip these next couple of steps.
I decided to paint my housing and shrouds flat black. I used regular Krylon flat black paint found at any store ie walmart, home dept and such.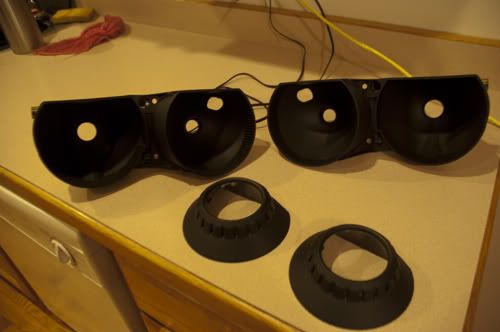 Once the paint is dry, re-assemble the projector into the headlight.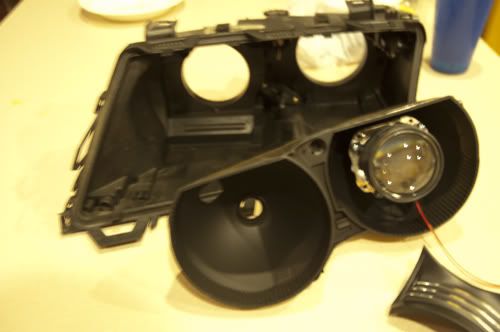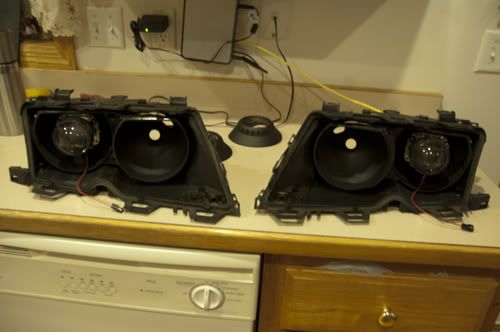 On a side note, if you want to hook up the bi-xenon feature you will need to drill a small hole to run the wires through from the housing.
As far as mounting the shrouds, this setup will NOT have the auto leveling feature so what I did was use BLACK RTV silicon and apply a light amount onto the back of the shrouds and the edge of the projector. Be very careful not to get it on the lens!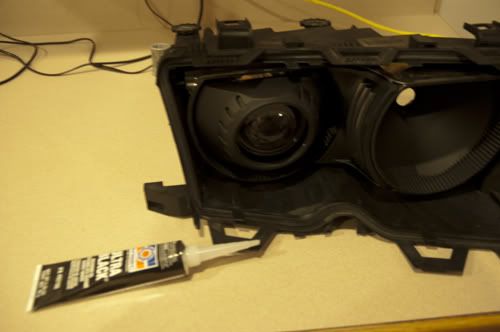 The rtv should dry in about an hour or so but I couldn't wait so I cheated and used a hair blower to speed up the process hehe...Once it's dry, it's time to assemble the headlight together, assemble is the same as taking it apart just backwards...
While your at it, add some angel eyes or so to add to the already so sexy headlights.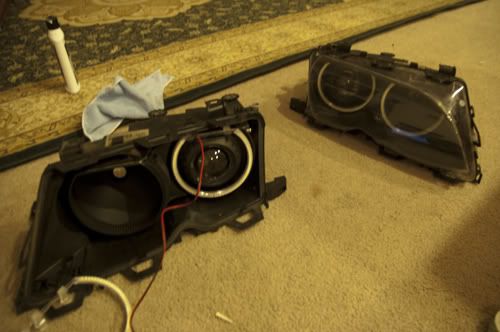 Once everything is assembled it will look like this...(while your at it, clean up your lenses!!!!)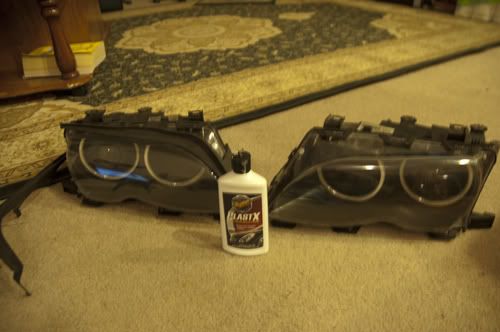 Now mount them back on to your sexy e46 and install your hid lights. Sorry I don't have any pictures but if you got a kit from ddm like me the install should be straight forward without any wire splicing or cutting. The only hard part is finding where to mount the ballast so I mounted mine behind the bumper support with a couple of zip ties. This is also a good time to wire up the bi-xenon feature also.
Now comes the hard part, aligning the lights. Follow the guide for hid alignment for up and down leveling
http://www.diymybmw.com/e46/aligning-xenon-headlights/
To get perfect alignment horizontally you will need to make sure the projectors are lined up as horizontal as possible, tighten the back nut and turn the lights on on the car to see how they look. If they are still a bit crooked then loosen the back nut and turn the projectors as needed and try again.
_________ __________
__________ / ___________/
You will need to make sure the projectors are lined up as horizontal as possible, tighten the back nut and turn the lights on on the car to see how they look. If they are still a bit crooked then loosen the back nut and turn the projectors as needed and try again.
Now comes the hardest part, waiting till nightfall to test out your lights....and TADA!! This is what it should look like!!!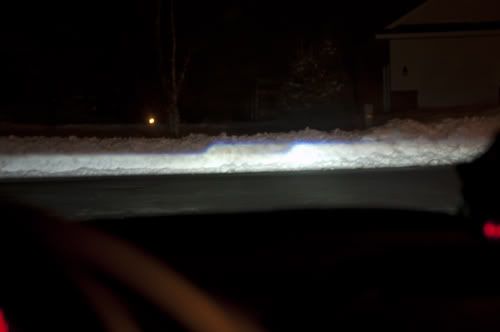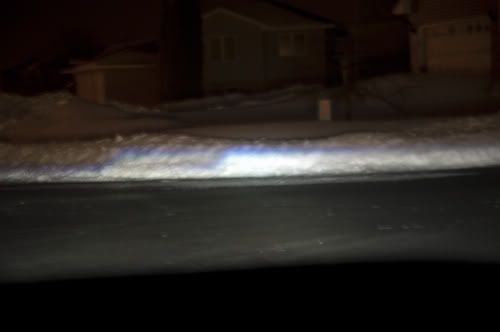 Notice the beautiful blue cutoff!!! (this is with 6000k bulbs)
Here's a shot with the angel eyes and the hid's on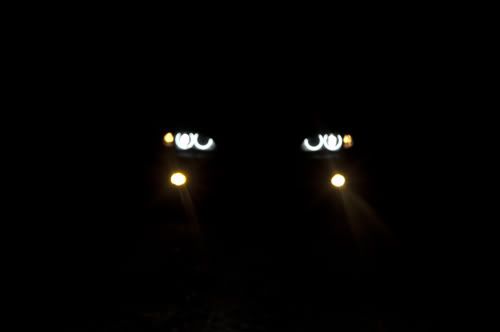 Here's some daytime shots of them on my car, they really do add some sexyness to the car!!! lol
Thank you for looking at this DIY, this is my first diy so be nice with me hehe. Like I said this DIY is for us with halogen headlights that want xenon hids with projectors without paying an arm and leg for. This is a simple little mod if your on a budget....somewhat ghetto, but hey it works hehe
:thumbsup: Sorry I could not get anymore pictures, I sold the car a couple months ago =( and these were all the pics I can find on the memory card. Any questions please feel free to ask :thumbsup: