Part 1 of 6
As I have posted before my son has a uber high mileage 2000 328i that we bought to learn E46s, at 268K miles my son called at 11 at night and said the car had no gears, I had to work early so I told him to call AAA and I would look at it the next day, he had no gears at all vice having reverse and no forward gear so it sounded like no fluid, I thought it could be a blown cooling hose and went to sleep. The next day I looked at it and sure enough the cooling hose was popped off at the cooler, I snapped it back on, yanked on it and it felt secure, I had left off the plastic under shield after fixing all of the oil leaks we had to watch for a few months, we had had heavy rain so I thought driving through a deep puddle might have knocked the hose QD loose.
I got a filter kit, replaced the filter and refilled with dexron VI fluid, it took 7 quarts so the transmission was pumped pretty dry, I was really sweating the condition of the transmission at this point, I revved it in the garage put in gears and everything seemed fine, on the test drive however the hose blew loose again, my oldest son was chasing me and saw it immediately and let me know, I shut it down and had it towed back home, ordered and replaced both cooling lines like I should have done as soon as I saw the hose popped off. It took another 6 quarts and the transmission tested fine, no slipping and no codes.
I was pretty stoked and that sets up the story for the transmission failure. After 7000 miles on the new fluid and hoses, we got a dreaded gear light, checking the codes with DIS and got a P0732 incorrect gear ratio second gear, fault memory was a 34 EGS Gear monitoring 2, I checked fluid and some drained out and it was totally brown with nonmetallic particles in it, I was pretty bummed knowing that it was fairly new fluid but at the same time, since it was only second gear and not something that was affecting all gears it was not a catastrophic failure or low pump pressure. I cleared codes, reset adaptations to see how long the car could drive before I yanked the transmission.
I started calling around to get prices etc and was getting wild quotes of 3500-4500 to rebuild and 1000 for a used one with 90 day warranty, I did get one place that quoted me 1500 but it sounded fishy and I felt they would raise the price once it was opened up. I just could not see spending this much when the car is realistically worth 5 to 6 tops with its mileage.
I decided to rebuild it myself since it was on my list of stuff I always wanted to learn. I was surprised how little info and DIYs are out there on this transmission, plenty on ZFs but none on the GM past the solenoids on the valve body. I now know why buy hopefully this DIY can turn it around.
You must have the ATSG manual for this transmission, I bought a hard copy off Ebay and then found it digitally on line, I preferred having the paper book propped up on the bench as I was working. Google 5L40E.pdf
They are also viewable on scribd.com, to download you need to pay for a 1 day pass, it was on there that I found the GM technical manual:
http://www.scribd.com/doc/34140538/5L40E
It was expensive to buy elsewhere, this has the entire theory of the transmission it helped a little and would be very useful for troubleshooting but the actual manual was the critical piece, there are also some bulletins I found that I will post.
Identification of the transmission and its year is critical.
Mine was a 99-01 model, after 2002 it changes and I believe after that it is a AS390 or 5L50E, here is an article on the blog of the site that I bought almost all of my parts from:
http://cobratransmission.blogspot.com/2009/01/5l40e-5l50e-rebuild-kit-year-change.html
I stumbled onto these guys and noticed they had a live chat function that was up on weekends, I started working with them and they were very helpful with my newbie questions, I highly recommend them, there prices seem reasonable except for their valve bodies.
http://cobratransmission.com/
Here are their list of parts and kits for the 5L40E and related transmissions:
http://cobratransmission.com/index.php?main_page=index&cPath=1_11_19_44
Pics of part number
I also got Trans-jel from them, I chose red, you need it:
http://cobratransmission.com/index.php?main_page=product_info&cPath=4_2235&products_id=200000010
I also decided to replace all solenoids and got them in a kit off of Ebay for 119.00:
http://www.ebay.com/itm/190835980359?ssPageName=STRK:MEWNX:IT&_trksid=p3984.m1439.l2649
My goal was to build a 200,000 mile transmission so I decided to go with the master kit that includes the pistons for $542.00 as you will see later, all the difficulty with these transmissions is centered around the pistons, they are known as bonded pistons and are a royal b*tch to install even with the special tools and I believe those special tools are the reason for the lack of DIYs, they run over 1000 dollars but there is now an alternative know as SEAL EZ for under 100 dollars
Here is a youtube video of the install of all the pistons you will do in this rebuild; it absolutely was not as easy as this guy did it! I may not have had enough finger strength and my hands hurt for days after trying to push in these pistons. I will go into detail on my difficulties and how I overcame them when I describe each clutch pack, watch this very closely for the angles of the cones:
http://www.youtube.com/watch?v=yMPcyIc_V2k
I went through two cans of each of the freezing spray off amazon, I also got the cone kit on amazon also, as well as some of the tools:
http://www.amazon.com/Lubegard-1954...TF8&qid=1376167576&sr=8-2&keywords=5l40e+seal
The freezing compound:
http://www.amazon.com/Lubegard-1952...TF8&qid=1376167729&sr=8-2&keywords=Seal-E-Zee
In some cases I found a found a work around for the special tools such as the seal EZ but in others I invested in the tools on Ebay with the idea that I could resell them once finished. I will describe each one required in this DIY and include a pic.
I was able to complete the job but it was a challenge, I was not able to do everything I had originally planned to because of delayed delivery of tools for the pump, time pressure and uncooperative vendors on the valve body when I tried to get one that was sonnax modified.
The transmission is in and is working well for 500 miles now, no leaks and no slippage or codes so I count it as successful.
Removal of the transmission is covered by many of the good swap DIYs on here so I don't have anything to add on that, please refer to those. I did pressure wash it once out. You need to keep the environment as clean as possible so you don't contaminate the new transmission.
I gathered several boxes 1 and 2 gallon Ziploc freezer bags to keep the parts together and separate as I went
I put a Folgers coffee container over the input shaft as I stood the transmission up on the bell housing so it would catch the draining fluid.
By the book, once the tranny is out you start by removing the tail section, note the spacers, needle bearings and such and be careful to keep everything in order and bags as you go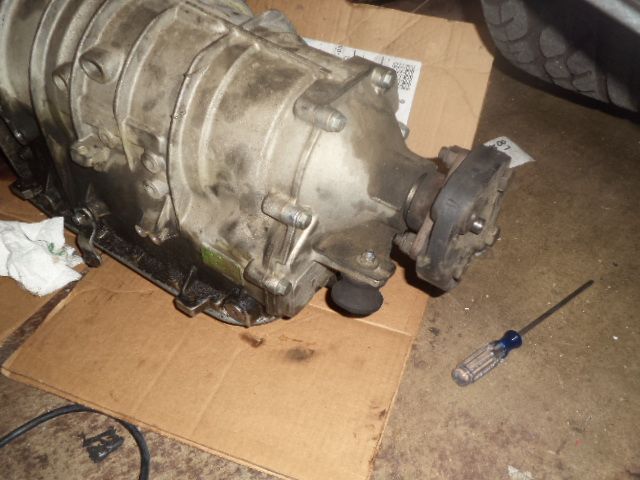 Pics
Note the parking pawl out and in, this is what holds the car in park: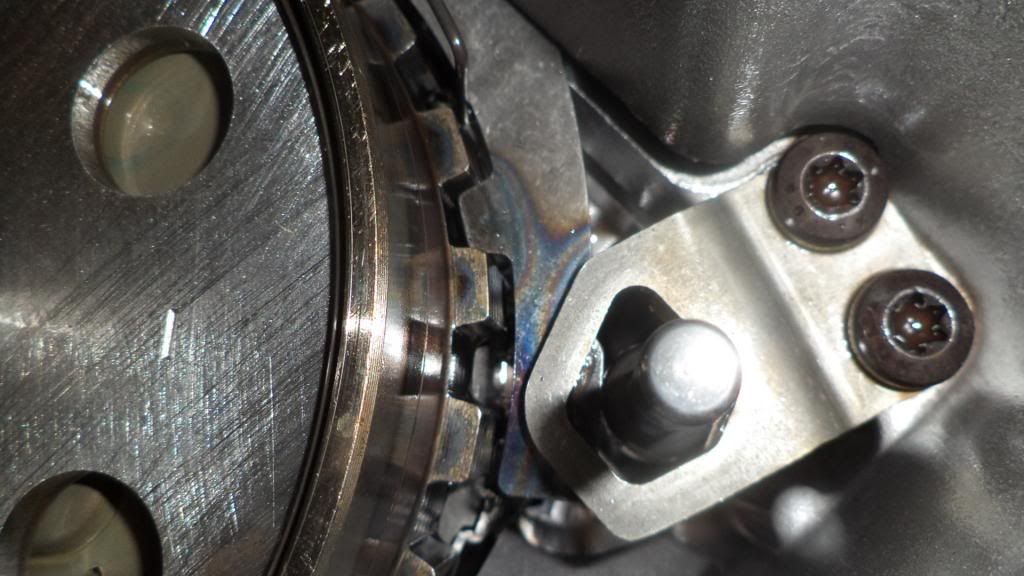 Then on to the valve body, remove pan and start removing the electrical connectors from the solenoids, speed sensors and shift indicator, this was my first indication of problems with a high mileage transmission, the connector lock tabs were totally brittle, the first one I removed cracked, being super careful I still cracked 3 more, this led me to needing a harness from the dealer part no 24367504752, 160 bucks from:
http://www.partswebsite.com/bmwpartsupply/oemparts/bmw-113/ 24367504752.html
These guys are a great source with great prices in San Diego for OEM parts. Other dealers were quoting 250 and I didn't want to wait on ECS.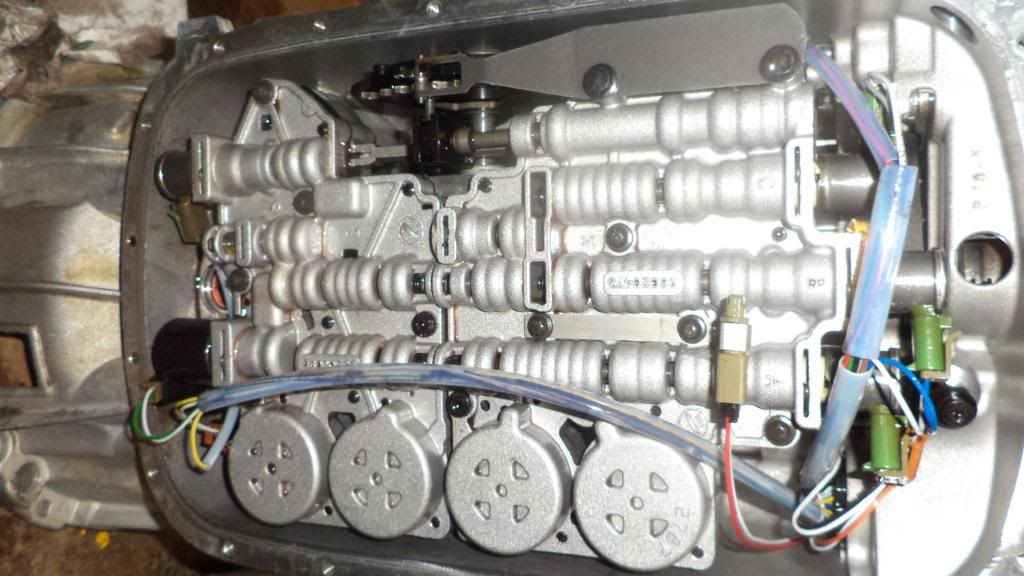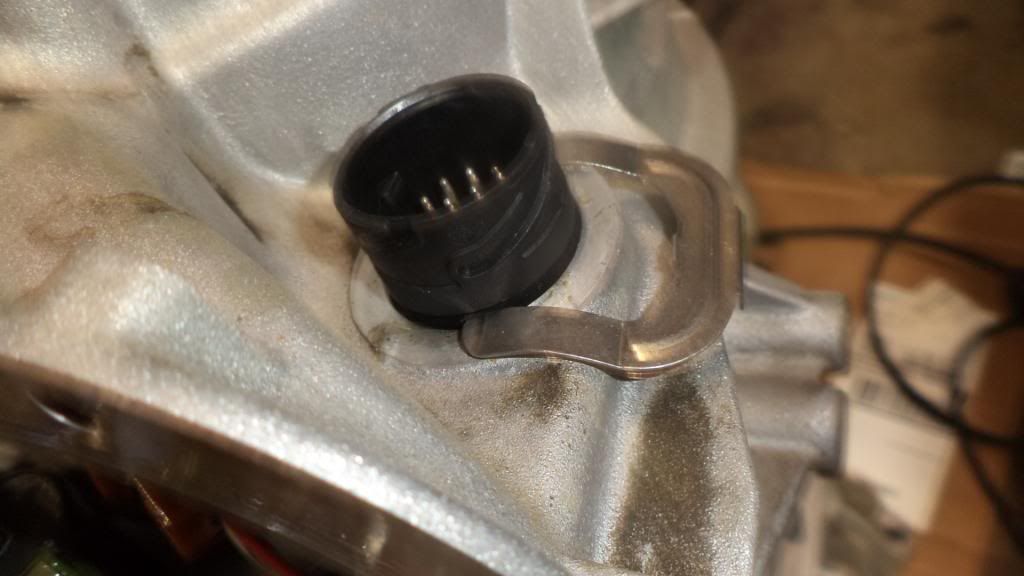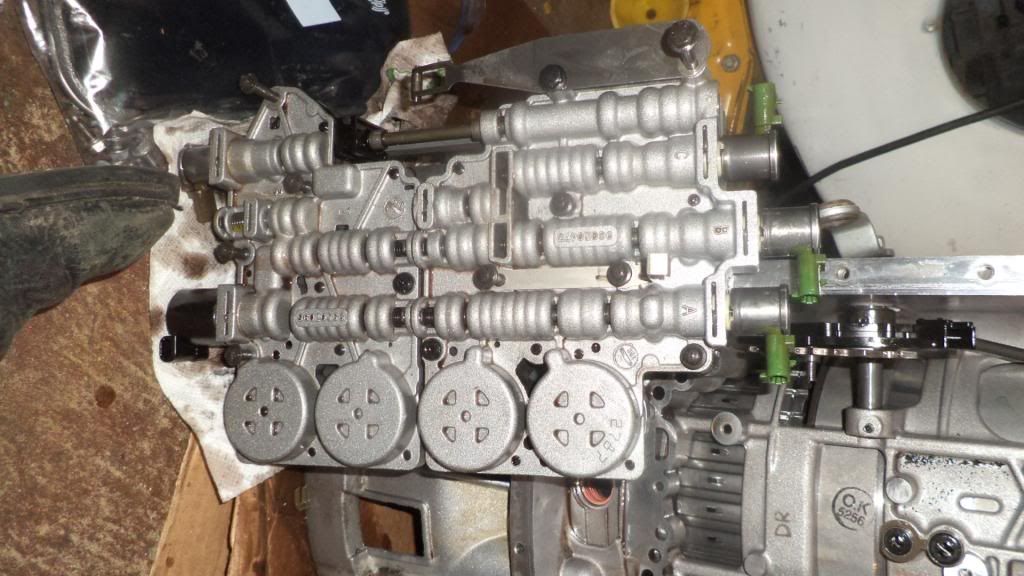 Pics
Part 2 and 3 will focus on the last 2 remaining clutch packs and the valve body, reassembly, list of materials.