Discussion Starter
·
#1
·
Ok, so certain of the e46's have a Self Adusting Clutch
According to the Bentley manual, this requires several special (read expensive) tools to fit. Fortunatley i have found it's possible with some more common ones.
The SAC works by having a rotary plate inside the cover plate assembly that is pushed clockwise by springs. As the clutch wears, this rotary plate slowly moves clockwise to take up the wear.
NB. It seems that new clutches come with this SAC pre-reset in the anti-clockwise position with a shipping plate. But if you want to refit an existing clutch you need to reset it.
To reset the SAC you will need a large 3 legged bearing puller as in the picture (these are relatively cheap, i picked up a set of 4 for about $30).
Before the SAC can be reset the diaphram spring must be compressed. I made a cylindrical block on a lathe which just sits inside the spring fingers. If you dont have a lathe, some improvisation could be done.
1. Insert the puller as shown & compress the spring. Note that the silver SAC plate underneath can be freely moved now.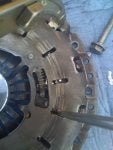 2. Fit the clutch disc on to the flywheel with the normal centering tool.
3. With the spring still compressed (puller attached) fit the cover plate to the flywheel & tighten all the cover bolts.
4. Using a screwdriver or similar, rotate the silver SAC plate fully anti-clockwise. Note there are alignment marks near the small springs to show this.
5. Keep the SAC plate in the anti-clockwise position with the screwdriver while removing the pressure on the diaphram spring, and remove the puller.
6. Remove the centering tool.