*SOLD**SOLD**SOLD**SOLD**SOLD**SOLD*
Hey guys,
Just got a job offer and will be moving soon. As a result, the Alcon Big Brake kit that I recently purchased from UUC Motorwerks for my 330Ci needs to go up for sale. Everything is still boxed up and wrapped in plastic ready to be mounted. Per UUC, here are the specifics:
Fits the following,
1994-1999 E36 M3/328/325/323
1999-2004 E46 330/328/325/323
1996-2001 MZ3 Roadster/Coupe and Z3
2002+ Z4 3.0/2.5
(Image below courtesy of UUC Motorwerks, I do not own this image, they do!):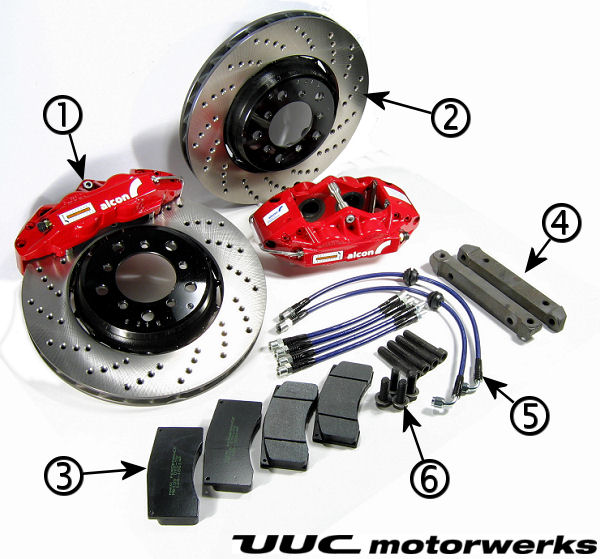 (1) Alcon aerospace alloy aluminum 4-piston calipers, staggered piston sizes. Calipers are
matte gray
(2) 1-piece rotors, 328mm x 20mm
(3) Hawk Performance Ceramic brake pads
(4) Mil-spec heat treated stainless steel alloy radial mount brackets
(5) DOT-compliant stainless steel braided/plastic covered brake lines (2 lines)
(6) Mounting hardware, all metric grade 12.9
Original MSRP that I paid was $3898 (same as web price). I am asking (EDIT, SEE FINAL POST!).
Please PM me if you are interested in grabbing these at a discount for your non-M E46. Thanks guys!
David W.