Discussion Starter
•
#1
•
Okay, so I had my car in the shop today for a before and after dyno...before w/ stock airbox and after with the new BMW Performance intake. The shop has a dyno pak machine...more commonly referred to a "mustang dyno." So the numbers are lower than you'll see on a dynojet.
As I stated in my previous thread, I've felt a slight difference in throttle response and quicker reving as well as a slight difference in sound...a little lower/meatier. As SloTown stated in his review, there is a slight flaw in the design where there is a gap where the new inlet scoop fits into the cover. I will fill this gap w/ silicone and call it a day.
Here are the results'
Before:
If you can't read it, it states 195.5 hp and 203.2 tq.
After: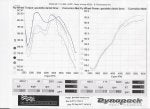 If you can't read it, it states 202.0 hp and 204.5 tq.
As you can see, there is a gain of 6.5 hp and 1.3 tq over the stock airbox. Not bad being as BMW claimed only 3hp gain. Although dynos can be an innacurate gauge of true hp/tq, I think the difference posted is true being that the pulls were all done on the same machine on the same day.
The dyno procedure was as follows:
Three pulls with the stock airbox were performed first. What you see is the average of those pulls.
Then I swapped out the airboxes and the tech did another three pulls. With each pull, you could see that the computer was calibrating for the increased airflow. What you see is the result gained on the last pull. So it may have gone even a little higher after a couple more pulls...but who knows.
I guess you'll have to be the judge, but I'm satified that what I was feeling with my foot showed up on the dyno. I also saw one of my BMW friends last night, and he said that he could definitely hear the difference when I accelerated past him standing on the curb.