Enjoy the Read - Started off as a Flip car:
Then alot happened - mods are tiny ATT, but that's because since I got this vehicle I sold all my other vehicles, and bought a Second house, so While I have two mortgages, don't expect much to be done. This is just an update added, and I will try to keep a current pic at the bottom of this first post. Don't expect anything crazy, but do expect updates when I do stuff, even small stuff lol.
This is a copy and paste from another board I'm on at first, so will get you all caught up. But Kid before didn't do all the maintenance so getting going on that. Ordered up Besian Systems VAnos repair, Valve cover Gasket and grommets, and various other items this morning to include 0w40 European Synthetic. Been driving it with a few no starts, this is due to the Crank Sensor not being replaced yet, can't get to it, so going to go forward with that soon, and then do the top gaskets and Vanos probably around the 1st of Feb once it all comes in. Initially was going to get this car, fix it, and sell it. But have decided to sell my Truck instead as the BMW is mine, title in hand. Alot of work into it, but it's paying for it'self with mileage over the truck.
My skill on cars is pretty high, so not afraid to jump in, expect some maintenance type of updates first, then I'll start prepping it for Road course, daily driving, and autocross type of use. Eventually it will probably get the manual swap, but not till the Slushbox goes out.
So,
Traded the 1992 Lexus SC300 that had the 1JZ-GTE VVTI swap with Coilovers, horrible interior, bad body panel alignment, 198k on the car and around 40k? on the swap.
I got a 2004 BMW 330i with 102k on it flawless interior except the A and C pillars and only a few minimal dents on the outside. Has 19" chrome rims and new tires along with new exhaust.
The bad part, guy ran a rear/remote mount turbo on it and Cut the bottom of the spare tire mount out.
Enter the project portion
Got it on Jack stands yesterday and started tearing into it. I'l update as I go, but will weld in place wiht my little 110 flux setup, then seal it up and put dynamat on it after I have it sealed and painted.
Car is super super nice, but has an intermitten starting issue - I am actually waiting to pull codes on it -when the reader comes in I will see, could be one of about 4 things from the Key to the Alternator, to the voltage regulator and the relay, once that is fixed, I may have to think hard because it's paid for, and BB is around 10k - so considering keeping it for a year or so paying off all other bills and selling my truck, then after I sell my current house and get the bigger house, I may get a better truck that gets better mileage.
Time will tell, but here are pic's
Let me know what you think
Old and New - the Lexus in the background
The main issue: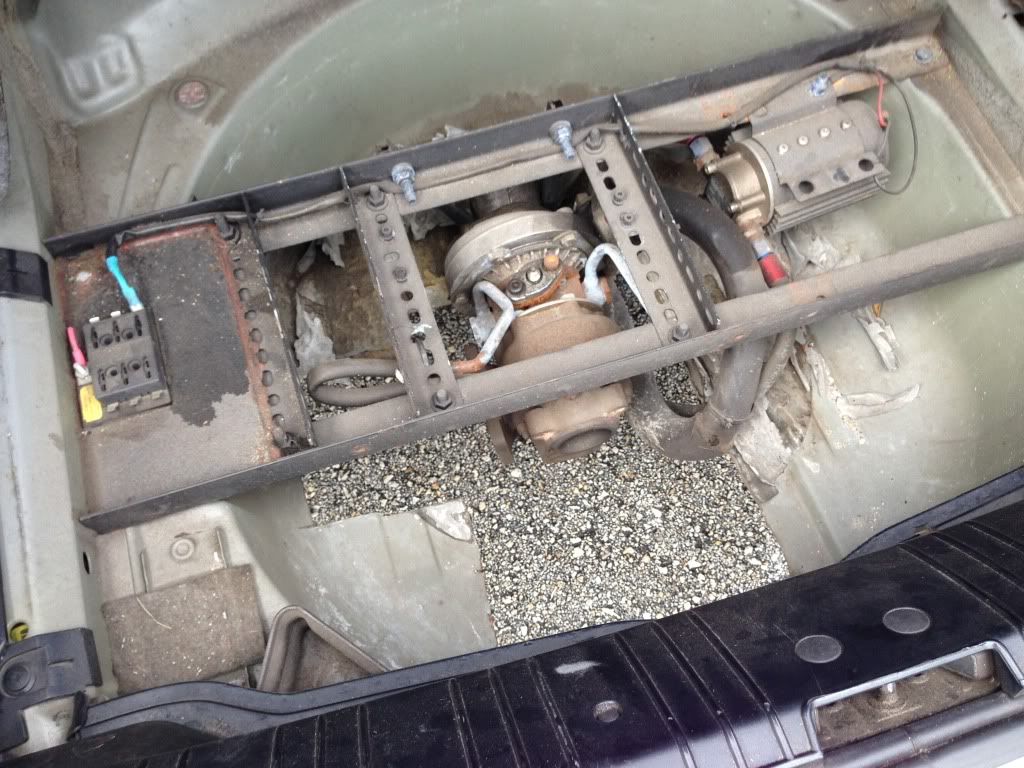 The interior and the eye sore A and C Pillars:
Small issue on the rear bumper: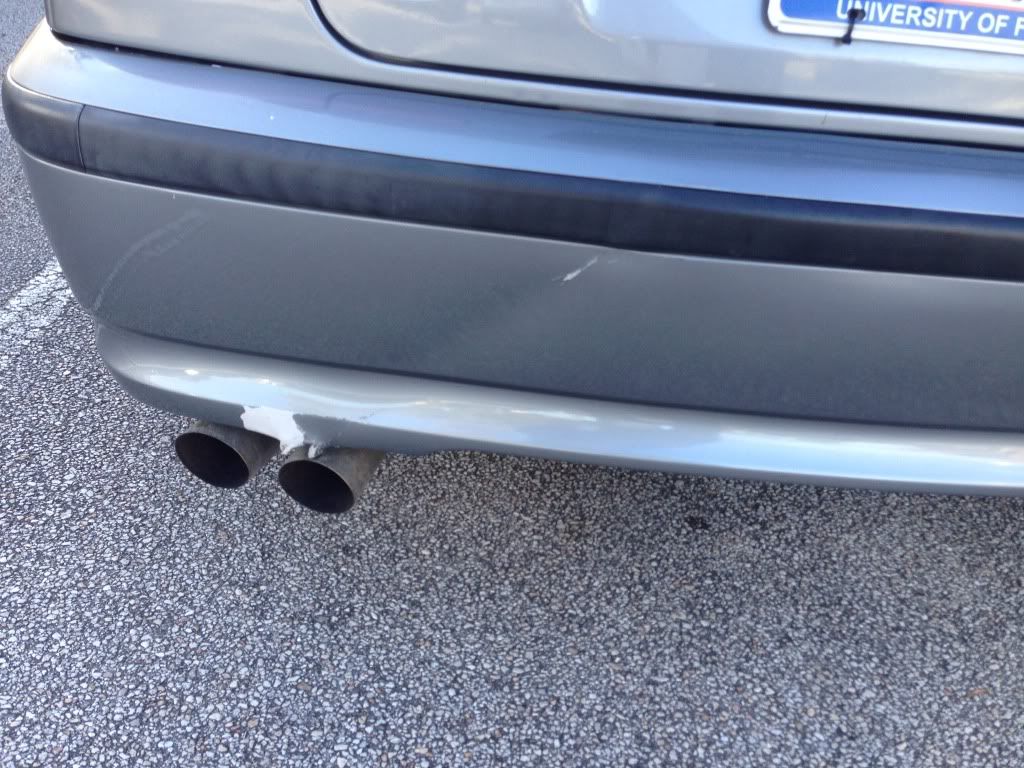 Front bumper is jacked - found stock takeoff shipped for 75 bucks
Spent 32 bucks on new trm for the stock bumper
At the house before it went under the knife, drove it to work for 4 days in a row, only had the starting issue once. Drives like a damn Dream - stock suspension just on the 19's.
UPDATE: Decided to keep this thing for long long term so have been busy. Cliff Notes if you don't want to go through it all:
Done the following:
New VCG
Besian Vanos Repair
New DISA
New intake setup
New oil filter cap
New stock Plugs - stock gap
New Front bumper - and mounts...
Got rid of the 19's that were rubbing
New Upper, lower intake boots
New, Crank, and Both Cam Shaft Sensors
New Fuel filter - ran vaccum to it as well
New A,B,C pillars - removed all fabric again - have a spare set -
Currently working with Black Suede
New Front Koni STR-T Struts and H&R Race springs up front with all new mounts and re-enforcment plates
New H&R Blue rear Springs new KYB rear shocks, re-enforcement plates, and all new HD mounts
e90 335i Rims - new Conti Pro front tires, worn out Nitto 555's in rear - New Tires arrived April 26, 2016
BMW Roof Rack with Surf board mounts -
sold - missing badly now
Muffler delete - got rid of the Single in Y down cheap muffler - straight pipes ran ---
As of March 2016 have a e36 M3 rear can now
Custom intake - to replace the crap that was straight on the MAF
Fenders rolled properly with Eastwood - but still messed up from previous owner...
In process of fixing them As of April 2016
Removed and fixed rear bumper mounts - it's stable now
New bumper in place - currently prepping and Painting as of April 2016
Welded in floorboard portion of the spare tire well and sealed/painted and coated with rubberized undercoating
IN March 2015:
New radiator
New waterpump
New pulleys and belts
New expansion chamber
New hoses
New thermostat
New Electric Fan conversion - Deleted manual fan and removed clutch fan - HUGE improvement in mileage, cooling, and snap in off throttle
New Oil filter housing gasket
New Power steering setup - complete refresh of all parts and lines
Fixed the Homelink issue -works like a champ now
TSB for airbags - Done
Crappy Purple Tint Removed winter of 15 - will order kit and install new 3M tint or Llumar in spring/early summer 2016
And there is more, just don't remember to do the update ATT.
As of April 2016:
New Battery
New Ground Wire for Battery
New Poly Bushing for RTAB's installed
New rear tires
Sandblasted the 335i Rims - prep and painting starting soon
New BavAuto Stainless brake lines - brake fluid flush
Build homemade pressure brake bleeder;-)
All bodywork started
Searching for:
One side skirt - one is slightly damaged
Possibly a new hood, this one is tweaked and the kidneys are held in with Zip Ties
New Cowl cover - this one is cracked
Getting done soon:
TSB for flutter for overacting O2's
BAseline 1/4 mile times before I do most of these mods - never did, alot of mods done...
To do soon
DME Tune
Long term:
Manual swap
Sport interior
Suede A,B,C pillars and headliner - did fabric already but didn't hold up -
Get headers again, sold mine when thought car was getting sold
Make custom low profile roof rack - mainly to play with my new welder and I need a rack - can make and powdercoat for under 75 bucks
Almost all of this will happen ALOT faster if I was to find a donor 5 or 6 speed 330 in my area
Stripper party;-)
Pic as of Dec 2014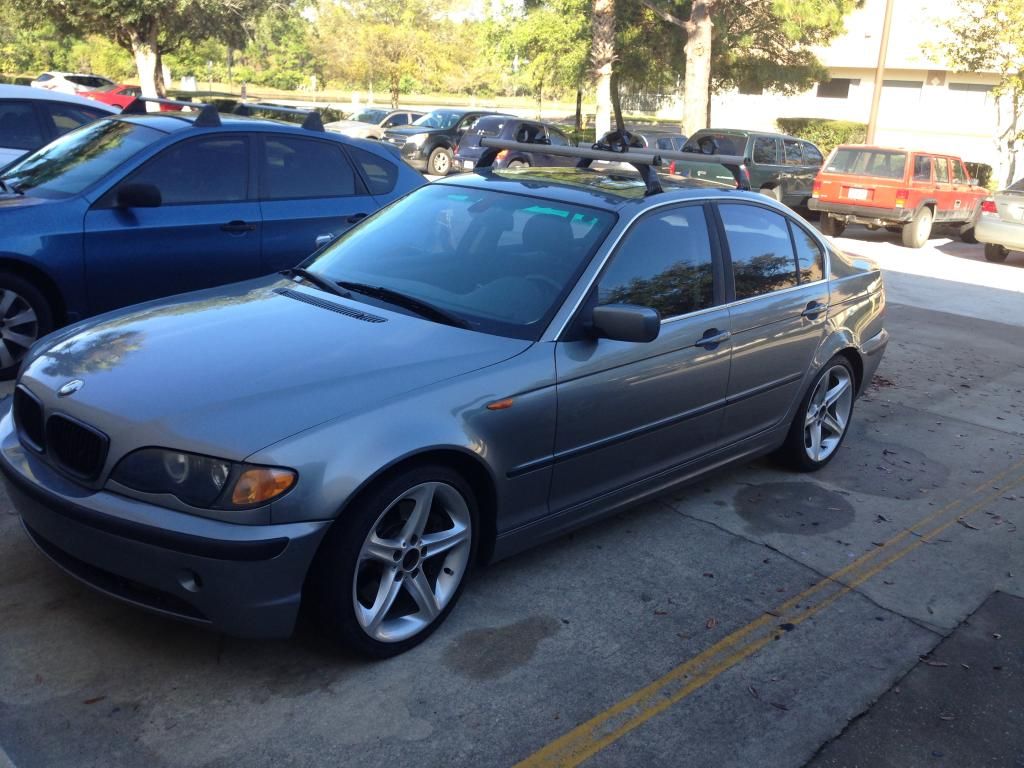 And current pic as of Jan 4th 2015 - Rang in the new year with application of some mods I had built up.
Current Pic as of April 2015:
Current pic 8/17/2015
Current Pic as of April 2016:
Current Pic as of July 2016 - finally looking like something I would own, ALOT of work into it at this point in time
Current as of August 2016