ALPIN3 inspired me to do a 3.91 diff swap (from a BMW X3) after he did it on his 323i. Having a steptronic, my stock diff is a 3.38 ratio so this is the only gear ratio high enough for me to justify a swap. As far as I know, he was the first person to do this. But I believe I'm the first to do it on a 330. Being kpeng, I have to always continue doing things never done before to our cars :craig:. I'll admit I went into this semi-blind, and I wish I did more research, but I hope to pass my learning on to you guys. So here goes...all the info that I can give you guys from my install.
Thanks to a couple great friends in Jeremysmith1967, and our friend Nile, I was able to install a diff despite being mechanically retarded. So here goes.
I ordered a 3.91 diff off an X3 that I found on
www.car-part.com
It had 25,000 miles on it and cost me $450 shipped.
Here is the differential, it is noticeably smaller than the stock differential, but no worries, all of the mounting points line up and the diff goes in without any problems. That's because the X3 has the same subframe as our cars.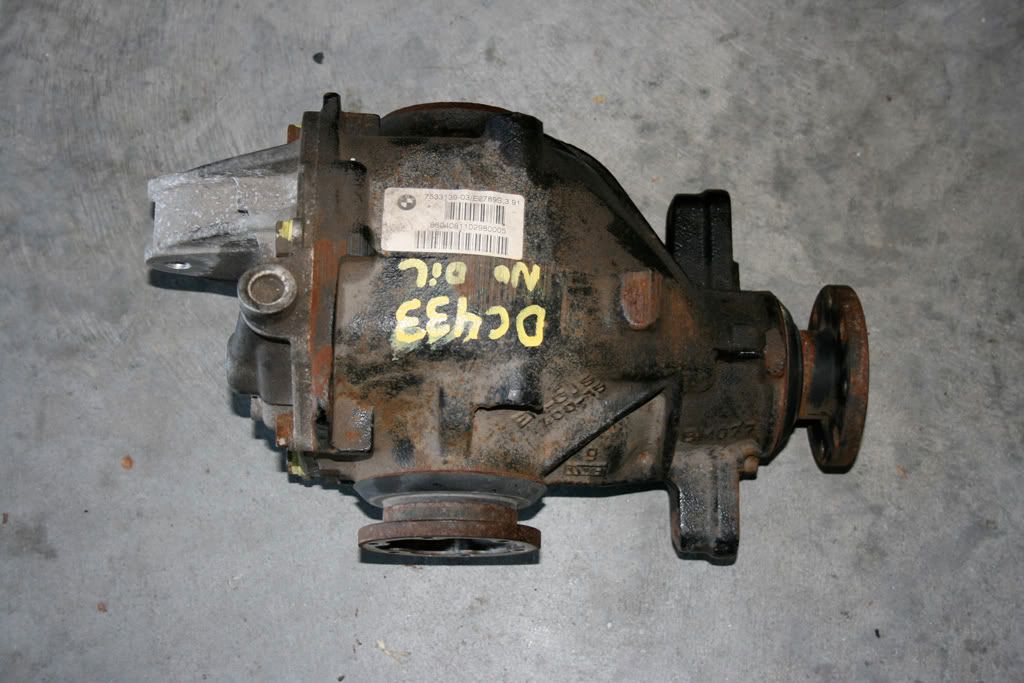 Now...the difficulties begin. First the minor problem...the output flanges on the X3 differential are a bit smaller for some reason. That is no big deal, as we just swapped the output flanges from the stock differential onto it. They pop right out with a few swift blows from a rubber mallet.
The biggest problem came next. As we tried to connect the driveshaft to the new differential, the driveshaft was actually too short, and wouldn't reach the diff input.
Upon further research, we found out that the
330 was the ONLY E46 to use a different driveshaft design
. It was a 6 bolt CV joint attachment to the differential, opposed to the 4 bolt conventional U-joint attachment on every other E46. I have no idea why BMW did this, but it's completely arbitrary. As you can see here, the difference is huge.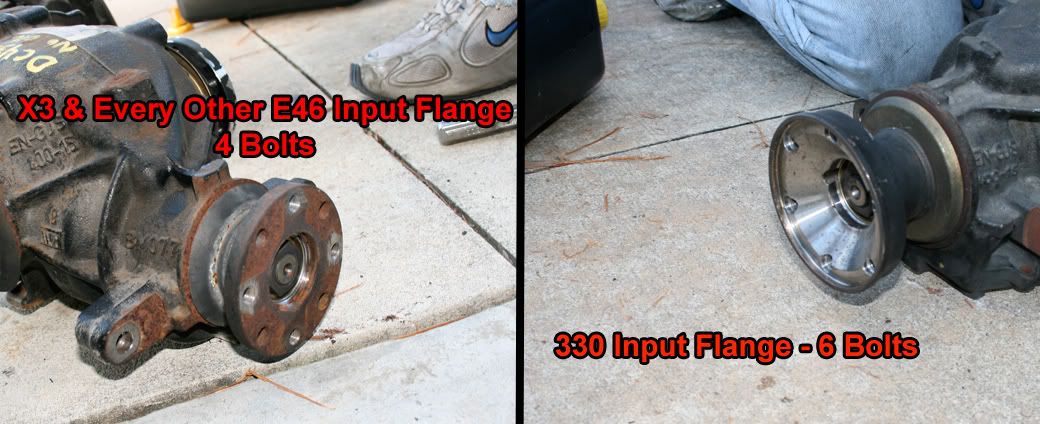 This was a problem, because the design of the driveshaft was completely different. The driveshaft on the 330 was not nearly as adjustable as the other E46 driveshafts. That means, we tried to loosen up the connection between the two halves, and stretch it out (it's a spline) to no avail.
My only choice at this point was to buy a driveshaft off of another E46, to be safe since ALPIN3 already did it on his 323, I bought one off of just that. $80 shipped to me from once again,
www.car-part.com
As you can see, the 323 driveshaft is a 4-bolt connection and is longer from the factory.
We adjusted the 323 driveshaft and elongated it just a bit. You can do so by loosening the highlighted cover and pulling the two halves apart. There is plenty of room to do so, we pulled it out an extra inch with no problems. But just to be safe, mark each end with a sharpie.
After that, everything bolted right up with no problems. Took the car out for a spin, and it made a world of a
DIFF
erence. Get it? Ha...ha...ha...
Car revs faster, and I def. accelerate with more "umph". I drove it in both manual mode and regular mode, and the car has no problems with downshifting or anything computer-related as we once feared. The only thing was, during the first test drive, the computer would freak out and shift at 5000 RPM. After doing the computer reset trick with the key, the problem went away, and the car shifted perfectly.
I will take a video of the speedometer while accelerating, tomorrow, when there is sunlight out.
For now, here are the important points.
-A 3.91 from an X3 will fit the E46 with NO problems whatsoever.
-Output flanges will have to be swapped as the X3 has smaller ones.
-Input flange will not have to be swapped.
-330's will need a new driveshaft off of any other E46.
-If you have a 330 and you swap a Non-330 driveshaft on, you WILL need new bolts to attach the driveshaft to the diff. You'll need 4, BMW part#: 26111229536

Any more technical questions will gladly be answered by Jeremysmith1967, or me if I know what I'm talking about.
Important links-
www.car-part.com
www.bokchoys.com/differential
Hope this helps you guys!
-Ken :4ngie: